Monday, September 16th, 2019
New Tri Star facility officially dedicated
By William Kincaid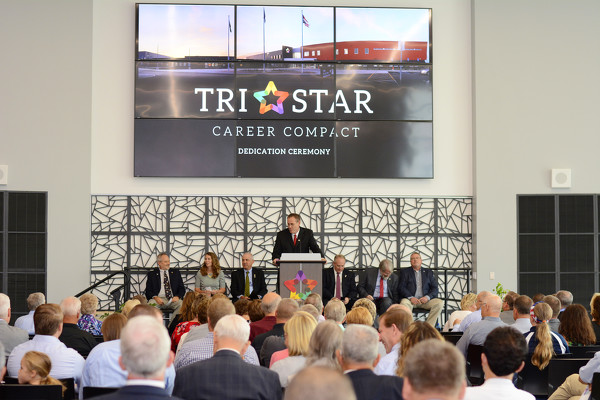 CELINA - A sense of awe, promise and gratitude abounded among attendees who gathered Sunday afternoon for the dedication of the new Tri Star 2.0, a $25 million, 101,170-square-foot, two-story complex on State Route 703 that opened its doors to students last month.
Business leaders, elected officials, educators and other community stakeholders toured the state-of-the-art facility. They also heard impassioned speeches that touched upon Tri Star's past and future as a shaper not only of tradesmen and tradeswoman but the community at large.

Director Tim Buschur applauded the efforts of former officials who laid the foundation for Tri Star in 1983 and those daring visionaries of today whose collective efforts led to the construction of a complex that consolidates the compact's 15 career programs under one roof with 19 classrooms and laboratories.
The normally jocular Buschur at one point struggled to hold back tears while reading Tri Star students' comments about the new massive career technical training center that resembles a corporate headquarters more so than a school building. He relayed comments that the facility looks professional, like a college, and that students feel like adults there.
Fanning-Howey Associates Executive Director Steve Wilczynski said designing Tri Star 2.0 was not a typical project for his firm.
"Tim said to us, 'If you design a building that looks like a regular school, you're fired. So, message delivered. We're still here," Wilczynski quipped.
This was a unique collaboration between two counties, nine school districts, teachers and Fanning-Howey personnel that ended up producing 263 sheets of drawings that were materialized by Peterson Construction.
"We design a lot of school buildings but it's not often that we really get the opportunity to directly help students to get into careers and into the workforce," Wilczynski said. "As a local business, Fanning- Howey is very proud of this facility and we hope that it will be the springboard for our local youth to transform from students into members of our community and workforce."
Project manager Anne Frost of the Ohio Facilities Construction Commission too underscored that Tri Star 2.0 was a special endeavor that is sure to become a proud legacy for the state of Ohio.
Frost said she knew this was going to be a much different project just because of all the stakeholders involved in its development.
"This was not going to be one of the 1,220 schools that have already opened in Ohio with OFCC's assistance or one of the 84 buildings that is already in construction and design in Ohio," Frost pointed out. "This is going to be a unique building, a tremendous building with a lot of purpose."
State Sen. Matt Huffman, R-Lima, spoke to the rapidly changing nature of education and how Tri Star 2.0 will help students and educators to stay in the vanguard of those developments.
"The changes that have to happen in education … it really can't happen on a global basis or a federal, even statewide basis. It's just not nimble enough," Huffman asserted. "Innovation has to happen at the local level. It has to happen right here in Celina, Ohio, and boy, did it happen."
Buschur introduced State Auditor Keith Faber, R-Celina, whom he credited for changing Ohio law when he was a state legislator to allow for a vocational compact to run a levy.
"Without Keith, this would not have happened," Buschur said. "He had a big, huge, if not the biggest part of this."
Area voters at a special election in August 2016 approved a 15-year, 0.95-mill bond levy to construct the facility. The state agreed to cover $8.31 million of the $25 million project with the levy funding the remaining $17 million.
Tri Star 2.0 is a huge addition to the area's workforce development, Faber said. It makes the area better and stronger and it's all because of the superintendents and school boards who championed the cause and the voters who supported the levy, he added.
"When I go out and talk to business leaders all over our communities … for years, what's the No. 1 thing we heard? We need skilled, trained workers," Faber said. "The fact of the matter is, I don't know of anybody else who has the close partnership with a four-year college (Wright State University-Lake Campus) - their engineering, their workforce training program, and literally across the street - (and) have the capability that this facility represents."
Tri Star 2.0 stands on the frontline of providing the types of skills that will help the area to not just beat competition from Indiana but from China and India, Faber insisted.
Ohio Superintendent of Public Instruction Paolo DeMaria commended the area for taking the lead in setting its educational priorities.
"The strength of our education system is not at the federal level or the state level. It's really each and every one of you in this room along with the teachers and the administrators and the students, to be honest with you, that make a great education," DeMaria enthused. "And we don't find ourselves standing in a building like this if that community isn't a 100 percent behind the exciting, the amazing students and the potential that they have to bring greatness to their own futures and the greatness to this community."
DeMaria said the state board recently formed a strategic education plan that's forward-thinking rather than reactive and that meets the needs of the whole child by ensuring they're challenged, prepared and empowered.
Those very imperatives are embedded in Tri Star 2.0, he said.
Prevailing opinion once held that career technical education was some how less than or considered second rate to other high school experiences. That's not the case anymore and career technical education is enjoying a resurgence because people have realized that it opens more doors for students than other high school experiences, DeMaria said.
Career technical education, he said, nurtures student engagement and offers them a sense of belonging.
"It's a specialness about being part of a program, being part of a community of students with a common sense of direction in what they're trying to accomplish with a team of great teachers who are committed, with business partners and opportunities to go and do internships and apprenticeships," DeMaria said.
Celina, Coldwater and St. Marys school districts collaborated and formed Tri Star on March 31, 1983, according to information provided to the newspaper. Eventually Fort Recovery, Marion Local, Minster, New Bremen, New Knoxville and St. Henry also joined to make up the nine school districts in Tri Star today.
Ideas for the new, single building housing all programs resurfaced during a meeting of superintendents with guidance from Mercer County Community Development Director Jared Ebbing in 2015.