Monday, November 11th, 2019
Honor Flight 'trip of a lifetime' for Minster vet
By Sydney Albert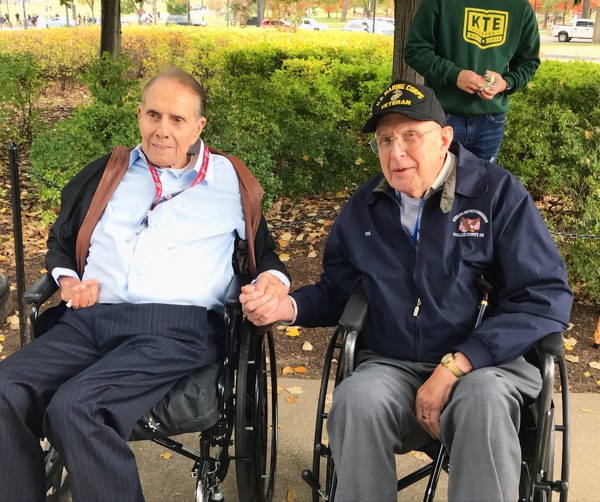 COLDWATER - Virgil Arling of Minster joined the most recent group of veterans taken by Honor Flight Dayton to tour the veteran memorials in Washington, D.C., which he called "the trip of a lifetime."
Arling, 87, is a retired Marine who served during the Korean War. He was deployed for seven months in Yokosuka, Japan, and said he was lucky enough never to see combat.
Despite previous visits to the nation's capital - sometimes to see family, and once to be part of Dwight D. Eisenhower's inaugural parade - he had never gotten around to touring the war memorials. After his daughter, Cindy Liette of Coldwater, applied for him to take an Honor Flight, he was able to make the trip in one day.
The Honor Flight program takes veterans from around the U.S. to the nation's capital to visit the war memorials. The trip is free for veterans, and is funded entirely by donations, Liette said. Veterans can also take along a friend or family member, but he or she must pay for the trip, which Liette did so she could be with her father.
Both Arling and Liette said they were impressed by the dedication of the Honor Flight volunteers and the steps they took to make the trip special for the 108 veterans who took the trip on Oct. 26.
Upon arriving at Reagan National Airport, a host of uniformed officers stood at the ready and thanked the veterans for their service as the veterans and their guardians got off the plane. Liette said at each stop throughout the day - the group visited Arlington National Cemetery; the Tomb of the Unknown Soldier; and the Air Force, Vietnam, Korean, Lincoln and World War II memorials - another group of volunteers was waiting to meet them.
And at the end of the day, a welcome home reception awaited veterans when they returned to Dayton International Airport.
The trip had a profound effect on Liette as a guardian, and she tearfully described how much it meant to see the volunteers go above and beyond to honor her father and the other veterans. The trip offered a free opportunity for veterans to see the memorials and could especially show veterans who didn't receive a warm welcome home that they are appreciated, she said.
What stuck with Arling the most was seeing the changing of the guard at the Tomb of the Unknown Soldier.
"You see them on TV, but it's different when you're there," he said.
He wanted to help spread the word of the program to other veterans, adding he would recommend taking the trip to anyone.
"You can't beat their price," he said, laughing.
For more information on Honor Flight Dayton or to donate, visit honorflightdayton.org.