Wednesday, February 19th, 2020
Farmers learn about water quality program
Initiatives aim to lessen Lake Erie algal blooms
By Leslie Gartrell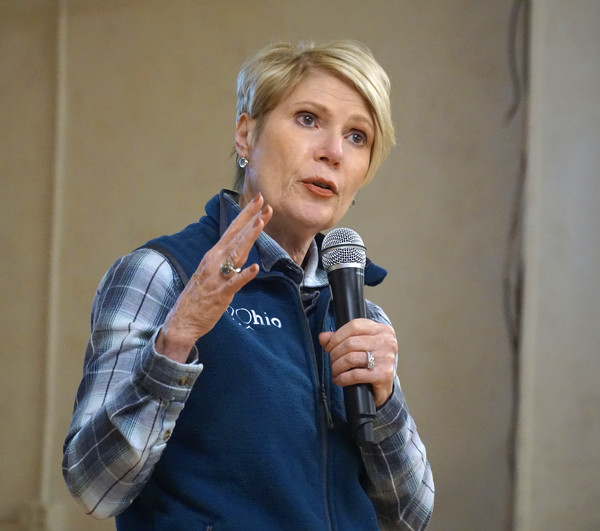 COLDWATER - The H2Ohio program was rolled out to a packed room of Mercer County farmers on Tuesday evening as representatives from the Ohio Department of Agriculture and the Ohio Agriculture Conservation Initiative presented information and answered questions at the American Legion hall.
The H2Ohio plan will fund investments in 10 scientifically proven interventions aimed at reducing agricultural nutrient runoff and preventing algal blooms in Lake Erie. The program provides $30 million in funding for farmers in 14 counties, including Mercer and Auglaize, which span 2.4 million acres of cropland, according to Clark Hutson, H2Ohio West Lake Erie Basin program coordinator.
Hutson said the H2Ohio phosphorus reduction plan will first focus on reducing runoff in the Maumee River Watershed and Lake Erie but will eventually be offered to other parts of the state.
The $30 million is part of $85 million provided by the Ohio General Assembly for H2Ohio in the first year of the biennial budget, Hutson said. The remaining first-year funds will focus on reducing phosphorus runoff through the creation of wetlands and improving water quality by preventing lead contamination and addressing failing septic systems. Phosphorus found in manure and manmade fertilizer feeds toxic blue-green algal blooms.
H2Ohio program coordinator Terry Mesher said the primary focus will be better nutrient management and reduced erosion.
He said farmers in the area can implement variable-rate fertilization, subsurface nutrient application, manure incorporation, conservation crop rotation, cover crops and drainage water management and receive funding through the program.
While two-stage ditch construction, edge-of-field buffers and wetlands also are practices for which farmers can apply for funding, they're not as accessible or manageable for area farmers because they are structural projects, he said.
Producers can apply for funding from the four-year program through the Mercer Soil and Water Conservation District, Mesher said.
Producers must have an idea of which practices they are interested in pursuing, soil and manure tests, crop rotation proposals and maps of the applicable fields, depending upon which part of the program they want to use. Signup began Feb. 1 and continues through March 31.
The program offers the 10 best practices "a la carte," Hutson said. However, producers are encouraged to stack or "bundle" multiple practices to maximize conservation efforts and payment opportunities.
For example, farmers could bundle conservation crop rotation, manure incorporation, variable-rate fertilization and overwintering cover crops, Mesher said.
Voluntary nutrient-management plans are another practice some producers can enact and are required for all practices, Mesher said. However, farmers with land in the Grand Lake Watershed are already mandated to have nutrient-management plans due to distressed watershed rules and are not eligible for funds. Mesher emphasized farmers can apply for all other practices.
Different practices come with different cost shares, he noted. Farmers who implement overwintering cover crops would be eligible to receive $25 per verified acre, while farmers who implement manure incorporation would be eligible for $35 per acre for poultry litter or $60 per acre for all other manure.
Mesher said farmers do not need nutrient-management plans before applying, and farmers who do have certified nutrient-management plans will not need to have a new plan or have the current plan recertified. Farmers with acres that have implemented practices from Senate Bill 299 are eligible to apply.
In addition to H2Ohio, the Ohio Agriculture Conservation Initiative was introduced as a new partnership between agriculture, conservation, environmental and research communities to recognize farmers for using best practices to improve water quality and increase the number of best-management practices on farms.
To receive H2Ohio funding for Year One, farmers will need to enroll in the OACI Farmer Certification Program. The program will recognize farmers for doing their part to improve water quality and reduce soil erosion and recommend areas of improvement if needed.
Mercer SWCD district administrator and education specialist Nikki Hawk said the department has already received calls for more information on H2Ohio and said many farmers are interested in the program.
Farmers seeking more information on H2Ohio and OACI can visit OhioAci.org or H2.Ohio.gov, or contact the Mercer SWCD office.