Monday, March 9th, 2020
Rep. Davidson says virus coverage 'overhyped'
By William Kincaid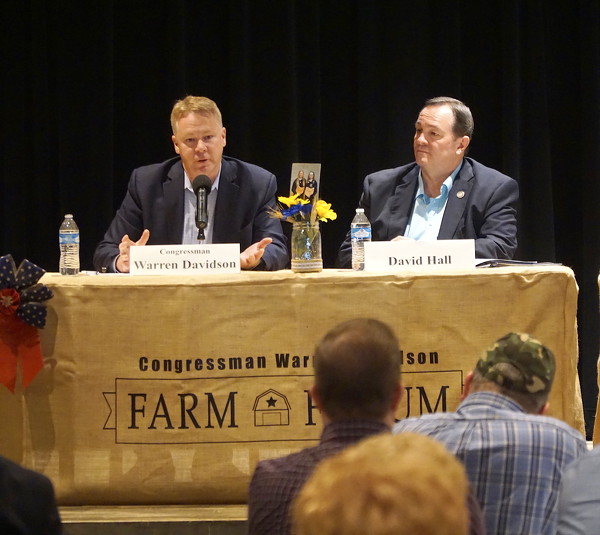 PIQUA - U.S. Rep. Warren Davidson, R-Troy, is confident the federal government has the resources and capability to handle the coronavirus COVID-19, saying the media coverage of the outbreak has been somewhat hyped.
Davidson addressed the virus at Saturday's 2020 Farm Forum held at Edison State Community College in Piqua, where he also laid out his top agriculture-based legislative priorities to an audience of farmers and agriculture advocates.
"The good news is we've got the resources to do it," Davidson said about the White Houses' initial $2.5 billion plan to take on the virus. Congress has since approved an $8.3 billion supplemental package to respond to the crisis. "There's no place else in the world you'd want to be if you were facing a pandemic like this."
Davidson took the media to task when asked in a question-and-answer session about its coverage of the outbreak.
"I genuinely believe that if this was still the Obama administration you would hear less panic, less alarm," Davidson insisted. "I think it's been hyped in terms of the reaction."
Initially some claimed President Donald Trump was overacting to the coronavirus, calling him a xenophobe who was trying to block travel from China, Davidson said. Once word got out COVID-19 was spreading fast, they did an about-face and said Trump wasn't doing enough, Davidson said.
"The good news out of this past week is we got some funding for the emergency response to this and it's a big deal," Davidson said, adding the funding amount underscores the response is a top priority of the federal government.
Davidson, a West Point graduate and former Army Ranger, characterized the U.S. response to the pandemic as a whole-of-government approach akin to a military command structure, with Vice President Mike Pence calling the shots at the top.
"You want somebody that can make a decision and so that's the value of having Mike Pence coordinate that," Davidson said, adding Pence coordinates the responses and actions of numerous agencies as well as state and local governments. "Having one team do that does unity of command well."
After being put in charge of the federal government's response to COVID-19, Pence spoke to House members, Davidson said.
"He's got a good handle on what he needs to do. The team that surrounds him is the top of all the agencies and then they've all got liaisons responding," Davidson continued. "It's almost like a military command structure to respond to this. This is big."
Globally, the median age of people who have died from the coronavirus is about 80, Davidson said.
"Younger kids are actually less vulnerable to this than flu, for example," he explained. "The downside is you can be spreading it before you have symptoms by about two weeks."
Earlier in the forum, Davidson outlined his top ag-related legislative priorities, the top being supporting access to foreign markets.
"The export economy is a huge part of the ag economy, and we're fighting for that and I think everyone agrees the president is certainly fighting to improve trade," Davidson said.
It's probably not lost among those in the room that the effects of the trade issues have "had a spillover impact on America's ag economy."
Speaking to strides made in foreign trade, Davidson touched on the benefits of the new U.S.-Mexico-Canada Agreement signed into law earlier this year, including the new tariff rate quotas on dairy products exclusively for the United States.
"Canada will open its markets to imports on U.S. chicken and eggs, which is a big deal for our huge poultry market here, and they're going to expand access for U.S. turkey, also a big deal for us," he said.
Also, Canada's import levels are no longer tied to its domestic production, Davidson noted.
"They wanted to say … whatever goes on in Canada affects how much they'll take from us, and we got that off the tables as part of the USMCA, which is really a good win," he said.
Furthermore, China has agreed to buy $50 billion in U.S. agricultural products, David pointed out.
"So the government's committed to do that. I think the government would prefer that they don't personally cut the checks," he said. "I think the biggest concern I've talked to people about is making sure that they'll have all the customers that they always had. Ten customers is better than one, especially when one of them is the Chinese government."
He pivoted to his second top priority, preserving crop insurance. Davidson said in Ohio, 80% of all corn and 79% of all soybeans are insured by the U.S. Department of Agriculture.
The 2018 Farm Bill preserved crop insurance, Davidson said.
Last spring large swaths of the state experienced unrelenting rain, delaying or outright preventing planting of crops.
"People were late getting into the ground and it didn't meet the technical definition of a flood, per se," Davidson said. However, he said his office wrote a letter to USDA that the entire Ohio delegation got behind, resulting in an official disaster designation for the district. It increased revenue protection by 15% and yield protection by 10%, he said.
"I think that was a big deal. It was one of the rare things that everyone in the delegation, Republicans and Democrats, could agree with and sign on," he said. "Hopefully it benefited everyone in the room."
Another of Davidson's top priorities is to help dairy farmers.
Congress increased premium support for dairy farms producing five million pounds of milk or less per year, Davidson said. Also, USMCA cut trade barriers for American producers of milk, cream and cheese.
"Dairy's not a huge piece of our district but it is one the biggest areas under threat in the current ag economy, so it's been tough sledding for the dairy sector," he said.
Davidson acknowledged the so-called non-dairy milk alternatives hurting traditional dairy. "I just wish they could call everything that's milk, milk, and the things that aren't milk, not call it milk."