Monday, March 16th, 2020
Virus Crisis
How do you keep the children engaged?
By Georgia Rindler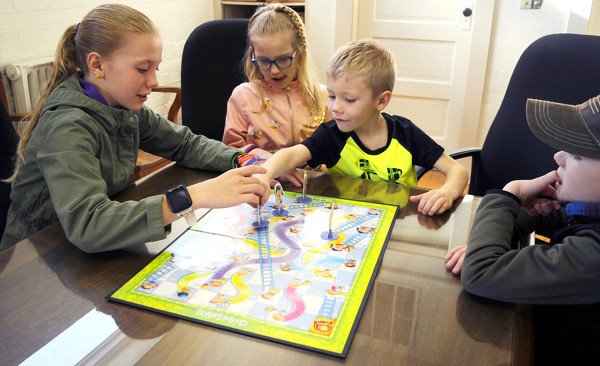 COLDWATER - Parents and educators are sharing their tips for keeping children engaged and learning despite being home from school for at least the next three weeks due to the COVID-19 pandemic.
The lack of the normal school-break activities makes the effort even more complicated.
Educators suggest parents make memories together. They should also turn off the TV and talk to young children, explaining the situation in terms they can understand.
Chris Buschur of Stepping Ahead Learning Center in Coldwater suggested painting, playing card and matching games, using Play-Doh, reading books, doing puzzles and journaling.
A Fort Recovery second-grade teacher said using scissors and crayons, drawing pictures and practicing numbers and letters all require fine motor skills, which improve dexterity.
Since children are used to school's routine, Coldwater elementary teacher Kathy Hart suggested daily schedules for academics, creativity and quiet time. Include some screen time to motivate children to accomplish tasks.
Julie Bollenbacher of Coldwater said her kids like structure and lists of activities they can check off. She suggest online educational games to keep them learning and engaged.
The governor's ban of gatherings of over 100 people also affects local libraries. Elizabeth Muether, Mercer County District Library director, said curbside pickup has begun and can be arranged by phone. She reminded patrons that items may be renewed over the phone and digital resources, such as the Ohio Digital Library and Lynda.com are available to cardholders and accessible from the library website.
"As of now, the library hopes to maintain our basic services as long as we safely can, while still making good choices for our staff and public," she said.
Auglaize County Libraries has canceled meetings and events and closed meeting and study rooms through April 3. Its website lists websites along with access to the Libby and Hoopla apps.
Parents and educators both agreed outdoor activities, weather permitting, are good for kids. Going to a park, having a picnic or just playing outside is an opportunity to get some fresh air. Activities such as jump rope; Ring around the Rosie; and duck, duck, goose can be played without much preparation. Running laps or racing around the house can fuel the competitive athletes. Emerging artists can decorate sidewalks and driveways with chalk. Invite neighbors to view the work and vote for their favorites.
Mercer County Head Start employees encourage family activities and unplugged events. Suggestions include exploring a local bike path or a nature walk at Baker's Woods north of Coldwater or the Miami-Erie Canal Towpath in St. Marys.
Those with a green thumbcan show kids how to plant seeds for flowers or vegetables. Walking the dog or teaching it new tricks teach patience. Have a "car-wash" party with bicycles on the driveway.
Bollenbacher suggests LEGO building, Tangram puzzles and a photo scavenger hunt. Turn bingo into a game filled with specific tasks or chores.
Parents also suggested throwing a blanket over a table to make a cave; stacking boxes into a fort; playing school, zoo, store or library. Kids can also journal to document the weeks or write letters to friends or relatives. Teens and pre-teens can assist with babysitting. One home-based child care provider called the situation a nightmare, saying she was overwhelmed with calls to care for additional children.
Students can also talk with each other, pray as a family and learn to sew or cook simple dishes and try new recipes. They can clean closets and redecorate or rearrange a bedroom, look through old photo albums and play Who's Who. Parents could recall favorite activities from their childhood. Parents can check with grandparents for games stashed in a closet that may be new to kids.
Hart's schedule recommendation has a time for chores. This could include cleaning up after lunch, and wiping down surfaces to involve kids in healthy practices. Most schools are doing some kind of distance learning, so parents can learn alongside their child.
Encouraging children to use their imagination stimulates their brains. Kids can make up a story and act it out. Dig out dress-up clothes and Halloween costumes. Read a book, put on a play and record it. Share the video with grandparents and friends.
Bollenbacher suggested story starters; give children a line and have them create a story. This can also be done as a relay story between several players.
Grandparents can call their grandchildren. This can be a new experience for some children. FaceTime and Skype are good ways to engage with relatives who may not live nearby.
The public is encouraged to follow guidelines set forth by the Centers for Disease Control and local governments.
"The Mercer County District Library strives to be an integral part of the community it serves by providing materials and services for residents of all ages for personal enrichment, enjoyment and educational needs," Muether concluded. "However, the COVID-19 situation is changing rapidly, and the Mercer County District Library will continue to monitor the situation and collaborate with public health officials to determine whether changes are needed to these protocols."
In the interim, it may help parents and children to view this as a bump in the road and a lesson in life.