Tuesday, March 24th, 2020
Foreign Flyer
Bruns returns home from Spain after pro league postpones season
By Colin Foster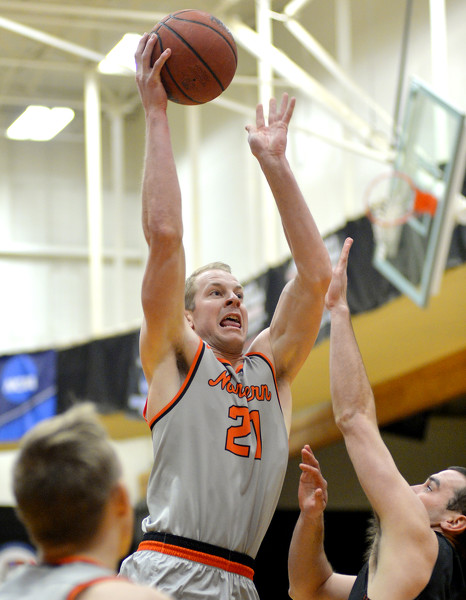 A Marion Local Flyer in foreign territory, Ryan Bruns recently returned home from Spain after the Liga Española de Baloncesto Aficionado (Liga EBA) was put on hiatus while the country - and world - battle the COVID-19 pandemic.
In his first taste of pro basketball, Bruns has yet to taste defeat. The EBA was postponed last week with Bruns and Aquimisa Carbajosa out to a 20-0 start. The team is four games ahead of second-place Avila (16-4) in the Group A-B rankings and stands as one of only two undefeateds in all of the Liga EBA, which features 107 teams spread across nine divisions. The other unbeaten team (Ciudad Autonoma De Melilla Enrique Soler) has only played 11 games in Group D-Perman. Bruns' team plays in the second-highest tier.
As of Monday, Spain ranked fourth in the world in coronavirus cases with nearly 34,000. On March 14, the Spanish government ordered a two-week nationwide lockdown before announcing Sunday a plan to extend its state of emergency another 15 days. On March 12, the EBA issued a two-week postponement of basketball. Meanwhile, the Liga ACB, Spain's top division, had already postponed competition until late April.
Carbajosa last played a game on March 7 and had continued practice in the days leading up to the postponement despite Spain's rising virus numbers.
It was a process for Bruns to book a last-minute flight home, he said. Many of the players were less than pleased with how league officials handled the crisis.
"They control the second, third and fourth division, and then they control the second and third division of women's," Bruns explained. "So there's hundreds of foreigners here wondering what to do, but there's also a ton of Spanish players and you're just sitting here (delaying) and trying to decide what to do. It's like, at least provide us with a daily update about what you're thinking about doing and why you haven't made a decision. Just for four or five days straight, they didn't say anything.
"I don't know why they didn't come out and at least follow suit with (the Liga ACB's decision)," he added. "In my opinion, if they're not playing, there's no way we're going to be playing until then."
Prior to that ordeal, Bruns had enjoyed his time in Spain.
He signed a one-year professional deal after an All-American career at Ohio Northern University, where he owns the career blocks record (250) and ranks fourth in scoring (1,586 points). Last summer, Bruns played with the Red Scare (University of Dayton alums) in The Basketball Tournament, a $2 million winner-take-all basketball event that features some of America's best former collegiate players. The Red Scare reached the Sweet 16 and lost to eventual champion Carmen's Crew (Ohio State alums).
Bruns is the lone American on Carbajosa's roster, which includes former University of Northwestern Ohio player Willis Mackey, a native of The Bahamas. The lineup also features players from Denmark, Israel, Senegal, Nigeria and Spain.
"We were really lucky to have everyone on our team speaking English, because I know in talking to some other guys who have played (internationally) for three or four years or whatever, they said a lot of the other teams they've played on haven't been able to communicate like that," Bruns said.
No language barriers, and nothing holding back Bruns and his teammates on the court, either.
The 6-foot-9 center is averaging 14.4 points per game, 7.2 rebounds and 2.0 blocks. He had a career-high 28 points while adding 14 rebounds in a Nov. 30, 2019 victory over Xiria. In his final four games before returning home, Bruns had scored 16 or more points. Sixteen of Carbajosa's 20 wins have come by double-digit margins.
"In the beginning of the year, I was a little inconsistent," Bruns said. "There'd be games where I'd do well and then games where I'd have three points and two rebounds. I'm not saying points and rebounds and things like that are the end all be all, but obviously those help and those are kind of needed to move up. Toward the end of the year, I got a little bit more consistent, which was nice to see.
"I would definitely say there's been some growth, because going over there, it's a little different style of basketball, so adapting to that is a change," he continued. "I've become more confident in my skills because I'm playing more, and then talking to guys who have played three or four years and things like that. Taking from what they've learned and applying it to my game has definitely helped me out at lot."
Bruns has learned a little of the language and about the Spanish culture, too.
"One thing you definitely learn about them is they're more laid back than people are here. Just in terms of everything," he said. "A majority of businesses over there are still closed in the middle of the day from 2-4 or 2-5, and they take their nap (siesta) or go home to see their family. For us, we practice in the morning and then we practice at night. So, if we ever went out to get stuff in the middle of the day, some of the stores are closed."
He's currently hunkered down at home awaiting the league's next move. He's also trying to figure out his next move as a pro player.
"I might be going back (to Spain) if the season continues, but if not, then I'll stay at home and wait and hopefully this summer, I'll see what offers I get," Bruns said. "If they're potentially good offers and things like that, I'll go over and play another year. But that's obviously a little ways away."