Wednesday, March 25th, 2020
Coalition amasses to make masks
Army of volunteers mass-producing for COVID-19 fight
By Amy Kronenberger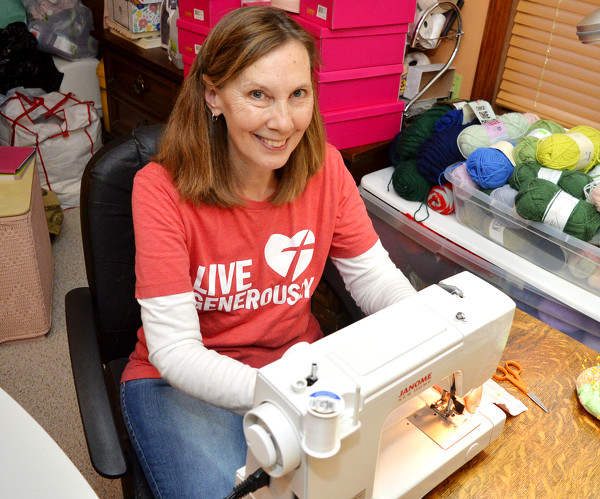 NEW BREMEN - The iconic image of Rosie the Riveter has become the symbol for a local organization whose volunteers have stepped up to help keep area health care workers safe during the COVID-19 pandemic.
Blanketeer founder Emilie Britton of New Bremen changed gears in recent days. The group that typically sews blankets for people in hospitals or nursing homes or anyone needing comfort, is also making protective face masks.
She said the idea came from her daughter, Kacie Pape, who works as a registered nurse for the Shelby County Health Department and "knows firsthand of the need."
"She knows we're a crafty group," Britton said, adding Pape gave her the idea on Friday evening.
Britton reached out to volunteers in her group through Facebook on Saturday morning and got to work. By Sunday morning, however, she said she was feeling defeated, wondering if she could produce enough to make a difference. Then she decided to make her Facebook post public. The response was "tremendous."
"I just said 'help me help the people who take care of us,' " she said.
She started with three or four people sewing and by Monday afternoon had 20-25 volunteers making pleated, rectangular pieces of fabric with elastic straps. Within a few hours, that number doubled.
"I'm up to 40 women helping," she said on Monday evening. "This is incredible!"
Volunteers turned out 85 masks on Sunday and 120 masks on Monday. All will go to local health care facilities. Total masks donated as of Tuesday evening were 454, with another 100 set for delivery this morning.
"It's just such a generous area we live in," Britton said. "People are so willing to help out around here, and I'm so grateful … It's just awesome."
Britton said keeping her donations local is important, knowing small communities can be neglected, while larger cities receive priority.
"The little places are sometimes overlooked," she said, "and (supplies) are needed locally."
A physician at Maria Stein Family Practice saw Britton's plea on Facebook and shared the request, saying the practice was in great need of supplies, office manager Stephanie Hardin said on Tuesday morning. Soon after, the office received two packages of masks from Blanketeers.
"On Friday we were still seeing patients in person, so we really needed (the masks), Hardin said. However, as of Monday, "we went fully to telehealth. So we use them for our interactions here but don't need them for patients anymore."
She said they decided to pass on the extra masks so others with greater need could have them.
"We want to pay it forward," she said.
The community's response has been overwhelming, and donations have been pouring in, Britton said. People are offering whatever they can to help out.
Those who cannot sew have offered to cut fabric or pick up and deliver supplies and finished products. Kids off school also are helping to cut fabric. One woman who cannot sew but owns a sewing machine offered it to someone who could sew but needed the machine, Britton said.
"Our material has all been donated, as well as the elastic," she said, adding she is nearly out of elastic, and it's increasingly difficult to find. "Some have started using alternatives, such as headbands."
Monetary donations are covering elastic when Britton can find it and gas for vehicles delivering supplies to volunteers and completed masks to health care facilities.
Britton leaves supplies on her front door step and volunteers stop by to pick up items. Volunteers then notify Britton when the masks are done, and she or another helper picks up the package from their front step.
Requests are coming in from all over the area, Britton said, from the Grand Lake Regional Cancer Center in Celina to Wilson Memorial Hospital in Sidney. Her sister in Huber Heights also has started making the masks for a Dayton-area hospital.
The need for protective equipment is escalating, whether facilities are rationing what they have or dealing with outages. Britton said some are layering the homemade masks on top of the government-issued ones to make the government masks last longer.
"The homemade masks can be reused - washed, sanitized and rotated out," she said, keeping the government-issued protectors cleaner, longer.
And for facilities running out of them: "Some mask is better than no mask, and that's what health care centers are facing," Hardin said. "This is at least something that is protecting people."
COVID-19 is not caught simply by being on the hands, Hardin said. It's spread when people then touch their faces and the virus reaches mucus membranes, such as the inside of the mouth and nose. The mask covers the two most common entry points for the virus.
Additionally, If someone coughs or sneezes, the mask provides a barrier, helping to stop the spread, whether government issued or not.
"Every little bit helps," Hardin said.
Britton said she thinks of Rosie the Riveter when she thinks of the generosity of donors and volunteers, noting everyone is playing a small part and building on each other's strengths to achieve a larger goal.
"This is bigger than all of us," she said. "We all have to pull together."
Echoing Britton's sentiment, Hardin said the pandemic reminds her in a way of World War II, in that people in the community are coming together to help out in any way they can.
"In small towns, we are so blessed," she said. "You sometimes forget what a wonderful community we live in."
To donate, Blanketeers has a fund set up with The New Bremen Foundation. Britton said people can send donations directly to the foundation at P.O. Box 97, New Bremen, OH 45869, or send it to her at 15 Kamman Circle, New Bremen, OH 45869, and she will forward it to the foundation.
Anyone interested in volunteering or in need of masks may contact Britton at 419-305-4590, emiliebritton@yahoo.com or on Facebook.