Thursday, March 26th, 2020
Protective gear a priority in pandemic
Board told virus has cut off supply chains
By Sydney Albert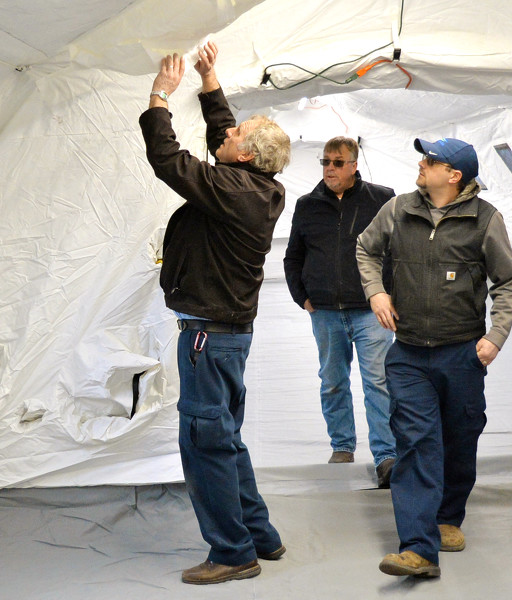 COLDWATER - Prudent use of personal protective equipment has become a priority for Mercer Health staff as both the state and nation are critically short during the COVID-19 pandemic.
Along with creating high demand for certain medical supplies and preventive gear, COVID-19 has also disrupted the global supply lines that would provide such supplies.
"Most of the suppliers of a lot of the items that we require for the personal protective equipment are manufactured overseas," Mercer Health CEO Lisa Klenke told the board of governors on Wednesday during a teleconference.
China produces all of the hospital's N95 respirator masks but was hit hard by the virus, she said. Factories in the country are still not up to full production, reducing supplies of a vital product. Italy, one of the nations hardest hit by the virus, manufactures the swabs used to take specimens. They, too, are unable to operate at full capacity, Klenke noted.
CFO and COO Jon Dingledine said distributors had the hospital on 30% allocation, meaning that if historically they ordered 100 boxes of masks a month, they are receiving only 30 boxes.
The hospital is accepting donations of PPE supplies, including N95 masks to offset the cutback, Dingledine said. The hospital has already received donations of masks from veterinarian and dentist offices in the area, as well as non-health-care-related businesses. They are also open to accepting masks made by people in the community, according to Dingledine.
Klenke said she believed the crisis might lead to great innovations. She noted the state was partnering with organizations to find ways to reprocess supplies that had normally been disposable and to manufacture items that were normally obtained overseas but are unavailable. Those innovations were likely still unlikely to pay off soon, however, and so concerns remain on how long current PPE equipment will last.
One way hospitals have tried to conserve supplies has been to postpone elective surgeries. The decision has had a huge financial impact on some health systems, particularly large hospital systems that rely on such surgeries, Klenke said.
The Ohio Department of Health reportedly estimated the monthly revenue loss for all Ohio hospitals would be about $1 billion as a result of the policy. Some hospitals had reported loss of up to 43% of their revenue after halting elective surgeries, Klenke said.
Dingledine said Mercer Health officials had been keeping a close eye on the organization's finances, noticing daily charges have dropped about 20% since halting elective surgeries. Officials are keeping tabs on what federal stimulus proposals might mean for them and have started communicating with a local bank to open a line of credit, in case it's needed.
Quarantine and social distancing efforts appear to be affecting the growth curve for new COVID-19 cases, but the data are preliminary and it's too soon to know for sure, Klenke said. Even according to the preliminary data, the projected growth of the number of cases in the state remains above hospitals' capacity to handle.
Ohio could still run into a lack of enough ventilators for patients who need them, she continued.
Administrators reiterated the importance of staying home and self-isolating but also said people should stay calm.
Every day in the midst of the COVID-19 crisis, conditions are changing and being updated, Klenke said.
"As one CEO told me, we're trying to fly the plane while it's being built," she added.
As of Wednesday, according to information provided to the board of governors, 704 confirmed COVID-19 cases have been reported in Ohio. Of those, 182 cases required hospitalization, 75 - or 40% - required patients to be treated in intensive care. Ten COVID-related deaths have been reported in Ohio. The ages of those with confirmed cases range from 1-94 with median age of 51.
In other business, Dingledine said the hospital's budget for the next fiscal year had been 99.9% before COVID-19 began impacting operations. Future finances hinged on the outcome and length of the pandemic, he said.
The current fiscal year ends March 31 and marks the first whole year with the new Sanderell Family West Wing in operation, marking an increase in operations. Changes were also made to employee health care plans to lower costs, a big factor of the previous year's deficit spending.
In December, the hospital was also named a Medicare-dependent hospital, which Dingledine expected to have a positive impact to the tune of $2 million per year.
For fiscal year 2021, the hospital is expected to receive about $70.2 million in revenue. With operating expenses to come in at $67.5 million, the hospital is expected to have a total net income of about $2.5 million.