Tuesday, April 7th, 2020
Kid enjoys a digital birthday party
By William Kincaid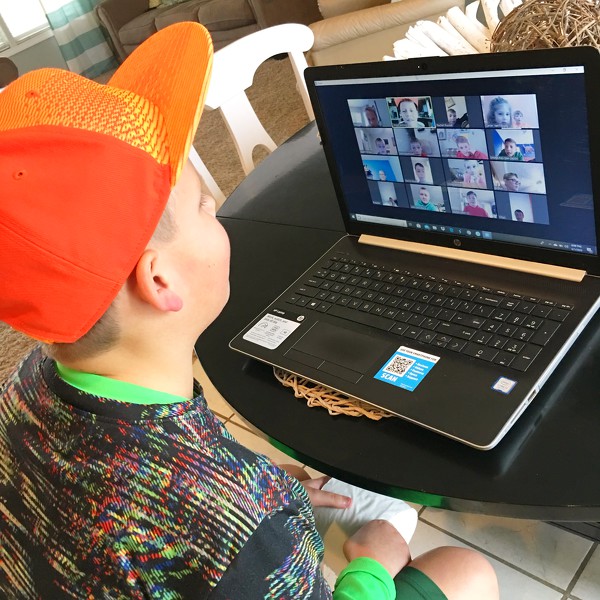 CELINA - Many people are feeling the blues after being cut off from friends and family members under Ohio's stay-at-home order.
Grady Jackson of Celina was one of them as his birthday inched closer and closer, knowing this year he wouldn't be able to celebrate the special day with his pals due to social distancing guidelines.
"Last year, we had about 20 boys, and he had a really big party," his mother, Jenna Jackson, said.
Not wanting Grady's 12th birthday to go by without some kind of a bang, she turned to the Zoom video conferencing app, which many teachers use to communicate with students during the state-mandated school closure.
She texted the mothers of Grady's friends, inviting their sons to participate in a virtual birthday party.
"They were all for it. A lot of them are teachers so a lot of them Zoom through school," Jenna Jackson said.
A few days later on April 1, when the clock struck 6 p.m., the party began. Soon video boxes containing the faces of 17 of Grady's friends popped up on the family computer.
"I didn't have anything planned. I'm like, 'Grady, take over,' " she said. "At first I think it was just really awkward. Nobody was saying anything so I was trying to have Grady ask them open-ended questions."
Once the ice was broken, the boys began jabbering away, and the online birthday lasted for an hour and a half, she said.
"It was perfect. The pictures were clear. You could hear everybody," she said
At one point, someone came up with the idea of a musical jam session. Those who could play picked up their instruments while most of the boys sought out the recorders from their fourth-grade music class.
Crista-Anne Winner, who sat in on the conference with her son, Ethan, said the boys created a cacophony for at least a half hour.
"They were just jamming to whatever was going on in their heads," she said. "We had a trumpet, a guitar player. I think someone was playing the piano and then everybody was playing recorders."
Winner said the boys had an absolute blast.
"First of all, they're fifth-grade boys. They would rather physically be out playing against each other, but they filled up a full hour's worth of talk," Winner said.
The boys all sang "Happy Birthday" to Grady, she said.
"Grady's such a humble little boy that he doesn't care about gifts. He just wants to be with his friends," Winner said. "For Grady to have that, I bet he was on the top of the world."
Though the boys couldn't physically give Grady presents, their mothers got together and sent money to Grady through Venmo and Paypal, Jenna Jackson said.
"Although he didn't get real gifts this year he was super excited to receive the cash gifts so that he can order something instead," she said. "We thought that was so nice of them and did announce it as a surprise to him at the beginning of the call, and again that really brightened his birthday!"
Grady did indeed have a wonderful time, Jackson said.
"It really made his day. It really did. He had a great birthday," she said. "It really did lift his spirits, seeing all of his little buddies on there."
This was the first time both mothers had used Zoom. They said they're likely to launch another session with the boys as a way for them to stay connected in these difficult times.
"(Ethan) had a good time," Winner said. "He was anxious because it was going on three weeks of not seeing any friends because of quarantine. He was getting a little antsy, and he was excited to see his classmates, finally."