Wednesday, April 15th, 2020
Young at risk, too
Pregnant nurse, 27, infected with virus delivers baby
By Sydney Albert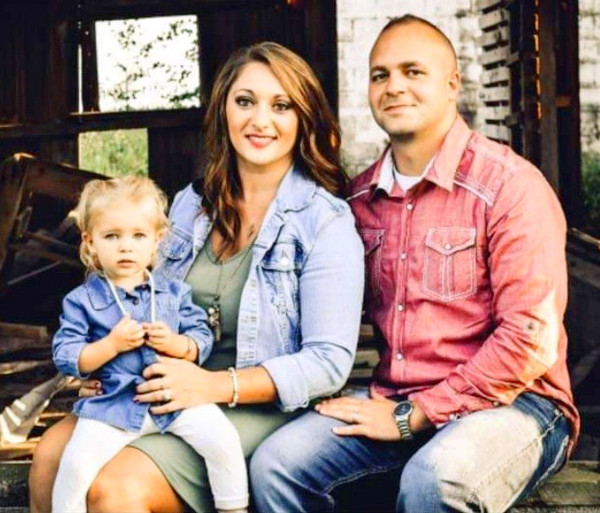 CELINA - The family of a young mother who was hospitalized with COVID-19 and forced to deliver her baby weeks before her due date has a message for others: This disease is real, it's scary and it can affect even the young and healthy.
Sandy Jeffries hopes that by sharing the story of her daughter, Megan Sites, others will begin to take shelter-in-place and social distancing orders more seriously.
"Stay in. Don't push it," Jeffries said.
Family members aren't sure how Sites, a 27-year-old OB/GYN nurse at Joint Township District Memorial Hospital in St. Marys, contracted the coronavirus. However, Jeffries remembers March 27 was the day Sites began to feel ill.
At first, Sites believed it was a bad cold. Her 2-year-old daughter had shown symptoms of being sick, and Sites had figured she was having a harder time with the illness because she was pregnant, according to Jeffries.
Yet her condition continued to worsen, and on March 30, Sites went for an influenza test. When the test came back negative, she was instead tested for coronavirus. The test came back positive on March 31.
By April 1, Jeffries said her daughter wasn't able to breathe unless she was sitting completely upright, and even then it seemed like she was gasping for breath. On April 2, Sites was hospitalized, unable to breath and suffering from severe body aches. She was put on a ventilator at JTDM Hospital before being transported to Miami Valley Hospital in Dayton.
Sites had called Jeffries shortly before being admitted into the hospital in St. Marys, and Jeffries said it was the worst phone call she had ever received. Her daughter had been crying, coughing and wheezing, and all she kept saying was, "I don't want to die."
"I hated hearing my baby girl saying the things she had said on the phone that day. That was a big fear, that that'd be the last thing I'd heard her say, was 'I don't want to die. I don't want to die alone, Mom,' " Jeffries said.
Sites was in Miami Valley Hospital until April 8. Last week, doctors said they had to try something different, according to Jeffries. They wanted to transport Sites to the University of Cincinnati Medical Center to be placed on an extracorporeal membrane oxygenation, or ECMO, machine. The device is a modified heart and lung machine bypass system, doing the work of the heart and lungs while giving patients time to rest and heal from their underlying illnesses, according to Cincinnati Children's Hospital Medical Center website.
Before Sites could be put on the machine, though, she had to undergo an emergency cesarean section. Her newborn son, born 29 weeks into gestation on April 8, weighed 3 pounds, 9 ounces when he was delivered. He remains at Dayton Children's Hospital while Sites is in Cincinnati.
Sites's husband, Don, has held off naming their son until Sites can have her say, but the family has taken to calling him Buddy.
Both mother and son have been improving lately, Jeffries said. Sites has recently come off the ECMO machine, and the goal is to get her off the ventilator as well. Don Sites recently finished self quarantine and was able to hold Buddy for the first time.
People have been coming out of the woodwork to offer assistance and prayers, and a GoFundMe organized by a friend of Sites had raised more than $30,000 for the family as of Tuesday - well over the original $1,000 goal.
While Jeffries is grateful for the staggering support, the experience has been horrible, she said. She is hanging in there but still feels numb and mentally exhausted. Her husband, Sites's father, is quarantined at Celina Manor and has been struggling with being alone on top of what has happened to his little girl.
"I want and I hope people realize, 'that could be my daughter. That could be our son. That could be our neighbor kid.' Stay inside," Jeffries said. "Megan was healthy. Megan was taking vitamins and doing everything right. She ate healthy … She was healthy, and this happened to her. So those that don't take it serious, that worries me because, you know, where are they going to end up?"
Jeffries described her daughter as a tough cookie, saying everyone who had a hand in treating Sites so far had called her a fighter. Jeffries said she and the rest of Sites' family will continue praying and fighting, just like Sites is fighting, until they can bring her and Buddy home.
Anyone wishing to donate to the family's GoFundMe can visit
gofundme.com/f/help-our-megan-michelle-sites-amp-family
.