Monday, May 11th, 2020
Lasting Presence
Reed's legacy lives on at Coldwater decade after passing
By Gary R. Rasberry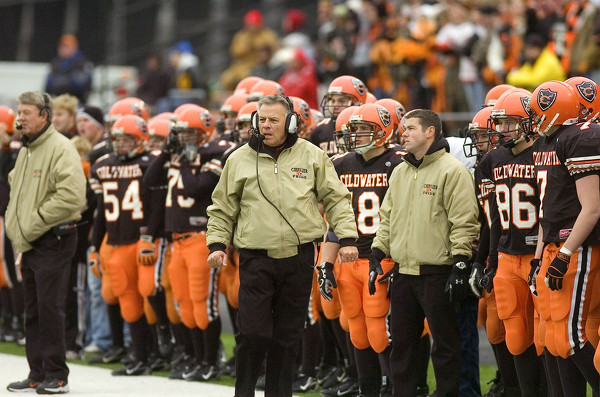 Ten years have gone by since Coldwater football coach John Reed passed away on May 7, 2010, at the age of 64 after a battle with esophageal cancer.
He accomplished a lot with the Cavaliers, but there was so much more to Reed than just the 168 wins, five Midwest Athletic Conference championships and 14 playoff appearances he earned from 1995 to 2009. Even more than the two state championships and three runner-up finishes the program achieved from 1998 to 2009. More than his 283 career victories that earned him induction into the Ohio High School Football Coaches Hall of Fame in 2007.
Reed didn't just provide the coaching ins and outs that has made the program one of the best in Ohio, it was the manner and discipline that has carried over to now.
"John was a very organized coach," said Randy Wright, who has been a Coldwater assistant coach for over 30 years. "His life was very organized with his faith, his coaching and his family. That organization and the way he did things - the way we practice, the way we prepare for a game - hasn't changed that much in 10 years (after Reed's passing). We still follow the basic pattern and habits he instilled over those years."
The pregame preparations - from different units coming out of the locker room in specific order, the players forming a "C" to do calisthenics, the kneeling in a few rows as the managers brought gallon milk jugs of water - were trademarks of Reed's teams, as is the tradition after every game - win or lose - to stand in front of the Coldwater band as the school's alma mater was played.
Chip Otten returned to his Coldwater in 2002 to become an assistant after six seasons as a head coach at Middletown.
"He was disciplined. He was even tough on the coaches sometimes," said Otten, who succeeded Reed after the 2009 season. "But you showed him you could do the job, he'd let you coach the guys and take your input. That felt good. Some people are more head-coach oriented, some more assistant (-oriented) and I think I'm in-between. It wasn't a problem for me giving up control on decision-making."
With just a raising of a hand, Reed was able to gain the attention of whatever room he was in.
"I've never seen anything like it where one person can control an environment, and not in a negative sense," said Coldwater athletic director Eric Goodwin, who started in 1998. "Just by his presence. When John walked into a room, everybody sat up a little straighter. Not because he was a screamer or people were afraid of him, it was a matter of respect. That was the most unique thing I have seen from an individual."
The mood of the coach and guidance counselor was different depending on the opponent his team was playing each week.
"If we were playing an opponent who wasn't having a great year, John would be a bear in the office," said Goodwin. "If we were playing a good team like Marion Local, he'd be the nicest guy in the world. I asked why he was like that and he said 'If we're playing someone with a down year, I need to keep our kids focused.' If we played Marion, he'd say 'I don't need to keep them focused. I need to keep them calm.' It was a very unique situation in the office setting."
Reed's work not only shaped great athletes, but helped them achieve more in life once graduation happened.
"He shaped me a lot into what I am now," said B.J. Loughridge, who quarterbacked the Cavaliers to their first state championship game appearance in 1998. "You need that guy outside of your own father that is an inspiration. He was that for me, definitely. Along the lines of leadership, what the qualities are and how to get people to respect you, I use what he taught me to this day. Today, I run 300 people at a steel foundry. How I address the guys and carry myself in front of them, I model after his leadership. It's a huge part of how I lead."
The way that Reed created a bond between the players on and off the field carried on for Loughridge when he earned a spot onto the elite United States Navy SEAL team.
"Knowing what teams are about: a tight-knit group, an unbreakable bond, the things you can accomplish as a group and everyone has each other's back and are on the same page, I'm sure that's why I chose to do what I did," said Loughridge.
Keith Wenning feels the same way. The starting quarterback on Reed's final team in 2009, Wenning feels Reed's guidance helped him achieve once he graduated. Wenning went on to a standout career at Ball State, was selected by Baltimore in the NFL Draft and served as a backup for Cincinnati's A.J. McCarron in the final games of the 2015 season.
"I think about coach all the time. Coach Reed was one of the biggest influences in my life throughout my high school years," wrote Wenning in an email. "Being able to carry those life lessons he taught me truly shaped me through college and the NFL, and now life after football. I'll never forget our relationship we had, the one-on-one meetings game planning, and the Fridays under the lights. He truly was a special coach, and even more special person, who impacted the lives of so many young men."
"I remember hearing some of his speeches in the locker room before a game and especially after a game," said Goodwin. "I would say that (the speeches) rarely were about the game. They were about character outside of the game and how you present yourself that weekend. I wasn't here at the beginning, but when John came in (to Coldwater), he really helped clean up the environment at Coldwater. A lot was due to his presence."
For those who played for Reed, the success of the football team today solidifies that bond.
"That tradition that (Reed) started, it makes everybody smile," said Loughridge, who has spoken to the team at the request of Otten several times. "They love it. They absolutely love that tradition. It's absolutely more enjoyable to come home to see (the success), talk about it and read about it. It's one more thing that brings you home and puts a smile on your face. Coach started that."