Tuesday, May 19th, 2020
Virus statistics available
Mercer County virus cases reach 142
By Leslie Gartrell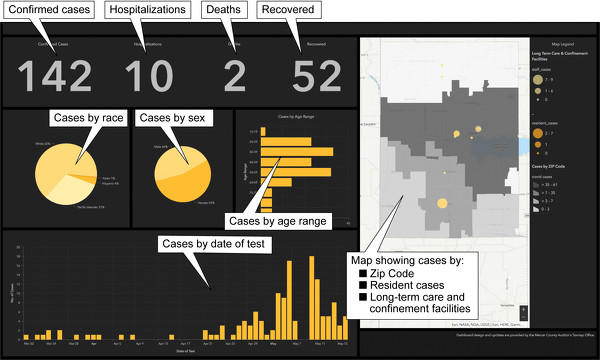 CELINA - The Mercer County Health District launched its online COVID-19 dashboard on Monday and reported five new confirmed cases of the virus, raising the county's total to 142.
No new cases were reported in Auglaize County.
Four of the newly confirmed cases in Mercer County involve men: one from the age of 70-80 who is hospitalized, one from the age of 40-50 who is self-isolating, one from the age of 20-30 who is self-isolating and one from the age of 50-60 who is also self-isolating, according to a health district news release. One is a woman from the age of 50-60 who is self-isolating at home.
District officials also reported 58 people who have recovered, 117 pending cases, 434 negative test results, 10 hospitalizations and two deaths from COVID-19.
The online dashboard, available at
arcg.is/1mTqa5
, includes a map of cases by town and zip code and demographic breakdowns by race, sex, age range and the number of cases by date of the test taken. The dashboard's map also includes a breakdown of long-term care and confinement facilities with confirmed cases of COVID-19 by staff and/or residents.
The dashboard shows 92 confirmed cases involve white non-Hispanic people (65%), 44 are Pacific Islanders (31%), five are Hispanic (4%) and one is Asian (1%). Women make up more than half of confirmed cases at 54%, while men make up 46%.
People from the age of 30-39 have had the most positive tests at 33, while people aged 50-59 come in a close second with 32. Those aged 20-29 account for 23 of the confirmed cases, and people from 40-49 also account for 23 cases. Fourteen of the confirmed cases are from the age of 60-69, five are 70-79, five are 80-89 and five are 90-99. Two of those with confirmed cases are from the age of 10-19.
Celina has the largest number of confirmed cases with 61. Coldwater has 35 confirmed cases and St. Henry has 24, while Fort Recovery and Maria Stein each have seven confirmed cases.
The Gardens at St. Henry has 51 residents, seven of whom have tested positive for COVID-19. One of those seven, a man from the age of 90-100, died on Saturday. The long-term care facility also has 93 staff members, nine of whom have tested positive for COVID-19.
At Celina Manor, one staff member out of 124 has tested positive. No residents have tested positive.
The health department will update the online dashboard each weekday by 4 p.m. People with questions about COVID-19 can contact the health district by calling its COVID-19 call center at 567-890-2619 from 9 a.m.-3 p.m. Monday-Friday.
The Auglaize County Health Department did not report any new cases on Monday, keeping the number of confirmed cases at 53 and probable cases at three. The health department also reported 11 hospitalizations, 20 people who have recovered and three deaths from COVID-19.
Of the 56 confirmed and probable cases, 39 involve women (70%) and 17 involve men (30%) with an average age of 55.
As of Monday evening, the Ohio Department of Health had reported 28,454 confirmed and probable cases, 4,998 hospitalizations and 1,657 confirmed and probable deaths from COVID-19.
According to ODH, 53% of cases in the state involve men while 46% involve women. Sex was not reported in less than 1% of cases. The median age of those testing positive is 50, with ages ranging from 1 to 108 years old.