Wednesday, June 3rd, 2020
Lake festival canceled
Fair likely will be pared down
By William Kincaid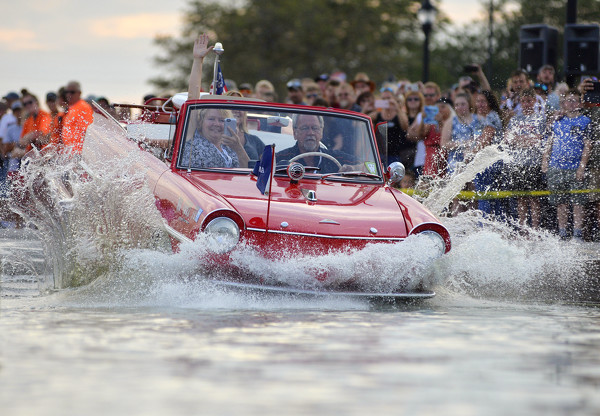 CELINA - The Celina Lake Festival was called off on Tuesday night due to the ongoing COVID-19 pandemic, joining a growing list of long-standing area summer celebrations to have been scrapped.
Meanwhile, Mercer County Fair officials are still committed to "putting on as much of a full fair as possible," manager Cara Muhlenkamp said.
Celina Lake Festival Co-chairwoman Michelle Miller made the announcement on Tuesday night at the conclusion of the steering committee meeting, referring to a post on the festival's Facebook page.
"As you probably expected, due to the global pandemic COVID-19, and the rules and regulations regarding social distancing and crowds, the Celina Lake Festival Steering Committee has made the incredibly hard decision to cancel all aspects of the 59th Annual Celina Lake Festival," the statement read.
Committee members explored every option to hold the festival July 24-26.
"But the safety of our patrons, vendors, sponsors, volunteers and community are our number one priority," the statement read.
The 2021 Celina Lake Festival has been scheduled for July 23-25, 2021, according to the release.
Discussing the fair, Muhlenkamp on Tuesday said she's been meeting with area elected officials and health department staff to sort through various questions concerning state directives and logistics.
"The last few weeks feel like a whirlwind here at the fairgrounds. Please continue to be patient with us as we figure everything out," Muhlenkamp wrote in a letter posted on the fair's Facebook page.
Officials are committed to having as many activities as possible, Muhlenkamp wrote, adding that nothing is set in stone at this point.
"Please understand that many things are changing daily, and that a lot of protocols can be lessened between now and August," she wrote.
Some updates include,
• 4-H shows and auctions will be held.
"The show schedule will be slightly modified because animals are only permitted to be on the grounds for 72 hours," Muhlenkamp wrote. "We are working through these details and will be publicizing the updated show schedule very soon."
• camping will be permitted, but details are being worked out.
• officials are still awaiting state directives concerning rides.
"Our goal is to offer rides and games to our community," she wrote.
• officials are working on developing social-distancing measures that would permit concerts and grandstand events.
"In doing so, we are looking at adding additional seating and large video screens," she wrote.
• many new sanitizing areas will be installed throughout the fairgrounds.