Saturday, July 11th, 2020
Minster nips Celina
By Colin Foster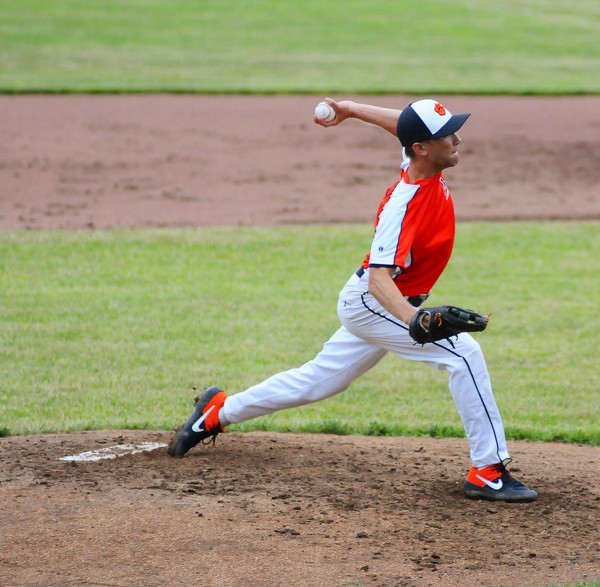 MINSTER - The results have been good for Minster this summer when Eric Schmidt is on the hill.
That trend continued on Friday night. 
Schmidt pitched five innings of one-hit baseball and Minster held off a late Celina charge for a 6-4 victory.
The incoming senior had seven strikeouts to increase his summer K total to 32 through three games. He was coming off a 14-strikeout performance in last week's win over Covington.
"You could see in the first inning that he was strong, a little erratic maybe," Minster coach Mike Wiss said. "He was at 43 pitches after two innings. But from 43 to 65, those were pretty efficient innings. He's a senior right now. He and Adam Ketner are the two seniors who are leading us. They're the ones who have been here the most."
Minster plated one run in the first inning. After a Texas-League single by Adam Ketner, Johnny Nixon followed him with a double and Zach Fortman singled home Ketner. 
Johnny Nixon's sacrifice fly scored Nathan Beair in the third inning. The Wildcats loaded the bases with a walk to Nathan Beair, a single by Eric Schmidt and a walk to Adam Ketner. A fourth walk later in the inning by the Celina pitching staff gave Minster's Luke Ripploh an RBI and made the score 3-0.
Dalton Leiss replaced Celina starting pitcher Zach Stein in the fourth inning. Leiss had three walks and Nathan Bergman reached on an error. His third walk to Beair added Minster's fourth run. A wild pitch by reliever Quade Gilmore allowed another Minster run to score. A sacrifice fly by Ketner made it 6-0 after four complete.
"You have to throw strikes in high school baseball," Celina coach Andy Waesch said. "If you don't, you're in trouble. We definitely talked about getting ahead, throwing strikes. We were all good from there."
Schmidt walked two and allowed just one hit on the night, a soft grounder down the third-base line to Zach Hirsch in the first inning. 
Luke Ripploh got into some trouble in the sixth with a pair of walks and a single to Brecken Adams. An errant throw on Quinn Andrew's fielder's choice  allowed Celina's first run to score. Back-to-back walks to Dylan Feister and Hirsch made it a 6-3 ballgame. Eli Rindler replaced Ripploh and a third straight walk, this one to Conner Altstaetter, added another run. But Rindler buckled down and got three straights to end the bases-loaded threat.
"We definitely had a longer week, four games, in this shortened season," Waesch said. "To see them kind of pushing and coming back at the end, that was huge for me."
Rindler retired the side in the seventh to earn the save. He blocked a line drive right back at him and threw to first for an out, then finished the night by recording a strikeout and forcing a fly out.
"Eli came in and threw strikes," Wiss said. "We scored when we had opportunities to score. They had a few walks. We gave them a few walks. That's kind of what tonight was. … But we've got a good group. I like us. We'll continue getting better."
Minster visits Coldwater this morning. Celina visits New Bremen on Monday.

LINESCORE
Celina 000 004 0 - 4 2 1
Minster 102 300 x - 6 5 1
WP - Schmidt
LP - Stein
Sv - Rindler
2B - M: Nixon.
Records: Celina 5-5, Minster 5-1.