Monday, August 3rd, 2020
New wetlands open to the public
Walking path in manmade area
By Sydney Albert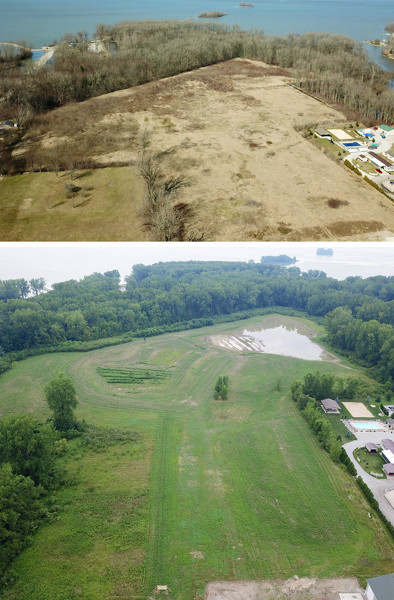 MONTEZUMA - The recently completed Windy Point wetlands area is open to the public, with officials hosting tours of the area over the weekend, despite the rainy forecast.
Officials from the Ohio Department of Natural Resources' Division of Wildlife and the Mercer County Soil and Water Conservation District gave out information on the artificially created wetlands, which include a 0.35-mile walking path, Saturday morning.
In 2019, the Mercer County Commissioners approved an $86,612 contract with Braun Excavating to complete the project, creating about 5.6 acres of underwater habitat and planting the remaining 9.7 acres with warm-season grasses and forbs, which are herbaceous flowering plants. It was estimated the project would reduce nutrient loading by 40.2 pounds, phosphorous loading by 12.9 pounds and sediment loading by 9.2 tons.
Windy Point is the latest restored or artificial wetlands area created around Grand Lake with the goal of reducing nutrient runoff, joining much larger wetlands areas such as the Prairie Creek, Beaver Creek and Coldwater Creek treatment trains. Running water through wetlands gives native plants a chance to remove excess nutrients, reducing the amount that eventually end up in Grand Lake.
Experts such as Stephen Jacquemin, an associate professor of biology and research coordinator at Wright State University-Lake Campus who has studied Grand Lake's water quality for years, have advocated for the protection and return of wetland areas. Jacquemin has called the restoration of wetlands a crucial step in water quality recovery due to their role in absorbing nutrient runoff.
The blue-green algae that has plagued the lake in recent years feeds on runoff nutrients such as phosphorus and nitrogen. While nutrient runoff comes from many sources, in the Grand Lake Watershed, studies show it's mostly from farmland in the 58,000-acre, livestock-heavy watershed. Phosphorus found in manure is the algae's favorite food source. Toxins produced by the algae can reportedly harm the liver, cause gastrointestinal symptoms and rashes and can sicken people and kill small animals.
Phosphorus-fed toxic blue-green algal blooms have resulted in state-issued water advisories on Grand Lake every year since 2009 and millions of dollars in lost tourism on the 13,500-acre lake. On Jan. 18, 2011, the state designated the local watershed distressed after humans and animals in 2010 had been sickened by blue-green algae in the lake. This triggered new rules for watershed farmers, including mandatory nutrient-management plans involving soil tests and restricting manure application.
Local groups such as the Lake Facilities Authority are continuing to seek out parcels of land that could be used to create more natural habitat in hopes of reducing nutrient runoff, with plans being made for a wetlands habitat in the area of Big and Little Chickasaw Creeks.