Monday, August 10th, 2020
DeWine: 'I am concerned'
In an interview with The Daily Standard, Gov. Mike DeWine called on Ohioans to stop the virus through behavior
By William Kincaid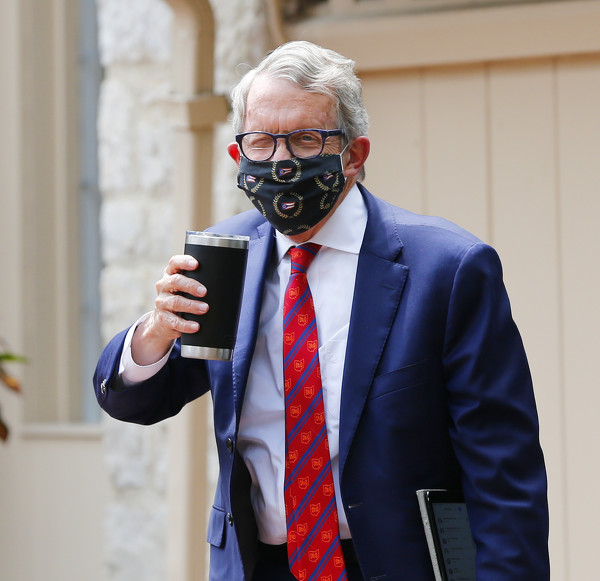 Mercer County residents must practice social distancing and wear face coverings if they want to get a handle on a surging pandemic and see some sense of normalcy this fall, Ohio Gov. Mike DeWine said in an exclusive phone interview with The Daily Standard on Sunday.
"Mercer County's ability to keep schools open, to play sports, to do all the things that we want for our children in the fall will depend on, frankly, what happens out in the community," DeWine said.
DeWine's plea to residents to follow what he calls common sense safety recommendations comes as Mercer County posts the highest number of COVID-19 cases per capita over the last two weeks. An unabated epidemic would threaten not only the health and life of people but chances for schools to stay open and sporting events to take place, DeWine noted.
"The way to control this is pretty basic. It's people out in the public wearing masks. It is people keeping their social distance," DeWine said. "Where we've really seen the spread throughout Ohio is people just not being careful when they're around friends, not being careful when they're around extended family and social occasions."
The numbers
DeWine characterized the COVID-19 outbreak as a high level spread affecting all corners of the county.
"I am particularly concerned because Mercer County for the last two weeks has the highest numbers of COVID per population than any place in the state," he said.
Mercer County has the highest case rate per capita in Ohio at 262.3 cases per 100,000 residents over the past two weeks, according to Ohio Department of Health, two-and-a-half times the number The Centers for Disease Control and Prevention define cites as being a high incident area.
He pointed to two events that were believed to have been tied to outbreaks, an agri-business and a funeral.
"Mercer County's had some big events but it's also what the health department now tells me is they believe it's spread throughout the county. So that is a real concern," DeWine said.
This is different than what was seen in March, when COVID-19 outbreaks were largely confined to major metropolitan areas, DeWine said.
"But if you look at our top ten counties, now five of those counties are rural counties," he said.
Masks, social distancing
DeWine said he fully understands that people have strong opinions on face coverings. But the virus will not stop on its own; people have to stop it, DeWine said.
"We've got to get control over this virus and the only way to do it until we have a vaccination is basically you've got to cut it off," he said. "You got to do the social distancing. You got to wear the mask. You got to do the testing."
DeWine a few weeks ago ordered that masks be worn by everyone 10 and older when they're out in public or in places where they can't follow social distance rules, The Associated Press reported.
"There is a verdict back and that is among the medical community and among scientists that wearing masks does help, but so does social distancing," he said. "These two put together can create a very good barrier that dramatically slows this virus down."
However, many people this weekend could be seen congregating without wearing masks at various locations that took part in the The World's Longest Yard Sale along U.S. 127. Also, some people in the area have displayed a fervent, anti-mask attitude.
Law enforcement is not the answer to face covering violations, DeWine insisted, saying there are not enough peace officers in the state to carry out such a duty. Rather, people must enforce the policy among themselves, he said.
"If people are not willing to make that small sacrifice you're going to see this virus continue to spread and you're going to be in a situation where you can't open your school because you don't have teachers," DeWine asserted.
That small sacrifice can help avert the transmission of COVID-19 among especially at-risks populations.
"While young people think they're invincible - I'm sure I did when I was 20 - nobody wants to be in a position where they end up killing their grandma. No one wants to live with that," DeWine said. "I think (it's important) for people to understand it may not impact them, but they could be carrying it and they could infect someone else who is more vulnerable then they are."
Mercer County Sheriff Jeff Grey, who along with county prosecutor Matthew Fox participated in the teleconference phone call, agreed with DeWine's position.
"There's never been any indication or desire from the state for us to go out and arrest people," Grey said, adding he wants people to follow safety protocols to prevent the spread of COVID-19, particularly to protect the vulnerable and elderly.
Testing
DeWine said state officials have made great strides in increasing testing of COVID-9 to the tune of 22,000 tests a day. They now want to double that amount, he said.
"We're increasing the testing but one of the challenges that Mercer County has faced is trying to get a quick turnaround on the testing," he said.
State officials are helping Mercer County Health District with COVID-19 contact tracing and hospital officials with testing.
DeWine is also offering the assistance of the Ohio National Guard, which is capable of launching a pop-up site anywhere in the county where anyone can be tested at no charge. All local officials have to do is ask.
"If there's already enough testing and everybody that needs to get a test is getting tested, than we don't need to do that," DeWine said. "If they want us to come in we'll be there but we only want to go where local officials, local health department, others think there's a need."
Opening schools
Allowing schools to reopen their doors for in-person learning amid a rising pandemic in Mercer County is indeed a risky proposition fraught with potential hurdles, DeWine said. Yet he said he shares the community's desire to see kids return to school.
DeWine has left many reopening decisions up to school district officials. He can't, though, completely guarantee that schools won't have to resort to remote learning should the pandemic continue to get out of hand.
To improve the odds of schools reopening and staying open throughout the school year, officials have to get control of the spread of COVID-19 in their communities, DeWine said.
Local school district officials have assembled reopening plans that call for intense sanitizing, safety protocols and other measures aimed at reducing the spread of COVID-19.
"I have every confidence what they're going to be doing follows the protocols and they'll be doing the best job that they can," DeWine said.
Most teachers and students will be required to wear masks or face shields at Ohio schools that resume in-person classes this fall by DeWine's decree.
"This was a decision that was based on strong, strong, strong recommendations from all the children's hospitals in the state," DeWine said, citing the consensus of other professional organizations. "This is going to be under the control of the teacher."
DeWine spoke with Mercer County superintendents via teleconference on Saturday to discuss preparations for the start of the new school year.
The superintendents issued a joint statement, saying having children in school and providing structure is vital to their academic success as well as their social and emotional wellness. They also touched upon DeWine's face covering policy.
"We were informed that the written order for face coverings will be issued on Monday," the news release states. "Based on our conversation with Governor DeWine, we feel this order allows for practical implementation and local flexibility."
County fairs
DeWine late last month announced that county fairs will be reduced to junior fairs featuring livestock competitions for children and teens, without the usual rides, games and grandstand events, according to The Associated Press.
"That's the heart and soul of our county fairs," he said about the junior fair that showcases the projects of children in 4-H and FFA. By and large, the county fairs that have moved forward since that announcement have stayed in compliance with the order, DeWine said.
"I would hope (the rules) would be adequate to get us through this year. Now if we start seeing problems again then will have to deal with the problems," he said.
Mercer County Fair Board last week approved a revised schedule for the fair that kicks off Friday. It includes many of the usual livestock shows and harness racing events, with a few other activities such as fireworks and outdoor movies.
They have been working diligently behind the scenes to stage the best fair possible while adhering to the state's COVID-19 pandemic-based safety measures.
Several COVID-19-related protocols had been approved, among them, 28 additional handwashing and sanitizing stations, spacing out vendor booths and encouraging social distancing in the commercial building.