Tuesday, August 11th, 2020
Mercer County Fair
Free admission an added feature to summer fair
By William Kincaid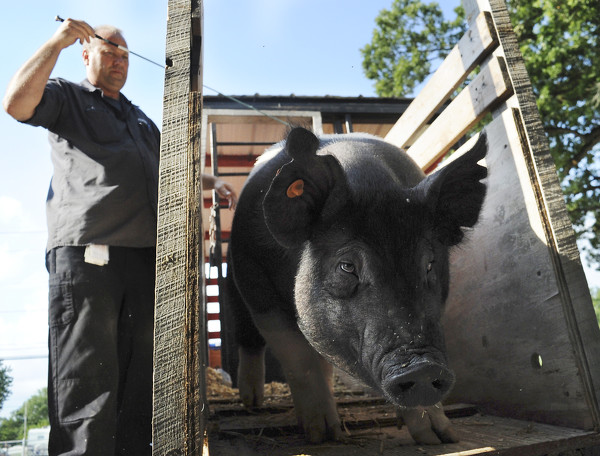 CELINA - Mercer County Fair officials went into high gear to come up with an entertaining and satisfying fair schedule after a last-minute curveball from the state forced them to ax big-name concerts and traditional fair staples.
Gov. Mike DeWine late last month announced that due to the COVID-19 pandemic county fairs will be reduced to junior fairs featuring livestock competitions for children and teens, without the usual rides, games and grandstand events.
Fair manager Cara Muhlenkamp, though, is proud of board members' and staff efforts to preserve the integrity of the fair while proceeding with a scaled-back event that will spotlight the county's proud agricultural heritage with junior fair events and about 20 food vendors.
The fair runs Wednesday through Aug. 20 at the Mercer County Fairgrounds in Celina.
"It's unfortunate that we're not able to have the rides and the games and the grandstand events, but as a fair board and office staff, we really tried to sit down and look at what we could do and accomplish quickly," Muhlenkamp said, adding fair patrons can expect some good offerings.
To further entice people to support the fair, officials will offer free admission. They will gladly accept donations to help offset an anticipated loss of $214,125 in fairground rental and event revenue losses from March through June and nonrefundable fair expenses due to the coronavirus pandemic.
"We just really want the public to come out and support our food vendors, our community and the youth of our community," Muhlenkamp said, noting many food vendors have had few if any opportunities to operate amid the pandemic.
Patrons will have a plethora of delectable items from which to choose - including wraps, deep-fried green beans, wings, cheesy curds, ice cream, fried pickles, sausage, shredded pork, doughnut burgers, hamburgers, steaks and soups.
"Unity Grange will be here. The Cattlemen, pork producers, FFA chapters, they'll be here, and then of course we've got elephant ears, sirloin tip dinners," Muhlenkamp rattled off. "Mikesell's Concessions out of St. Henry will be here. The Dairy Association will be here with their milkshakes. Of course, pizza. The kids love pizza and Italian Ice."
Other vendors confirmed for the fair are BEME Concessions, C-Town Wings, CW Concessions, Dippin' Dots, Fiske Fries, Fiske Cheese Curds, Frazier Fair Foods, Fun Food Concessions, Grandma Moses, MGLE, Tacket Foods, Triple D Concessions and Swain Concessions.
Food vouchers are available for purchase at the fair office until 4:30 p.m. Thursday. They can be bought in increments
of $5.
Officials filled in some of the schedules' holes with new events, among them a Saturday night fireworks show, Sunday evening outdoor movie and a junior fair night swim on Monday and Tuesday for 4-H exhibitors and immediate family only.
"(We're) just trying to offer some fun things for the kids to do on top of showing their animals and such," Muhlenkamp said. "Without having the rides we felt like it was important to keep them active."
The junior fair is the heart and soul of all county fairs, DeWine said Sunday. Muhlenkamp agrees with that assessment.
"The reason we're here is to showcase the kids and the community and what they work year-round for," she said.
Set to transpire are projects involving market sheep, goats, lambs, dairy cattle, beef, alpacas, rabbits, poultry, dogs, swine, horse and calves.
The Bear Hollow Wood Carvers from French Lick, Indiana, will be on site at 5 p.m. Sunday, Monday and Aug. 17-18, Muhlenkamp pointed out. The event has become a substantial fundraiser for the fair. Roughly 14 of the group's wood carvings will be auctioned off at 8 p.m. Aug. 19, with proceeds to be divided among county fire departments, junior fair scholarships and other organizations.
Organizers have worked diligently behind the scenes to stage the best fair possible this summer while adhering to the state's COVID-19 pandemic-based safety measures.
The fair board spent $97,250 on measures related to holding a fair amid the pandemic, according to Muhlenkamp. They also added 28 additional handwashing and sanitizing stations and put into place numerous safety measures.
Many events will be broadcast on the fair board's Facebook page for those not comfortable attending the fair in-person.
In addition to the high school band show, tractor pulls, demolition derby, strolling entertainment, demonstrations and rides being yanked from the schedule to comply with state orders, the fair's country concert featuring Sawyer Brown and BlackHawk and Christian country featuring King & Country have been postponed.
Sawyer Brown and BlackHawk, however, have been rescheduled for next year's fair. Tickets purchased this year will be accepted next year, but refunds will also be offered Sept. 1-30. Refunded tickets will then be resold to the public.
Officials are still working to reschedule the Christian concert.
Muhlenkamp said fair officials are walking into this year's event with $214,000 in debt from coronavirus-related expenses, a loss of rental and event revenue from March through June and non-refundable fair expenses.
"We're doing the best that we possibly can given the circumstances, and we're going to move past this year and build a better 2021 (fair)," Muhlenkamp said.
The revenue crunch undoubtedly will have an impact on the board in the future, but Muhlenkamp looks ahead with optimism.
"I think we're going to see the effects of this for a couple of years, unfortunately, but our community is very loyal and supportive," she said. "I feel like we've tried to be very transparent with them in letting them know how things truly are."
She also feels reassured by the community's support.
"I feel like we've got a lot of people who see how hard the board and the staff are working, and they want to support us and get behind us," she said.