Friday, August 21st, 2020
COVID questions answered
By Leslie Gartrell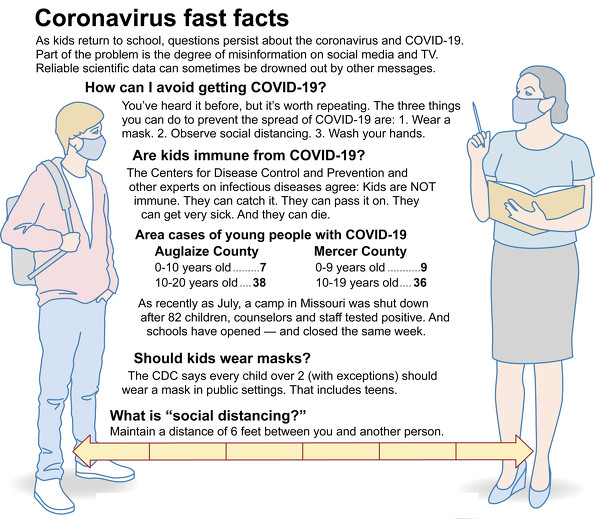 Editors note: This story is the first of a series on common questions about COVID-19 from readers and residents.
Deb Scheer, epidemiologist for both the Mercer County Health District and Auglaize County Health Department, spoke with the newspaper on Thursday to explain some key facts on the novel coronavirus, commonly used COVID-19 terminology and why they matter. Scheer has worked in public health for more than 27 years, with a focus on infectious disease for the majority of her career.

What is COVID-19, and what makes it different from the flu?
A novel coronavirus is a new coronavirus that has not been previously identified, according to the Centers for Disease Control and Prevention. The virus causing coronavirus disease 2019, or COVID-19, is not the same as the coronaviruses that commonly circulate among humans and cause mild illness, such as the common cold.
Many types of human coronaviruses have been identified, including some that commonly cause mild upper-respiratory tract illnesses, according to the CDC.
Unlike seasonal influenza, humans have not built up immunity to COVID-19 since it is new, Scheer said. The flu can be treated and even prevented with a vaccine, and over time humans have built up some form of immunity to the disease. That's not the case with COVID-19.
"With other viruses like the flu, you kind of know how it's going to act," she explained. "But COVID-19 is a new virus, and no one has immunity."
Some have suggested intentionally contracting the virus to build herd immunity. Herd immunity occurs when enough people become immune to a disease to make its spread unlikely, according to an online report from Harvard Medical School. As a result, the entire community is protected, even those who are not themselves immune. Herd immunity is usually achieved through vaccination, but it can also occur through natural infection.
According to the Harvard report, experts estimate that somewhere between 60% and 70% of the population must be immune to achieve herd immunity. That's close to 200 million people in the United States and nearly 5 billion worldwide.
Achieving COVID-19 herd immunity through natural infection means many people would become ill and many more would die, according to the report. Scheer agreed that catching and spreading the disease to gain herd immunity would only make more people sick and lead to more deaths, especially for those who are at high risk for complications.
Rather than catching the virus and spreading it to loved ones, Scheer said following precautions such as social distancing and wearing a mask is the best defense until a vaccine is made.
"To me, it's easier to take the steps I need to take to protect my friends, family and my co-workers," she said.

What is a per capita rate
and why should I care?
Per capita means "by head" in Latin, so a per capita rate can be used to figure the rate of COVID-19 cases in a population. Mercer County Health District Administrator Jason Menchhofer said using per capita rates allows officials to compare the rates among different-sized jurisdictions.
"The per 100,000 population rate is used to provide a relatable whole number, rather than a true per capita (per person) rate, which in many cases would be a very small decimal, making comparison awkward," he said.
Per capita rates can be calculated for prevalence or incidence. The prevalence rate is the total number of cases in a specific period of time. It can be used to calculate the rate of COVID-19 cases diagnosed since the beginning of the pandemic.
Using the prevalence rate to figure the number of cases per population in Mercer County can demonstrate the overall burden on the county, Scheer said. Mercer County has had 718 confirmed cases of the virus as of Thursday afternoon, according to a health district news release.
"Seven hundred (cases) is huge for our county," Scheer noted.
Since the beginning of the pandemic, Mercer County has had a prevalence rate of 1,751 cases per 100,000 people.
The incidence rate is the number of new cases in a given time frame. This is the rate Gov. Mike DeWine has used in recent weeks to highlight the high exposure and spread of the virus. The county continues to have the highest incidence rate in the state, with 245.3 new cases per 100,000 residents. Studying the most recent two weeks provides a clearer picture of what is happening now as opposed to using numbers compiled over the duration of the pandemic, Menchhofer said.

What is the Ohio Public Health Advisory System?
Per capita rates are also one of the measurements used by the Ohio Public Health Advisory System to determine a county's risk level.
The advisory system supplements existing statewide orders to measure the virus' spread and to engage and empower individuals, businesses, communities, local governments and others in their response and actions, according to the Ohio Department of Health's website.
The advisory system uses seven indicators to determine the alert level, with Level 1 having no or just one indicator met and Level 4 having six or seven indications met.
Indicators include new cases per capita, sustained increase in the number of new cases, proportion of cases not in a congregate setting, sustained increase in emergency room visits, sustained increase in outpatient visits, sustained increase in new COVID-19 hospital admissions and intensive care unit bed occupancy.
Mercer County was elevated to Level 2 in early July after two thresholds were exceeded: new cases per capita and the proportion of cases involving people who do not live in a congregate care facility.
The county was elevated to Level 3 on Aug. 6 after a sustained increase in COVID-19 hospital admissions and a sustained increase in new cases for at least five consecutive days over the last three weeks.
As of Thursday, Mercer County remains at Level 3. Although the county has dropped down to two indicators on the advisory system - more than 50 cases per 100,000 residents in the most recent two weeks and more than 50% of cases in non-congregate settings - the county remains elevated because of the high incidence rate of new COVID-19 cases, according to a health district news release.
Counties that have more than 100 cases per 100,000 residents within the past two weeks qualify as high-incidence counties.

What is the risk of
COVID-19 to children?
Children and teens do not appear to be at higher risk for COVID-19 than adults, according to the CDC. While some children and infants have become sick with COVID-19, adults make up most known cases.
The symptoms are similar in children and adults. However, some children have developed multisystem inflammatory syndrome, or MIS-C, according to the CDC. MIS-C is a condition in which different parts of the body including the heart, lungs, kidneys, brain, skin, eyes or gastrointestinal organs can become inflamed. Information about the syndrome is limited, the CDC says.
Children are not immune to the virus. In Mercer County, nine of the 718 cases of COVID-19 have involved children from birth-9 years old, and 36 cases involved youth from the age of 10-19. Children as young as 1 month old have contracted the virus in Mercer County, according to the health district.
In Auglaize County, seven of the confirmed and probable 375 cases have involved kids from birth-10 years old, and 38 cases have involved youth from the age of 10-20.
A facial covering mandate has been put into place for all Ohioans, including children in school. However, exceptions have been made for some children, including those under the age of 2, any child unable to remove the face covering without assistance, children with significant behavioral or psychological issues undergoing treatment that is exacerbated specifically by the use of facial covering, children living with severe autism or with extreme developmental delay who may become agitated or anxious wearing a mask or children with facial deformities that cause airway obstruction.
Kids and teens can follow the same precautions as adults to stay healthy and prevent the spread of COVID-19, including avoiding people who are sick, staying home when sick, wearing a face mask or facial covering, frequent hand washing and covering coughs and sneezes with a tissue.