Thursday, August 27th, 2020
3 hurt in pickup-semi accident
By Leslie Gartrell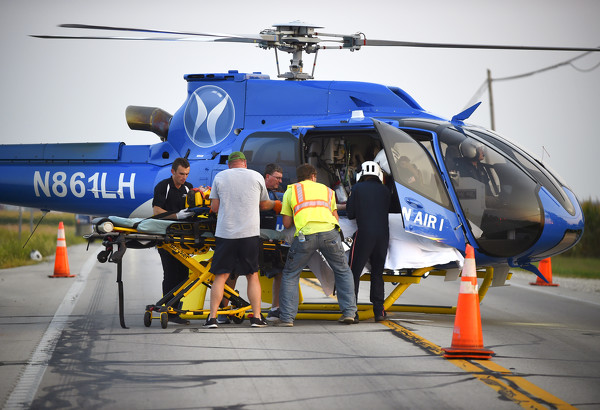 DUBLIN TOWNSHIP - An accident involving a truck and a semitrailer at the intersection of state routes 118 and 707 left three people seriously injured including one transported by a medical helicopter on Wednesday evening.
Ohio State Highway Patrol Trooper Ryan Lamarr of the Wapakoneta Post said a call came in around 6:30 p.m. reporting the accident.
A silver GMC pickup with two occupants was northbound on State Route 118 and reportedly attempted to make a left turn onto State Route 707. It was struck by a semitrailer headed southbound on 118, Lamarr said.
The driver of the truck was transported by Mercer County Emergency Medical Services to Mercer County Community Hospital in Coldwater, while the driver of the semitrailer was transported by Mercer County EMS to Joint Township District Memorial Hospital in St. Marys, according to officials at the scene.
The pickup's passenger was flown by a Lutheran Air helicopter to a hospital in Fort Wayne, Indiana.
The Wapakoneta Patrol Post is handling the accident, which is still under investigation, Lamarr said.
Also assisting at the scene were members of the Rockford and Mendon fire departments, Mercer County EMS and the Mercer County Sheriff's Office.