Thursday, September 10th, 2020
Keeping patrons safe
$100K grant to help library in pandemic
By William Kincaid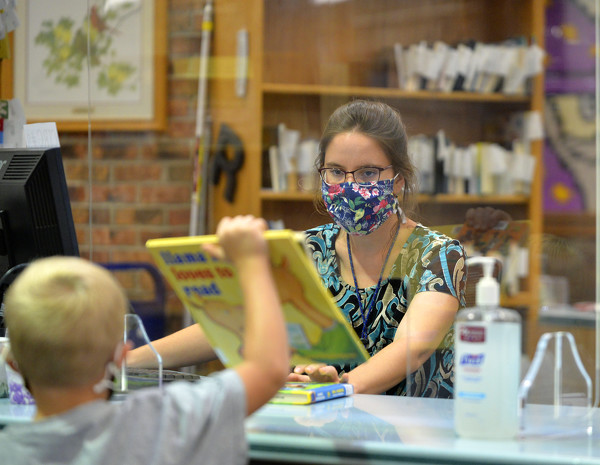 CELINA- Mercer County District Library officials will pursue a slew of projects aimed at safeguarding patrons from coronavirus exposure at all four branches after landing a $100,000 grant.
"I was really excited to be able to get these funds," library director Elizabeth Muether said of the COVID-19 safety funds authorized by the Ohio Controlling Board. The money comes by way of the federal Coronavirus Aid, Relief and Economic Security Act.
Muether said the library was eligible to apply for up to $100,000 - $25,000 for each of the four branches. The library's board of trustees on Wednesday approved a spending plan that calls for safety-related improvements at all four branches.
Looking to maximize social distancing while opening up accessibility to items at the Mendon Branch, which has the most limited hours of all the branches, officials decided to add a 24-7 center.
Officials will repurpose one of the library's two entrances as a book locker zone, facilitating a truly contact-free experience, Muether said. Patrons would be able to pick up requested items in one of roughly 15 book lockers to be set up, via a scan of their library card, any time of the day, Muether explained.
The book lockers are expected to arrive within eight to 12 weeks, she said.
At the Zahn-Marion Branch in Chickasaw, officials will arrange for touchless opening and closing of the entrance doors, while at the St. Henry-Granville Branch, officials will replace computer chairs containing fabric, with models whose surfaces can easily be sanitized, Muether noted.
Since reopening the Celina branch, use of public computers has been limited as part of social-distancing measures. Officials aim to remedy that situation by adding a computer lounge on the upper floor.
The upper level is dedicated to nonfiction books. The library doesn't purchase as many books for this section as students now tend to find online sources for their assignments and reports, Muether said.
Officials will rearrange the space, move some computers from the first floor, install clear screens between each unit and set up chairs that can be easily cleaned.
Librarians will be able to monitor use of upstairs computers and move in to sanitize the equipment once users are finished.
Also, officials will add touchless water fountains at all the branches, allowing patrons to fill water bottles without touching surfaces.
Muether said the $100,000 grant is a sizable amount of funding. The library's annual budget is about $1.2 million.
The payments assist libraries in operating safely during the COVID-19 public health emergency, including supporting increased sanitation costs, maintaining social distancing, purchasing personal protection equipment and other necessary costs to comply with public health orders, local health department recommendations and best practices, an Ohio Office of Budget and Management news release states.
"Thanks to our partners in the General Assembly, specifically Representative Susan Manchester and Senator Matt Huffman, CARES Act funding is going back into our communities and supporting local resources," Gov. Mike DeWine said. "We know this funding will be put to good use serving the community."
All four Mercer County District Library locations reopened with normal hours of operation on July 1, following guidance from the Ohio and Mercer County health departments. Officials enacted several safety measures, among them social distancing, use of hand sanitizers, curbside pickup service, limiting computer use and requiring all employees to wear face coverings when interacting with others and to have their temperatures checked daily.