Friday, September 11th, 2020
Battling for the win
Cardinals hold off Redskins to stay unbeaten
By Gary R. Rasberry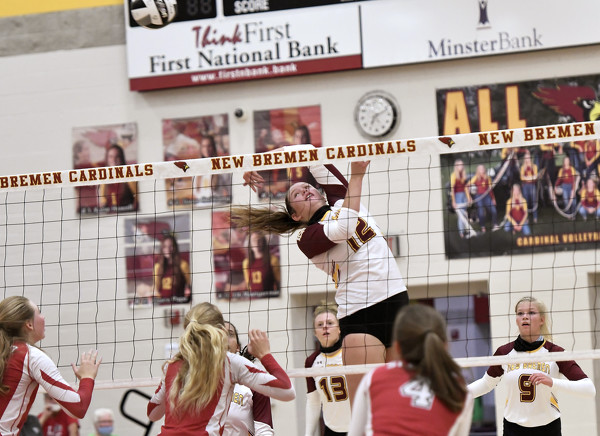 NEW BREMEN - Thursday's Midwest Athletic Conference volleyball match between St. Henry and New Bremen was played exactly how Cardinals coach Diana Kramer expected it would be.
The Redskins gave the Cardinals all they could handle, but Bremen's veteran players managed to battle through and pick up the 25-22, 25-21, 25-15 win in a match up of last year's conference co-champs at Cardinal Gymnasium.
New Bremen (8-0, 2-0 MAC) faced similar scenarios in winning the first two sets: get a decent lead and then watch St. Henry (4-4, 0-2 MAC) battle back to make it interesting and finally put the set away.
"We knew what exactly was going to happen," said Kramer. "Both teams have the same mentality and philosophy. I think Tricia (Redskins coach Tricia Rosenbeck) would agree, it wasn't pretty volleyball tonight. I'm proud of my team for battling through."
"We knew coming in we could play with them," said Rosenbeck. "For our girls, it's a lot of mental mistakes that we make that seem to come at points where we don't need mental mistakes. That all comes with experience and playing at the varsity level
In the first set the Cardinals jumped out 9-3 thanks to a four-point run by Josie Reinhart that featured two kills from Elli Roetgerman and two blocks from Olivia Heitkamp. New Bremen was on the verge of set point at 23-16 when the Redskins got the serve back for Grace Lange, who served up two aces as part of a five-point run to make the score 23-22 and forcing Kramer to call a timeout. A kill by Ellie Tangeman gave the Cardinals the serve back and then a St. Henry hitting error gave the Cardinals the set.
The second set had nine ties and five lead changes. The Redskins were up 15-13 thanks to a kill by Sydney Schwieterman, but the Cardinals quickly tied the set at 15-all. The two teams tied up at 16-, 17- and 19-all before a Roetgerman ace gave the Cardinals a two-point cushion, then held on for the win.
The third set began as a carbon-copy of the first two with the Cardinals jumping out 5-0 and then St. Henry rebounded to take a 6-5 lead thanks to a big service run by Mia Niekamp. The teams tied at 11- and 12-all, but a four-point run by Diana Heitkamp put the set and match on ice.
"We made some adjustments in the third set and we got better," said Kramer. "(St. Henry) exposed a lot of our weaknesses. They're a good team."
"I thought our serving was pretty good tonight," said Rosenbeck. "We always talk about having more aces than (service) errors. We had nine aces and seven errors. But I do think that on the other serves that were good, we did a good job of getting (New Bremen) out of system. That was good to see."
Roetgerman led New Bremen with nine kills Reinhart had seven kills and four aces. Heitkamp had four aces and 13 digs and Claire Pape finished with 28 assists.
Brianna Siefring led St. Henry with 10 kills. Lange had nine digs and Lydia Werling recorded 13 assists.
The Cardinals will be up for a big challenge when defending Division II state champion Bishop Fenwick makes the trek from Middletown to face the defending Division IV state champion Cardinals. St. Henry is off until Monday when the Redskins travel to Elida.