Tuesday, September 15th, 2020
Clean Sweep
Bulldogs shut out Riders in tennis
By Gary R. Rasberry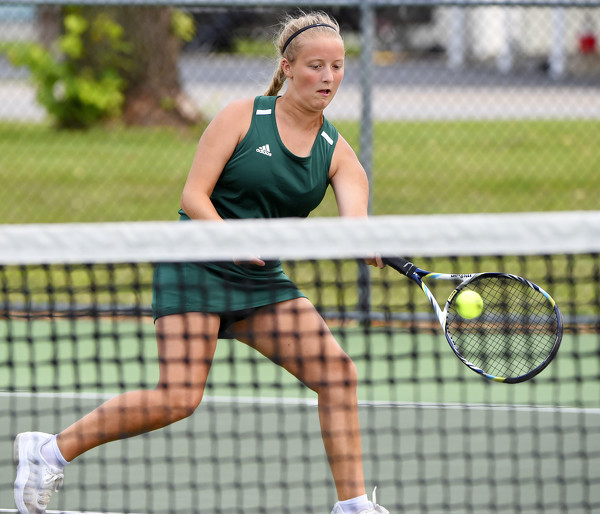 CELINA - For coach Jan Morrison, Monday was one of the best all-around performances for her Celina girls tennis team this season.
The Bulldogs improved to 4-4 in Western Buckeye League play with a 5-0 sweep of rival St. Marys at the Booster Club Tennis Complex in Celina. The Roughriders wrap up league play at 3-6.
In winning all the matches in straight sets, Celina dropped just a total of 10 games in the contest.
"We came to play tonight," said Morrison. "I'm proud of how the girls played tonight."
The doubles matches finished up quickly as the Bulldogs dropped just two games in doubles. Kaylyn Saunders and Whitney Jones defeated Jodi Perry and Maddie White with matching 6-1 sets while in second doubles, Madina Davlatboyeva and Michelle Elston shut out Sammy Taylor and Sydney Boedicker 6-0, 6-0.
"The doubles teams set up points for each other," said Morrison. "The baseline player hit the ball deep and set up her partner at the net."
In singles, Kayin Ayers got a battle from St. Marys' Charley Spencer in the first set of first singles before the Ceina senior picked up a 6-3 victory before taking the final set 6-0.
Amy Hartings also had a challenging first set against Roughrider Grace Dodson in second singles before picking up the 6-3, 6-1 win.
In third singles, Celina's Grace Schneider won the opening set 6-0 over Brooke Fricke before wrapping up her match with a 6-1 in in the second set.
"The singles players did a good job analyzing what they needed to do," said Morrison. "They had to mix it up a little to get points. St. Marys did a good job of keeping the ball in play deep, so we had to execute some offense to change the look once in a while."
Winning for Celina in exhibition matches were Kaylee Eischen in singles and the doubles teams of Audrey Albers and Kayliann Howell, Lauren Muhlenkamp and Alex Yaney and Mia Chrisman and Lily Black. Muhlenkamp also teamed with Maddy Meeker for another doubles win.
Audrey Shannon won in exhibition singles for St. Marys.
Celina returns to action on Wednesday for a rescheduled league match at Wapakoneta starting at 3 p.m. St. Marys travels to Lehman tonight for non-conference play.