Wednesday, September 30th, 2020
Warming up
Celina beats Coldwater to snap skid
By Gary R. Rasberry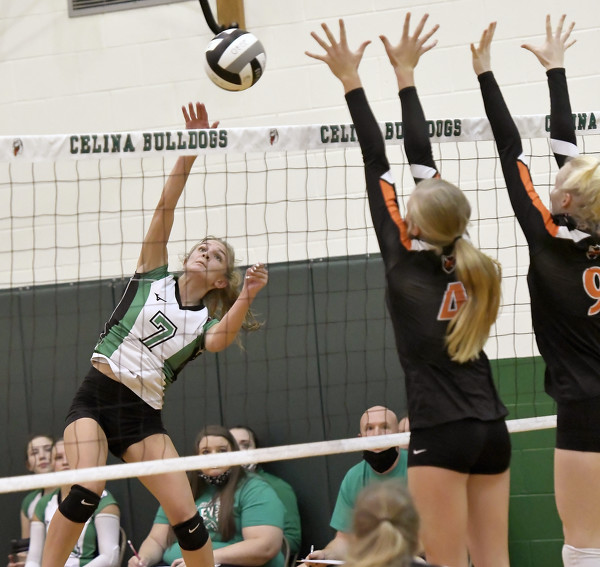 CELINA - After dropping a hard-fought first set to Coldwater, Celina got better.
Much better.
The Bulldogs snapped a three-match losing streak in taking the final three sets in a 19-25, 25-17, 25-20, 25-21 victory over the Cavaliers at the Intermediate School.
"After five sets last night (in a loss to South Adams), I could tell some of my kids were exhausted," said Celina coach Angela Bourne. "We talked about icing, stretching and carb-loading to get ready for today."
The match was competitive throughout with the key being one team getting a service run or a couple of service runs to get a lead. In the first set it was Coldwater getting run by Kandace Blockberger and Annelise Harlamert to get out to a 19-15 lead and then pulled away for the win.
But in the second set, Celina started finding its serving touch. Summer Wilson served up five straight points to put the Bulldogs in front 8-4. Coldwater came back, but Celina was able to manage two points or more in later service runs by Chloe McNeilan and Wilson to level the match at 1-1.
"They were able to get runs of points, and we'd go back and miss our serve," said Coldwater coach Nikki Etzler. "I think Celina played a great game for themselves, but I think our side of the net has a lot of work to do to control what we need to control."
Jenna Leugers helped the Cavaliers take a 4-1 lead early in the third set with a couple of aces. Coldwater later ran its lead to 11-5 before Celina roared back with Brooklyn Bourne serving. Bourne served up five straight points to make the score 13-12 Celina. The Cavaliers tied the set at 13-all and the teams were tied at 14-, 15- and 16-all before Wilson came up big again with four straight points to make the score 20-16. Coldwater got back to within a point, but Rose McGohan served three straight points to get to 24-19, and later a Cavalier hiting error closed out the set.
Coldwater led 4-3 early in the fourth set before Payton Bertke served four straight aces to put Celina in the lead at 7-4. Emily Schwieterman and Borne later added aces to push the lead to 18-11. The Cavaliers fought back with kills from Riley Rismiller, but a Schwieterman kill wrapped up the victory for the Bulldogs.
"Towards the beginning (of the match) we weren't hitting our zones (serving)," said coach Bourne. "From the second set, we were hitting our zones."
"We did a decent job on serve receive, but weren't able to put the ball away," said Etzler. "We weren't able to control our errors."
Maria Lutz had 12 kills to lead Celina. Brooklyn Bourne added nine kills and four aces. Bertke had 32 assists and four aces with Wilson recording 27 digs.
Rismiller had 11 kills. Blockberger had 15 digs and Harlamert recorded 26 assists.
Both teams are in conference play on Thursday. Celina hosts Defiance and Coldwater travels to Fort Recovery.