Tuesday, October 13th, 2020
Division II Girls State Golf Preview
The standard-bearer
St. Henry's Naumann lone Redskin, MAC golfer going to state
By Gary R. Rasberry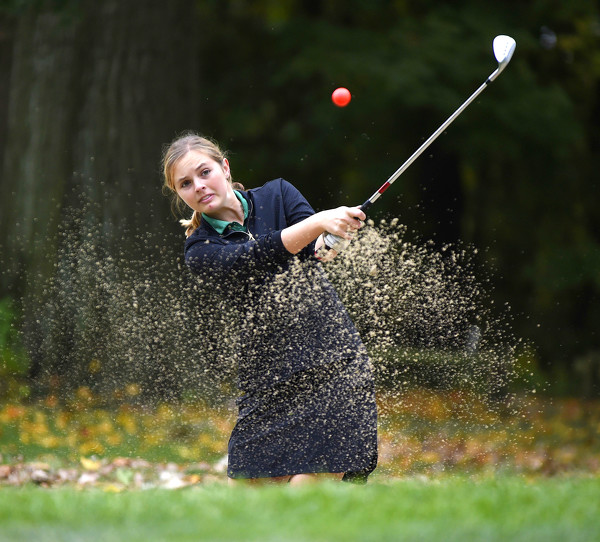 It was expected that Ellen Naumann would be in Columbus this weekend.
For the fourth straight season, the St. Henry senior will spend Friday and Saturday on the Gray Course at The Ohio State University competing in the Division II girls state golf tournament.
But this season, the mood will be different, and especially different from last season.
Naumann's first three trips to state were part of the Redskins' state-qualifying teams, but this season, the Redskins finished just outside the qualifying standings, so Naumann will be by herself for the most part on the course.
"It's extremely exciting to play again this year and playing for the fourth time," said Naumann via telephone. "Obviously, it will be different not having the whole team there, but I'm so excited to get the opportunity to play.
"It kind of stinks because not all of us could go, but it's still exciting."
In this unusual year where the fall sports season had been in doubt, Naumann was able to work on her game again as part of the Lima Junior Golf Association's summer tour. Naumann won eight of the 10 events she entered - and finished second in the other two - to earn the series' Golfer of the Year award for the second straight summer.
"It's helped drastically," said Naumann of the summer tour. "Playing all summer and not just starting Aug. 1 makes a huge difference in the game. At that point, I've been competing for two months."
While she didn't face off directly against her closest rivals twin sisters Mary Kelly and Erin Mulcahy of two-time defending state team champion Lima Central Catholic  as they played in the boys' 16-18 age group just to work out, she got a chance to see them at the district tournament at Sycamore Springs, where Mary Kelly shot a 73 to earn district golf medalist honors as the Thunderbirds won the team title to go for three straight state titles.
Another player that Naumann faced off against at district is Kansas Lakota's Kyleigh Dull, the two-defending state medalist. Naumann edged Dull 76-77 at district to earn the higher individual seed.
"Seeing the competition earlier helps," said Naumann. "They're going to play their game and that's what I need to do."
Improvement has been the word to describe Naumann's performance at state the past three seasons. After shooting a 173 as a freshman, good for a 29th-place tie in the standings, Naumann trimmed six strokes off her total her sophomore season to finish 17th with a 167.
Last season Naumann dominated the Midwest Athletic Conference to win conference Golfer of the Year honors and then went to state and shot a solid 150 - with a 3-over 73 in the first round - to finish tied for ninth and earn second team All-Ohio honors.
"I just want to go, play and enjoy my last year," said Naumann, who repeated as MAC Golfer of the Year this season. "I want to see how well I can play. I've played the course before. I know how it's set up. I want to see how I can do."
There is no specific goal as Naumann prepares to tee off at 10:50 a.m. on Friday.
"I don't have a number or a score in my head just because I don't know how to play," said Naumann. "I just really want to see how low I can go and beat my score (from 2019). That would be great. However I do, I'm just happy to be there."