Monday, October 19th, 2020
Division II Girls and Division III Boys State Golf Tournaments
Naumann finishes with All-Ohio honors
Minster boys place 10th at state tournament
By Gary R. Rasberry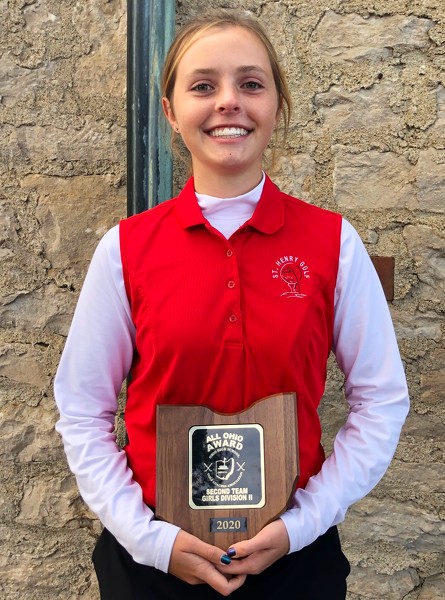 As Ellen Naumann took her final shot at the Division II girls state golf tournament on Saturday, it hit her that she was playing in her final high school match.
And it was a good feeling.
The St. Henry senior tapped in a putt to finish Saturday with a 74 and finished the two-round tournament with a 150 to finish seventh overall and earn second-team All-Ohio honors at the Gray Course at The Ohio State University.
"It felt great to be done, because I was getting tired at that point," said Naumann in a telephone interview. "It also felt weird that it was the last tournament I was going to play in high school. I was proud how I played and I knew I played better (Saturday) than I did the day before. I finished strong."
Naumann shot a 76 on Friday, struggling a bit on the back nine with five bogeys. Saturday, she started out with a 37 on the front nine, but on the turn after a double-bogey on 10 she recovered with a birdie on 11 and then had just one bogey the rest of the way to shoot 37 on the back. The 74 was the third-lowest score of the day.
"I wanted to see how well I could do," said Naumann. "I'm really proud of that.
"My putting was definitely better for the first half on Saturday. I struggled off-and-on (on Friday) but I worked on it before I started Saturday. That helped."
After helping St. Henry to advance to three straight tournaments as a team before going as an individual this year, the feeling of how she helped the program become a state power hasn't quite hit her yet.
"I don't think it's going to for a little while," said Naumann. "I can't believe it's over for high school."
Lima Central Catholic won its third straight state title after shooting a 630 for the two-day tournament.

DIVISION III BOYS
Minster wrapped up its third straight trip to the state tournament with a 10th-place finish after shooting 362 both days to finish with a 724.
"They had their plan, their goal, and they were two strokes higher than what they were hoping for the first day," said Minster coach Jeremy Magoto. "So they set their goal for the second day two strokes lower than their initial goal of 358, and they ended up repeating (the 362)."
Joseph Magoto finished 28th in the tournament after shooting a 166 (85-81). Brady Hoelscher finished with a 184 (89-95) with Ray Purdy shooting a 188 (94-94). Nathan Beair carded a 190 (98-92) and Eric Schmidt finished with a 194 (94-101).
"Would they liked to have some shots back? Yes. But they also understand that it's tough and difficult and they would love to tackle (the course) again," said coach Magoto.
Delphos St. John's finished 12th in the tournament with a 765 (377-388). Canton Central Catholic won the tournament with a 615 (300-315).