Friday, October 23rd, 2020
Trick or treat! Safely
People improvise to make candy giving COVID appropriate
By Leslie Gartrell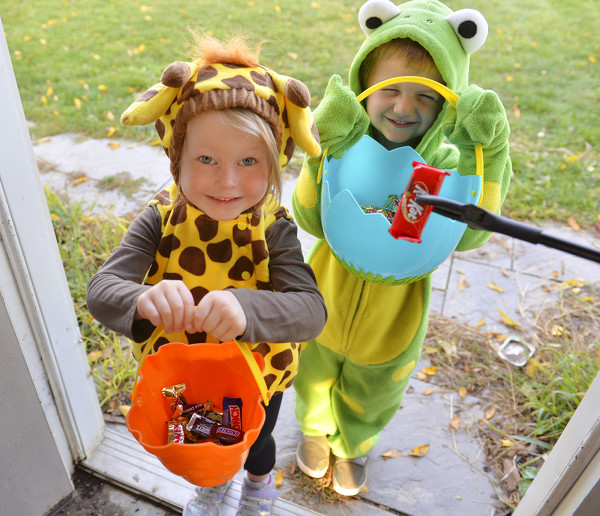 CELINA - Even amid the COVID-19 pandemic, Mercer County residents can have a safe, spooky Halloween if they take the right precautions.
Deciding whether to participate in Halloween festivities is up to parents, guardians, individuals and community members, and those celebrating can look to the Ohio Department of Health and the Centers for Disease Control and Prevention for creative ideas and safety practices.
No matter the activity, people should wear a facial covering or mask, wash their hands frequently and keep a 6-foot distance from others outside their household, according to the CDC. Indoors and outdoors, people are more likely to get or spread COVID-19 when in close contact with others for a long time.
While grisly masks can make for fun costumes, they can't replace cloth masks, and people should not wear a costume mask over a protective mask, according to the CDC. Instead, consider using a Halloween-themed cloth mask or decorate one to match a costume. The CDC also recommends the following activities to consider in place of trick or treat:
• People can organize lower-risk activities to celebrate the holiday. Families can host an outdoor scavenger hunt with Halloween-themed items or hide treats for a treat hunt.
• Neighborhoods could host a socially distanced outdoor costume contest or parade so all neighbors can show off their costumes. The Wapakoneta Chamber of Commerce hosted a drive-thru Halloween parade on Thursday, where hundreds of vehicles drove past decorated floats and received gift bags full of treats.
• People who live together could have a Halloween movie marathon with spooky treats, although screamers are encouraged to put a little extra distance between themselves and others.
• Families could host a pumpkin carving or decorating contest and proudly display them. Movie marathons, pumpkin carving contests and costume contests can all be held virtually or via videoconference so friends from all over can celebrate the spookiest day of the year together.
• Residents can also walk outdoors from house to house to admire Halloween decorations at a distance, or people who live together can drive by.
Traditional trick-or-treating, with treats handed to children who go door-to-door, is a high-risk activity and should be avoided, according to the CDC. However, steps can be taken to make trick-or-treating safer.
People who plan to supply treats should wash their hands for 20 seconds or more before handling treats and wear a mask. Trick-or-treaters should wash their hands before eating any treats.
Some area residents are getting creative about how they plan to distribute candy in a COVID-appropriate manner.
A few said they are going to place individual bags of candy on a table outside their homes for kids to pick up, which the CDC recommends. Others are planning a long-reach tactic.
"We are going to use tongs to hand out that candy," said Celina Highland Park resident Eunice Hagen. "Also I think Rick (husband) could use gloves and a mask somehow in a costume or I could, … something funny, not scary, but not a clown."
Hagen's neighbor, Kathleen Lake, said she plans to use a long grabber to distribute treats.
Jacci Piper said she will drill holes in either a real or styrofoam pumpkin and stick suckers into it for kids to pluck out.
"Everyone is improvising to create the best norm," said Piper, who lives north of Celina. "It's amazing how creative everyone has gotten lately."
Ron Ellinger said he heard of a resident making a human vending machine.
"They made a big box, refrigerator size, and the kids come up and ring a bell and someone inside fills a sliding drawer with candy, and the drawer comes out and it sucks back in," said the Celina resident. "It was decorated like a Reese's and that's what candy was in it, but you could decorate it however you want."
Another person said he had heard of people using PVC pipe to slide the candy down to trick or treaters.
Some have decided to forgo giving out candy this year, and some parents are deciding not to take their children trick or treating.
One resident said she decided to have an in-home party for her young child and cousins where they plan to smash open a candy-filled piñata, go on a spooky egg hunt and make crafts.
For more information on how to stay safe during Halloween and other holidays, people can go to the CDC's website, visit the "daily activities and going out" page and click on the "holidays" section for more guidance.
Residents can also visit ODH's Responsible ResartOhio page for more information.