Tuesday, November 10th, 2020
New center opens in St. Henry
By Leslie Gartrell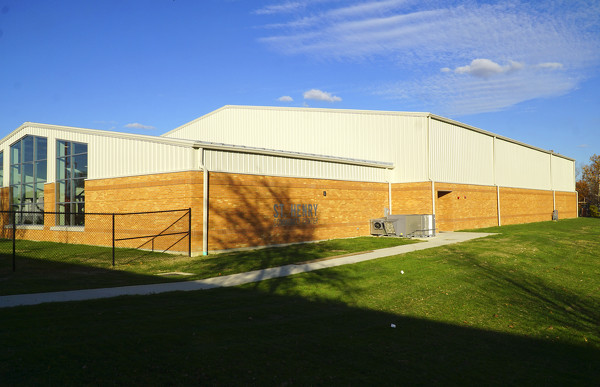 ST. HENRY - School board members on Monday evening accepted the donation of the newly completed St. Henry Community Center.
The board meeting started with a moment of silence for longtime high school guidance counselor Betsy Armstrong, who died in October.
Members accepted the donation of all titles and rights to the new facility from the St. Henry Athletic Boosters, who along with a fundraising committee raised about $2 million through donations and events, superintendent Julie Garke said.
Fundraising for the project started in 2016, and ground was broken in November 2019, Garke said. The 22,500-square-foot facility features batting cages, a weight room, a walking track and courts for pickle ball, volleyball and basketball.
"The building is for the students of the St. Henry school district and the St. Henry school district community," Garke said.
The building will have restricted hours in mornings and evenings for school teams to use. During other hours, community members can reserve a fob to enter and use the facility.
Garke said community members should contact athletic director and facilities coordinator Dennis Wendel for more information or to reserve a fob.
"We want to express gratitude to the athletic boosters, the fundraising committee, past and present board members and the generous donations from businesses, organizations and residents of St. Henry school district," Garke said.
Garke also noted the senior citizens breakfast scheduled for Dec. 9 has been canceled due to COVID-19.
Board members also,
• approved Family Medical Leave Act for Mary Jo Delzeith retroactive to Oct. 16.
• hired Kim Seaver as a long-term substitute as high school/middle school guidance counselor effective Nov. 30 at a rate of $100 per day for days 1-30 and $206.78 per day for days 31 and beyond.
• approved rules and regulations for the St. Henry Community Center.