Wednesday, November 25th, 2020
'In this together'
First responders shine lights for health care workers
By Leslie Gartrell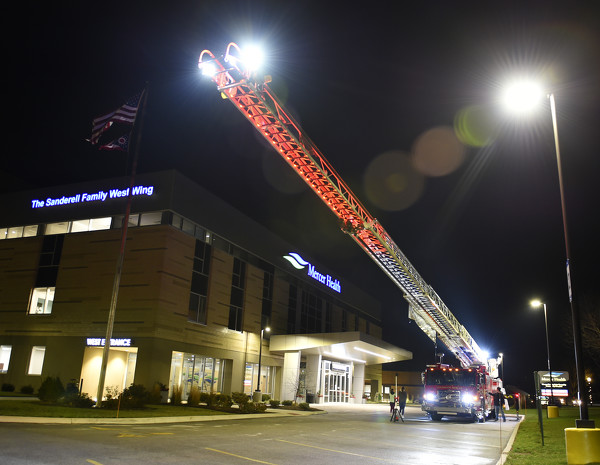 COLDWATER - Dozens of area first responders turned on their lights to show their support for health care workers by parading to Mercer County Community Hospital and circling Briarwood Village on Tuesday evening.
Zach Piper, 32, Celina, said his wife works at the hospital and could tell that staff morale has been low.
"Everyone's worn out," he said.
Piper said he'd seen similar events in bigger cities during the holidays in which first responders park with their lights on to raise caregivers' spirits.
He figured the same could be done in Mercer County. So on Friday Piper contacted Monte Diegel, the Mercer County Sheriff's Office's 911 administrator, to craft a plan.
"When I came up with the idea, I reached out to him for help as I know I could not have done it alone," he said.
Piper said 56 units, including area fire departments, police squads, emergency medical service squads, sheriff's deputies, emergency management agency members, Mercer County Emergency Response volunteers and Ohio State Highway Patrol troopers showed up in support. A medical helicopter from Lutheran Air completed a couple of flyovers as well, he said.
"We're hoping to surround the hospital," he said Monday evening.
And they did. The vehicles parked with their lights on in the east and south parking lots for 20 minutes in a demonstration of solidarity with hospital staff.
Totally Promotional in Coldwater had two banners made for the event, one of which was hung from a fire truck at the south entrance of the hospital. "We are in this together," the banner read.
The support didn't stop there. Chief Supermarket of Celina, Home Bakery of Coldwater and the St. Henry Bake Shoppe together donated 36 dozen cookies, which Piper said were delivered to the hospital earlier on Tuesday.
After their stint at the hospital, the parade made its way to Briarwood Village, where they circled the building to support the staff there.
As COVID-19 has put additional strain on the health care system, Piper said he hoped the event would be a moment of positivity from the community in support of health care workers.
"I'm just hoping the community can come together for all health care workers," he said.