Thursday, January 21st, 2021
Nearly 800 people vaccinated at drive-thru
By Leslie Gartrell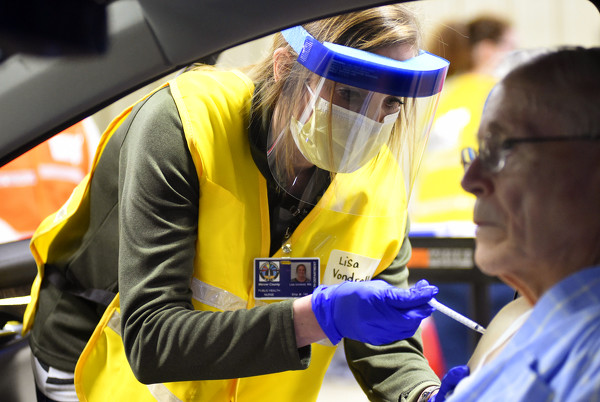 Photo by Dan Melograna/The Daily Standard
CELINA - Mercer County's first COVID-19 drive-thru vaccine clinic doled out nearly 800 vaccines to people age 80 and older on Wednesday.
Mercer County Health District officials had planned to administer about 300 vaccines until Tuesday evening, when officials received an additional 500 doses of the vaccine.
District administrator Jason Menchhofer said all appointments for the clinic had been filled, even with the additional shipment on Tuesday. Recipients received the Moderna vaccine.
Menchhofer said the day went as well as officials could have hoped for, and officials throughout the day were making a list of improvements that could be made.
"Generally speaking, things are going well," Menchhofer said earlier in the day. "But we have learned quite a few things over the past couple of days that we will be able to use to make things work more smoothly in future weeks."
The clinic was scheduled to run from 9:30 a.m.- 12:30 p.m. on Wednesday. However, the additional shipment meant additional appointments, and Menchhofer at about 8:15 p.m. said officials were still waiting for a few stragglers to show up in order to use extra doses and avoid waste. Earlier in the day, some clients waited up to two and a half hours to receive their vaccine.
The drive-thru COVID-19 vaccine clinic was similar to the district's annual drive-thru flu vaccine clinics. Cars lined up throughout the Mercer County Fairgrounds and participants made a handful of stops before reaching the clinic itself.
Clients first stopped to verify their appointment via an Eventbrite ticket or other means and submit their registration forms. Menchhofer noted registration forms are available on the health district's website at www.mchdohio.org.
If a person doesn't have forms filled out on arrival they can pull over to fill them out, although having the paperwork filled out beforehand will speed up the process, Menchhofer said.
Participants then register at the Hopewell Grange building before reaching their final destination. The building is typically used by the county engineers, who Menchhofer said were kind enough to clean up and move equipment to accommodate the clinic. The building is also heated and has a restroom clients can use if need be.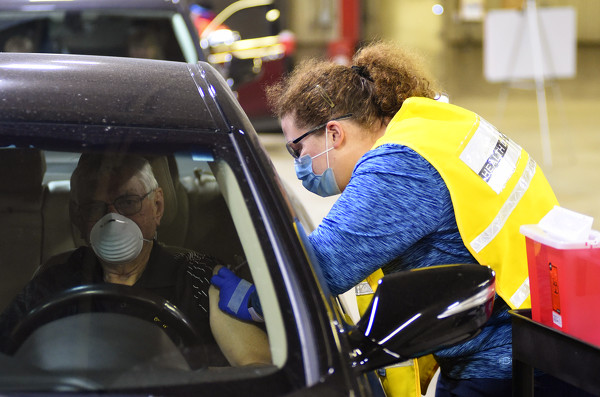 Photo by Dan Melograna/The Daily Standard
The building where vaccinations are held can fit up to seven cars inside. After getting vaccinated, all vehicles exit the building and line up in a nearby drive and wait 15 minutes to monitor for severe side effects. Menchhofer said there had not been any severe side effects reported as of 5 p.m.
Officials hope to hold weekly drive-thru clinics on Wednesdays at the fairgrounds, although Menchhofer said staff may adjust how many appointments can be made so wait times are not as long.
"We're asking for patience … so we can serve as many people as we can, as quickly as we can," he said.
People will have to register online through Eventbrite or by calling the health district's office at 567-890-2619. Menchhofer said some appointments will be set aside for phone appointments. Many people in Phase 1B are older and may not have access to a computer or may need help registering, Menchhofer continued, so some appointments will be set aside so those people can be registered.
Registration for the clinics will open at noon on Tuesdays, and staff will be able to help with registration over the phone until 3 p.m. Menchhofer noted the health district has a small staff, which is why the registration time is limited. The health district will announce information related to the clinics each Monday. No appointments will be scheduled before noon on Tuesdays.
People in other Phase 1B groups will be vaccinated in a tiered approach. Ohioans 75 years old and older and people with severe congenital, developmental or early-onset medical disorders and who have a developmental or intellectual disability can be vaccinated the week of Jan. 25.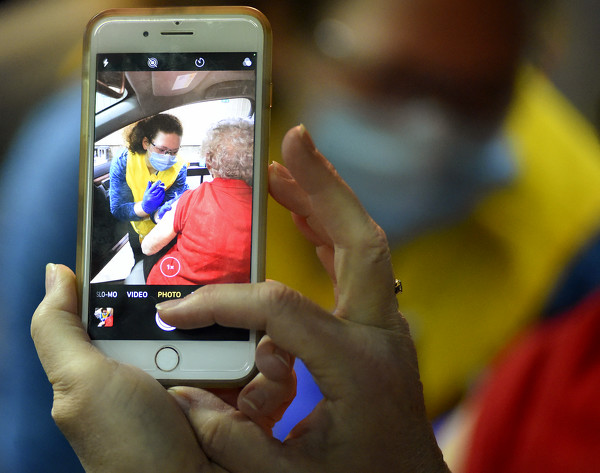 Photo by Dan Melograna/The Daily Standard
The week of Feb. 1, Ohioans 70 and older and people who work in schools can be vaccinated, and Ohioans 65 and older can be vaccinated the week of Feb. 8.
Ohioans who have a severe congenital, developmental or early-onset medical disorder who do not have a developmental or intellectual disability will be eligible to receive the vaccine the week of Feb. 15.
People in each age group will become eligible to receive the vaccine in the dates listed above, regardless of whether everyone in the previous age group has been vaccinated.
Due to the limited supply of doses, it will take weeks to vaccinate everyone in Phase 1B.
Mercer Health officials in a news release Wednesday said beginning this week, information regarding future vaccine clinics will be release each Wednesday for the upcoming week.
Mercer Health's first vaccine clinics are scheduled for today and Friday. The COVID-19 vaccination clinic is located inside Mercer County Community Hospital, Coldwater. Clients are asked to park in the west parking lot/parking lot 3 and enter and west entrance/entrance three.
Patients will register at west registration and be directed towards the vaccination clinic space, which will be located directly down the hall and to the right.
Vaccine registration will open for clinics scheduled for the next week from 9 a.m.-5 p.m. on Thursdays and Fridays each week. People can call 567-890-7188 to register. Online registration is no longer available, according to the release. Registration will close when the amount of appointments is equal to the amount of vaccines available.
Clients are asked to allow one hour for their appointment, and all individuals receiving the vaccine will sign a consent form. Due to social distancing requirements and parking availability, officials ask individuals to not arrive any earlier than 15 minutes before their scheduled time. People may be asked to wait in their car until their scheduled time.
Due to visitor restrictions, no guests or visitors can accompany individuals receiving the vaccine. Drivers and other guests or visitors must wait outside. If a person is registered and an appointment must be canceled, officials ask that people call Mercer Health's COVID-19 hotline at 419-678-5395 for further direction.
Auglaize County Health Department officials in a news release Wednesday reported 16 new cases of the virus, raising the county's total number of confirmed cases to 3,163.
Officials also reported a total of 990 probable cases, 165 hospitalizations, 51 deaths and 3,636 people who are presumed to have recovered since the beginning of the pandemic.
The breakdown of total cases by community is Wapakoneta, 1,502; St. Marys, 1,185; Minster, 440; New Bremen, 413; Cridersville, 229; Waynesfield, 158; New Knoxville, 119; Spencerville, 28; the Lima area, 25; Uniopolis, 12; Buckland, 12; St. Johns, seven; New Hampshire, seven; the Botkins area, six; the Lakeview area, five; the Mendon area, two; the Fort Loramie area, two; and the Harrod area, one.
Mercer County Health District officials did not have an update available by press time.
As of Wednesday night, the Ohio Department of Health reported a cumulative 842,433 confirmed and probable cases, 44,009 hospitalizations and 10,409 confirmed and probable deaths from COVID-19 in the state since the pandemic began.
COVID-19 cases:
| | |
| --- | --- |
| Ohio cases | 842,433 |
| Ohio deaths | 10,409 |
| Mercer County cases | 3,665 |
| Mercer County deaths | 71 |
| Auglaize County cases | 3,163 |
| Auglaize County deaths | 51 |
See photo album of the clinic.
Correction:
Approximately 525 doses of the Pfizer vaccines were administered during the Mercer County Health District COVID-19 drive-thru vaccine clinic on Wednesday. The error was made in reporting.