Thursday, February 4th, 2021
New clinic for people 65+
By Leslie Gartrell
CELINA - People 65 and older are eligible for vaccination at Mercer Health's COVID-19 vaccination clinics next week.
Mercer Health holds weekly clinics at Mercer County Community Hospital, Coldwater, on Thursdays and Fridays. People can register for the clinics by calling 567-890-7188.
Registration closes when the number of people registered equals the number of vaccines available. Vaccination is free, but administration fees may be billed to insurance companies.
Registration for next week's clinics is open from 9 a.m.-5 p.m. today. Registration is also available from 9 a.m.-5 p.m. Friday.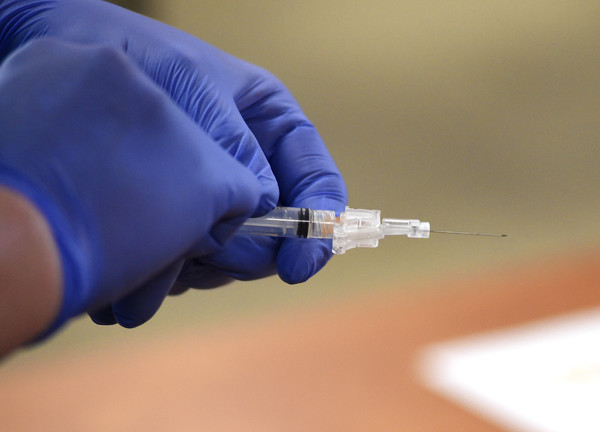 Photo by Dan Melograna/The Daily Standard
However, Mindy Kremer, Mercer Health vice president of development, marketing and communications, on Wednesday evening said appointments will likely fill up quickly.
"I have no doubt all our appointments will be filled up before 10 a.m. (this) morning," Kremer said in an email to the newspaper.
Vaccine providers in Mercer and Auglaize counties have struggled to keep up with high demand while doses are rare.
Auglaize County, which has four vaccine providers including the county health department, Kroger, Grand Lake Health System and Lima Memorial Health System, has also struggled to keep up.
Caitlin Decker, county health department public information officer, on Wednesday said the four providers are receiving a total of 400-500 vaccines a week.
Kremer last week said Mercer Health had received 100 doses for the two clinics planned for today and tomorrow. When registration opened last week, Kremer said 1,000 people were queued on the phone lines as soon as registration opened.
According to the Ohio Department of Health, the state receives about 146,000 first doses a week to allocate to local vaccine providers. However, roughly 1 million Ohioans were eligible for vaccinations in Phase 1A, and 2.2 million people are eligible for vaccination in Phase 1B.
Local health officials have asked for patience from residents until providers receive larger vaccine allocations.
In Auglaize County, the county health department today resumed scheduling appointments for COVID-19 vaccine clinics for the week of Feb. 8.
Next week's clinic will be for people age 65 and older. To schedule an appointment, call 419-738-3410 and select Option 1. Scheduling availability will depend on the amount of vaccine the department receives.
Kroger of St. Marys encourages customers to visit www.kroger.com/ohiocovidvaccine or to call the COVID-19 vaccine helpline at 866-211-5320 to schedule an appointment. People will need an appointment to be vaccinated.
In addition, people can visit Grand Lake Health System's website at www.grandlakehealth.org to complete an appointment request form or call 419-300-1132 if they are an eligible Phase 1B recipient. Eligible individuals will receive a phone call to schedule their appointments.
According to a Grand Lake Health System news release, if people have completed the online form or called and left a message, their information has been received. People should not complete any additional forms or leave additional messages.
For information on scheduling an appointment through Lima Memorial Health System, call 419-998-4491 or visit www.limamemorial.org/vaccine.
Auglaize County Health Department officials reported 13 new confirmed cases in the county on Wednesday, raising the county's cumulative case count to 3,274.
Auglaize County Health Department officials in a news release also reported a cumulative 1,054 probable cases, 169 hospitalizations, 56 deaths and 3,992 people who are presumed to have recovered since the pandemic began.
The case breakdown by community is Wapakoneta, 1,580; St. Marys, 1,234; Minster, 445; New Bremen, 424; Cridersville, 238; Waynesfield, 164; New Knoxville, 129; Spencerville, 32; the Lima area, 25; Uniopolis, 12; Buckland, 12; the Botkins area, eight; St. Johns, seven; New Hampshire, seven; the Lakeview area, five; the Mendon area, two; the Fort Loramie area, two; and the Harrod area, two.
Mercer County Health District officials did not provide an update by press time.
As of Wednesday night, ODH reported a total at 906,727 confirmed and probable cases in the state, 46,873 hospitalizations and 11,430 confirmed and probable deaths since the beginning of the pandemic.
COVID-19 vaccination clinic info:
What: Mercer Health COVID-19 vaccination clinics.
When: Feb. 11-12.
Who is eligible: People age 65 and older.
Where: Mercer County Community Hospital, Coldwater.
Registration opens: At 9 a.m. today. Registration closes when the number of appointments equals the number of vaccines allotted.
How to register: Call 567-890-7188.
COVID-19 cases:
| | |
| --- | --- |
| Ohio cases | 906,727 |
| Ohio deaths | 11,430 |
| Mercer County cases | 3,776 |
| Mercer County deaths | 77 |
| Auglaize County cases | 3,274 |
| Auglaize County deaths | 56 |