Saturday, February 20th, 2021
Eateries adapt to virus
Restaurants make changes to keep staff, customers safe
By William Kincaid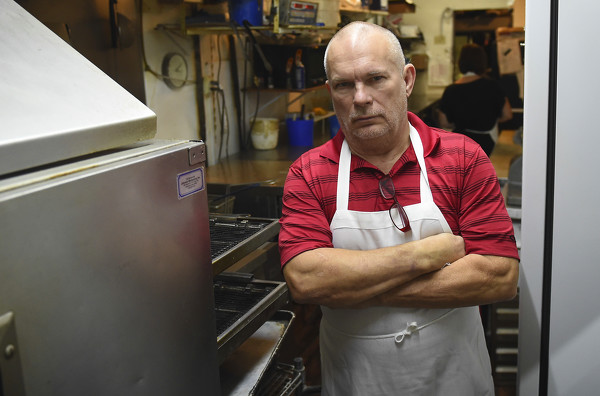 Area restaurateurs have been forced to change radically how they serve customers because of the COVID-19 pandemic.
Some believe operations will return slowly to normal while others doubt they'll see pre-pandemic sales levels again.
"The restaurant business is changed forever," said Patrick Rosenbeck, head chef at The Grill on Main in Coldwater.
Prior to the outbreak, the restaurant, renowned for its fresh seafood and Tennessee chicken that attracted people within an hour radius of Coldwater, was thriving, Rosenbeck said.
Rosenbeck and his wife, Lisa, over the last several years have invested more than a half million dollars into their restaurant and catering business, revamping the interior and adding a patio, he said.
"It used to be if you didn't have a reservation you weren't going to get in. That started probably three years ago," he said.
Then COVID-19 struck, followed by Gov. Mike DeWine's orders that temporarily shut down indoor dining.
"We ended up throwing away over $11,000 worth of product," Rosenbeck said, lamenting DeWine's administration didn't give restaurateurs more notice before the edicts took effect.
In response to COVID-19, Rosenbeck said he took out a loan to buy an air-filtration system.
"We tried to make our facility safe," he said.
Following state guidelines, Rosenbeck slashed indoor dining seating capacity by 50% While carryout orders shot up about 70%, in-person dining sales tanked by 75%, Rosenbeck estimated.
Previously, Rosenbeck said the restaurant ran like clockwork as he knew exactly how much product to have on hand.
"Now we're on a yo-yo. You've got to really be on top of the game right now because you can't throw away five cases of lettuce, but you still need lettuce to serve your customers," he said.
Rosenbeck experimented with curbside service, but it didn't pan out due to the limited number of open parking spaces on Main Street. He's still toying with the idea of adding delivery service.
He hopes conditions will return somewhat to normal in the coming months but questions if customers will resume indoor dining at previous levels.
"Everybody is a creature of habit … and their habits have changed," he said.
Also clouding the prospects is the average age of his customer base - 55 and older.
"These people, they're pretty damned scared, and they have a right to be, so they're just not going out on their own," Rosenbeck said. "They're concerned about their lives, and to be quite honest, so am I. I don't want to see anybody get sick. That's why we spent the money we did with the air-filtration system we put in."
That's why it's imperative that production and distribution of the COVID-19 vaccine ramps up.
"We've got to get the vaccine out there and then we've got to get the fear out of everybody taking the vaccine," he stressed.
Still, Rosenbeck said he's thankful for the community's support.
"This area is just great," he said.
Julie Fleck, owner of Bella's Italian Grille on West Bank Road in Celina, also greatly appreciates the public's rallying behind the restaurant.
"We've been supportive during tornadoes. We've been supportive during a virus, and we'll continue to look out for each other, Fleck said.
While indoor dining was prohibited from March 17 to May 15, Fleck and her staff poured themselves into carryout, delivery and pickup services. They also used the time to incorporate safety measures such as socially distancing tables and placing barriers between booths in anticipation of reopening the dining room.
"We're one of the lucky ones because of the way the restaurant is laid out, we really lost less than 25% of our seating inside, and because we have our outdoor patio dining during the summer months that really just kind of took over," Fleck said. "People wanted to come out to eat and, of course, we have a great view so that doesn't hurt."
The patio was consistently packed, as people sought a safe place to see other people and enjoy a delicious, alfresco meal.
"The lake was probably used more than any other year in the past, at least in the past 20 years that we've been out, and people were able to hop off the boat, come in, eat and head back out onto the lake," she said.
Fleck, who characterized Bella's 2020 sales figures as OK, is optimistic about the future.
"I think that sales can certainly return to pre-COVID levels, but we all have to adapt and change to where we're at now. I think more guests are going to want to come out to eat when things do return to a little bit more normal," he said.
She also outlined potential trends that could emerge from the pandemic.
"One of the benefits of this entire thing is most people have been able to spend a little bit more family time, and I think that's a huge benefit," she said. "Hopefully families will continue to dine together with takeout food on a regular basis and still support their local restaurants if they're not going to come in."
On the fast-food side, Stacy Vorhees, owner-operator of Monfort/Vorhees Family McDonald's restaurant locations in Wapakoneta, Russells Point, Celina and Coldwater, said customers have stayed loyal to the brand albeit in different ways.
"When the lobbies closed, the customers just shifted how they accessed McDonald's," Vorhees said. "They accessed us differently with delivery, mobile orders and curbside. They just chose different options to access McDonald's. They used drive-thru more also."
The lobbies of all the Monfort/Vorhees Famkly McDonald's restaurant are open for carryout orders. The Wapakoneta and Russells Point sites have indoor dining.
Customers can order using their smartphones, a convenient option that can store order specifications for future purchases. Customers either use the drive-thru or park in a designated space. Employees are alerted when the customer is within a certain radius of the restaurant.
"We're not touching anything. It's contactless. The payment is through your phone," she said.
Employees are required to undergo daily wellness checks, practice social distancing and wear masks and gloves at all times, something that hasn't gone unnoticed by customers.
"That is something we continually go over and reinforce with employees," Vorhees said. "Everybody is at a different place, and we need to make sure as a community and as fellow citizens that we're respecting other people and being respectful and showing empathy and kindness."
Delivery services available on smartphones have been a godsend for local McDonald's restaurants.
"That was something that we really all needed to help us survive," she said.
"Drive-thru, mobile, curbside and delivery, those were all options that we've led the industry on in delivering to the guests. They've been proven to be options that have been important to our guests even more so, that they've needed these options to have some contactless ways to get their food to families," she said.
The ritual of driving through McDonald's has become a reliable source of comfort in an uneasy time, Vorhees said.
"People are going through and saying, 'My hot cup of coffee is the only thing left that is normal in my day,'" she said. "I definitely think we're fortunate to be able to still be serving our customers."
The pandemic acted as an extreme example of change that businesspeople must be ready to meet head-on.
"We have to continue in our industry especially to learn to be nimble and to be able to adapt quickly to the needs of the customer. In our line of work we're always seeking to challenge ourselves to be relevant to customers and deliver the experiences that motivates them to return again and again," she said.