Tuesday, February 23rd, 2021
Division II State Diving Preview
Striving for the best
By Gary R. Rasberry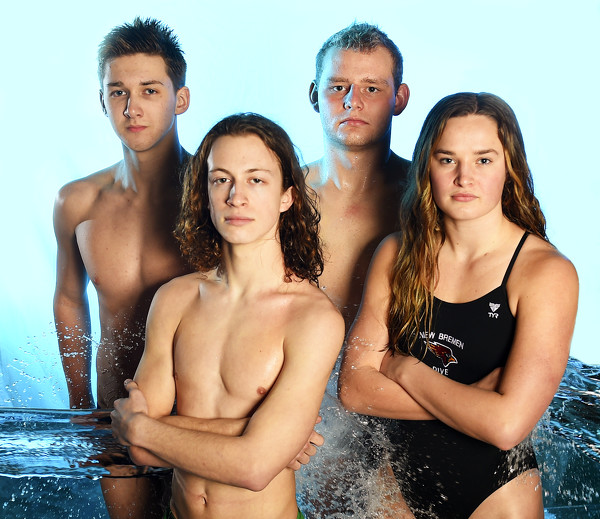 Photo by Dan Melograna/The Daily Standard
There's nowhere to go but up for Holden Cubblerly.
The Celina senior is making his fourth trip to the Division II state diving championships on Thursday and is looking to move up from his third-place All-Ohio showing a season ago.
Cubberley joins three other area divers competing this week, all of whom dove last year as well. New Bremen's Vivian Niekamp is making her fourth trip to state while St. Marys' Xander Spees and Kameron MacLean are each making second trips each.
Niekamp will dive Wednesday at C.T. Branin Natatorium in Canton while Cubberley, Spees and MacLean will dive Thursday. Start times both days will be 9 a.m.
Cubberley's resume is already packed. He is a three-time Western Buckeye League champion and just last week at the district broke the school record for 11-dive score with a 470.55. After finishing 21st at Canton as a freshman, missing the semifinals, Cubberley made a big leap to reach the podium with an eighth-place finish as a sophomore before matching the school record with a third-place showing a season ago.
"I had to put in extra time when I could and use last year's performance as motivation to do even better than that," said Cubberley, whose district score has him seeded third among the 24 qualifying divers.
Even with three trips already in, Cubberley will be nervous once Thursday hits.
"State is still a pretty big trip for me," said Cubberley. "I know I want to put up the best (effort) I can do. The placement doesn't matter as much as proving to myself that I can do well."
With the pandemic playing a factor in getting ready for the season along with quarantining at times, Cubberley had to go use whatever he could to practice his discipline.
"I just went on my trampoline a lot with my sister Ellie and worked on all the basics there," said Cubberley.
Niekamp looking for podium
Fourteenth, 18th, 10th.
That's the finishes for Cardinal diver Vivian Niekamp in her three previous efforts.
The senior feels that she can reach the podium, reserved for the top eight finishers.
"It's going to be a real good feel, but it will (also) be sad competing for my last time in high school," said Niekamp. "I'm really excited to compete in college (at Miami University).
"I'm feeling good. I have about the same list (of dives) from last year. I've been working on board work and cleaning up the dives."
Niekamp had to work to find events to compete in due to COVID-19 issues.
"It's been nice because my dad (Nate) is my coach, so there is always someone from my family to support me," said Niekamp. "I've been able to get some meets in down south. It was sort of weird not seeing (other divers) from the north competing."
No waiting this year for MacLean
Last year, Kameron MacLean thought he had just missed going to state, only to find out later that a scoring error actually gave him the final spot to go to Canton.
This year, there was no crunching of numbers as the Roughrider senior placed sixth, easily making the top 10 that advance.
"From last year, I feel like I (needed to do) work on little details that were there," said MacLean, who finished 13th last season to earn second-team All-Ohio honors.
"Hoping this time I can put myself on the podium for my last meet in high school," said MacLean, who has the 11th-best district score among the qualifiers. "It's be nice to have one big accomplishment before I go out."
Double duty again for Spees
Last season, Xander Spees had to do double duty, spending one day diving and another day joining his teammates in two relays.
That will be the case again for the St. Marys senior, although this year he qualified for the 200-yard freestyle as well as the 200 medley relay. But this time he'll have to do all of it in one day.
Due to COVID-19 restrictions, diving and swimming will take place on the same day for each division. Division II boys will dive Wednesday morning with swimming taking place in the afternoon. Unlike the past where there were swimming semifinals to decide who moved on to the finals, it will be a timed final with each qualifier swimming just once, and times will decide the standings.
"It will be a bit tough this year because diving takes a lot out of you," said Spees, who finished 22nd in diving last season and 17th as part of the relay. "As long as I keep rested up and eat good the rest of the week, I'll be able to perform and do my best in both swim and dive."
Spees believes this year will go better for him on the diving board.
"This year, I improved on my consistency," said Spees. "I was able to get all my dives and do them well over and over again. Last year I was hit and miss."
Correction:
The results from 2020 for St. Marys' Xander Spees and Kameron MacLean were reversed. MacLean finished third while Spees finished ninth in 2020. The error was made in reporting.