Friday, April 9th, 2021
National Archive facing huge backlog
By William Kincaid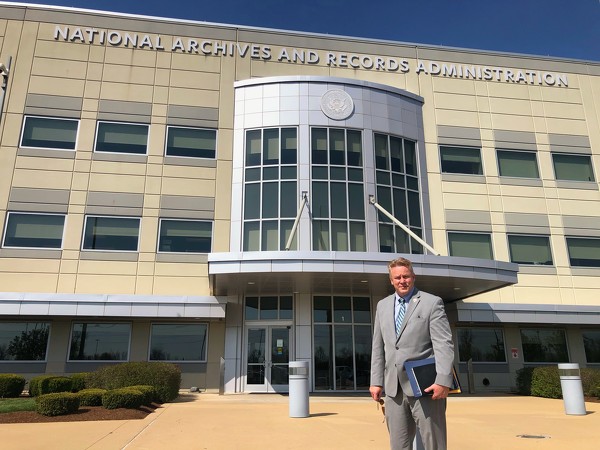 WASHINGTON D.C. - A trio of lawmakers, including U.S. Rep Warren Davidson, R-Troy, is leading the charge to clear a nationwide records request backlog preventing some veterans from obtaining essential services.
Davidson, who represents Ohio's 8th District, and U.S. Reps. Deborah Ross, D-North Carolina, and Mike Bost, R-Illinois, this week wrote a letter to President Joe Biden and Archivist of the United States David Ferriero. They call for the end of a backlog of roughly 480,000 records requests at the National Personnel Records Center in St. Louis, Missouri.
Veterans need records stored at NPRC to receive COVID-19 vaccinations from Veterans Affairs, GI Bill education benefits, VA loans, medical benefits, burial benefits, disability compensation, life insurance and other services, the lawmakers wrote.
"These are physical records from … WWII era veterans," Davidson said this week. "This is like six million square feet of bankers boxes, four stories high."
NPRC closed during the COVID-19 pandemic, only processing emergency requests, according to its website. Since then it has gradually ramped up services but nowhere close to the level necessary to clear the backlog, Davidson said.
"It should be treated not as an office building. It should be treated on par with an emergency room because you essentially have veterans who can't get care unless they can demonstrate their status," Davidson said. "They can't get benefits that they've earned through service to our country - and to me, America keeps our promises to our veterans."
NPRC's workforce had risen only to 20% of normal level by fall, prompting concern among the public and legislators, Davidson said.
"Around that point, everyone was done being patient," he said. "The delays just started getting really, really unreasonable, and that came to us from constituents and from our veterans services officers."
NPRC received $15 million in emergency funding from Congress to reduce the records request backlog, deploy resources for staff to work remotely and to hire temporary employees, according to the letter.
"That was in December," Davidson said. "Since that time the backlog has just continued to grow."
Davidson visited the center Monday and said he saw a family's Jan. 19 request for records for benefits and military funeral honors. The record had not been pulled, something Davidson said was unacceptable.
Records of veterans discharged after the Vietnam War have been digitized and certified copies are typically dispatched more quickly, said Mercer County Veterans Services Officer Tom Risch. All other records are in paper form and must be physically pulled from storage at the center in St. Louis.
Davison said NPRC officials on Monday shared with him how they intend to spend federal funds to address the situation.
"Their plan to use the money is to scan more documents in and buy and fund a digitization project," he said. "But in the meantime you still have to go pull those records."
NPRC officials also revealed that once they get back to full staffing it will take 18 to 24 months to clear the backlog, Davidson said.
"This is completely unacceptable, completely out of line with the sense of urgency that we funded," he said.
A commitment has been made to vaccinate NPRC officials but Davidson said he has no idea when that task will be completed.
"Even though they've committed to get their staff vaccinated, there's no plan to bring the full staff back to work after they're vaccinated," he said. "They don't have an answer on that from their chain in command."
The backlog will not be cleared until staffing levels return to normal - and beyond, Davidson said. If people can't be hired and trained fast enough to take care of the backlog, then the National Guard should be called in to assist, he argued.
"This would be the kind of sense of urgency that we demonstrated last year in the food supply chain, for example, in any number of things that lead to the warp speed development of the vaccine," Davidson said.
National Archives and Records Administration in an email to the newspaper said NPRC has almost doubled the number of requests processed each week over the past month with equipment purchases and remote services added through the federal funding.
The center also is hiring more than 100 new staff and increasing the number of contract laborers to support operations, according to the email.
"However, the plan to eliminate the backlog involves leveraging technology to become more efficient. We want to provide service that exceeds our pre-pandemic level and to otherwise be prepared for any future situations that could impact our ability to provide veterans and their families with timely service," the email states.
Also, according to a March 8 agency news release, NPRC's work week expanded to include Saturdays and some Sundays, and a second shift was implemented on weekdays to allow staff to double the on-site workforce without exceeding maximum safe occupancy limits.
"The agency also deployed new technology to allow the public to submit requests electronically with digital signatures and for staff to remotely and securely respond to requests by transmitting digital images in instances when records are available electronically. When possible, staff also have facilitated self-service inquiries by veterans," the release states.