Saturday, April 17th, 2021
School traditions return
Prom and graduation back with modifications
From staff reports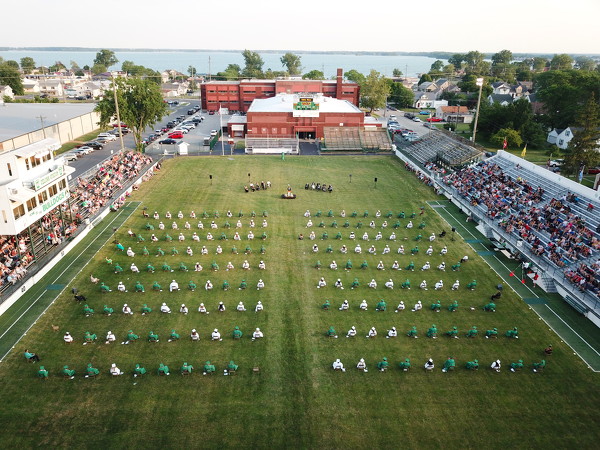 School districts in Mercer and Auglaize counties have made plans for prom and graduation with some modifications due to the COVID-19 pandemic.
Most districts are utilizing social distancing and limited capacity to comply with state guidelines from the Ohio Department of Health.
All nine school districts in the Grand Lake area last year canceled their proms after Gov. Mike DeWine shuttered schools on March 16, forcing students into virtual learning at home. Schools held modified graduation ceremonies with some staging outdoor, socially distanced events and drive by graduations.
In Celina, school officials plan to hold a traditional prom and graduation ceremony albeit with a few safety measures thrown in to protect students and staff.
The 2021 prom will be held on May 7, said high school principal Phil Metz. Promenade will start at 5:30 p.m. in the Fieldhouse. Attending family members will be asked to wear masks and maintain social distance from other family groups.
After promenade, students will go to Romer's in Celina for dinner and dancing.
"We are asking Romer's to remove some tables after dinner to make a larger dance floor and to open up their patio to give our students more room to spread out throughout the evening," Metz said.
The graduation ceremony is set for 4 p.m. May 23 at the football field. It will mimic last year's ceremony where students were spread 6 feet apart on the field, and parents were relegated to the stadium stands and encouraged to practice social distancing.
"We will once again assign seats to family groups so the families will be on the same side of the field as their graduate and socially distanced from other families," Metz said.
School officials aim to provide these once-in-a-lifetime events in the safest and most memorable manner possible.
"Celina City Schools have been very fortunate to maintain an open dialogue with Jason Menchhofer and the Mercer County Health department in understanding and working through the current guidance and recommendations while planning these events," Metz said.
Marion Local High School students are looking forward to the return of both traditional events. High school principal Tim Goodwin said the junior-senior prom is set for April 24. Modifications will be made to comply with state guidelines, he said.
"We will have a prom meal at the American Legion following the (state) restaurant guidelines," he said. "We'll have reduced attendance for the promenade," he said, noting state guidelines limit the number of people allowed in the gym to 25% of the 1,750 capacity.
The students will then return to the Legion for prom. Goodwin said junior and senior students will be given a limited number of tickets for promenade.
Commencement is scheduled for May 23 in the high school gym. Goodwin said seating will be limited for graduation. Members of this year's class each will be given six tickets for the ceremony.
For Fort Recovery High School upperclassmen, prom will be April 23 at Romer's Catering in St. Henry, with promenade at Fort Site Fieldhouse held prior. Graduation will be held May 23 also at the fieldhouse.
Principal Tony Stahl said officials are continuing to follow guidelines set out by the state health department, including reduced spectator capacity, spreading spectators out in the bleachers, increasing social distancing as much as possible and using a banquet facility to help with food distribution and spacing.
"We are also working to provide audio/video options for people who cannot or don't want to attend these events in person," Stahl said.
Officials are considering using a livestream, NFHS cameras, radio broadcasting or similar methods to share the events.
In St. Henry, promenade was at 6:30 p.m. Friday in the middle school gym, followed by prom at Romer's catering in town. Graduation for seniors will be held at 1:30 p.m. May 30 in the middle school gym.
Like several other school districts, St. Henry High School principal Eric Rosenbeck said a limited number of attendees will be allowed at prom and graduation.
"We are passing out tickets to promenade and graduation," Rosenbeck said. "We are allowed 25% capacity, so we will have up to 500 tickets for these two events."
Parkway juniors and seniors will participate in promenade today from 6-7 p.m. at the high school, according to high school principal Brian Fortkamp. Dinner will follow from 7:30-8:30 p.m. and the dance itself will take place from 8:30-11 p.m., all at the high school.
Graduation will be held at 1:30 p.m. May 23 in the high school gymnasium. Fortkamp said. Attendance at both events will be limited so those attending can socially distance as much as possible.
New Bremen upperclassmen will enjoy dinner, prom and promenade at the Crown Pavilion on April 24, with dinner at 6:30 p.m. and promenade at 7:30 p.m. Masks must be worn by those in attendance, said Marcus Overman, junior and senior high school principal.
Weather may change the location of promenade back to the high school gym, but for now the dinner and dance will be held at the Crown Pavilion for certain, Marcus Overman said.
The event will be about the same as any year, although the dinner, venue and the use of masks are different, Overman said.
"This was a big step in the right direction as our students have not been able to partake in a lot of the normal 'fun' events in over a year," he said.
New Bremen plans to hold a full graduation ceremony on May 30, according to a news release from Overman. Seniors have received four tickets for the baccalaureate portion of the graduation ceremony, which will be held in the middle school gym at 1:30 p.m. Tickets will be collected at the door.
Commencement will take place at 2:30 p.m. in the high school gym. Each senior will be allowed to have a maximum of 14 family members in attendance in order to comply with current capacity restrictions. However, no tickets will be distributed for commencement. Officials will use the "honor system," according to the release.
Coldwater held its prom April 10, conducting the event similarly to normal years, according to high school principal Jason Hemmelgarn. Even so, promenade attendance was limited and the use of face masks and social distancing were required at the prom dinner and dance.
Coldwater's graduation ceremony on May 30 will follow guidelines similar to those that were in place at the prom, though further details are pending, Hemmelgarn said.
At St. Marys, the prom and after prom party will be held at 7 p.m. May 15 under a tent outside Memorial High School.
The district will hold its first ever outdoor graduation ceremony May 30, during which students and families will attend commencement at the Roughrider Stadium, principal Jon Burke said.
In Minster, prom will be held on May 1 and consist of the three traditional segments - dinner, promenade and a dance. The pandemic and current health orders have prompted some changes to the usual formula, however.
During the dinner at the elementary school commons area, the catering company will follow COVID-19 guidelines regarding food service and buffets, high school principal Austin Kaylor said.
The promenade, which starts at 8 p.m., will be held in the elementary gymnasium, and students and parents have been notified that it will be a ticketed event with limited seating unless orders on indoor seating capacities are lifted. The dance will follow the and will be held outdoors under a tent.
For graduation, the traditional baccalaureate Mass will be held at 11:30 a.m. May 30 at St. Augustine Church, while commencement will proceed at 1 p.m.