Wednesday, May 5th, 2021
Celina building measure passes
By William Kincaid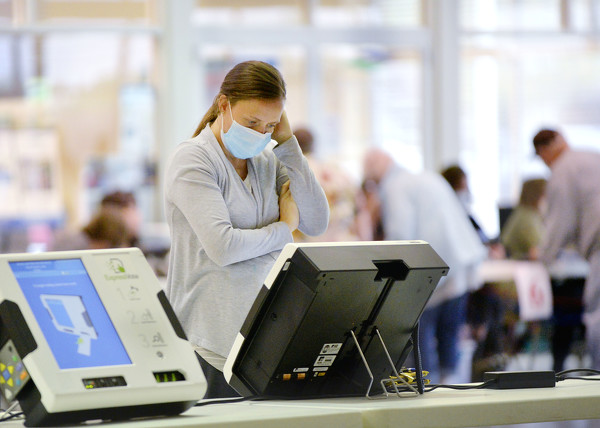 CELINA - Celina City Schools voters on Election Day narrowly approved a roughly $75.9 million bond issue and a 0.5-mill levy for a school building project.
The levy passed with 1,744 votes - 51.69% - in support of the bond issue and tax levy and 1,630 votes -48.31% - against it. Only a handful of absentee ballots are still out and will not change the end result, according to board of elections member Toni Slusser.
With voters' blessing, school officials can now proceed with building a middle/high school and renovating the intermediate school with an addition to house preschool-sixth grades.
"Very, very excited, very, very grateful for the voters," board president Craig Flack told the newspaper upon learning the final unofficial results. "We're just super excited and we really believe this is what is best for our district and best for our young kids."
Cries of jubilation erupted within the rotunda of the Mercer County Courthouse once final unofficial results were posted at about 9:15 p.m., putting an end to a nail-bitingly close race. School board members and others could be seen anxiously pacing back and forth and calculating potential outcomes as they watched preliminary results roll in during a period of roughly two hours.
"Definitely a positive for the Celina community, for future generations of students," said a clearly ecstatic school superintendent Ken Schmiesing. "Huge shout-out to the Celina Bulldog community. What a win. We appreciate all the trust that this gives us to build this wonderful facility for future generations of students."
The next steps of the project involve coordinating with the Ohio Facilities Construction Commission and selecting an architect, Schmiesing said.
Garmann/Miller and Ohio Facilities Construction Commission officials have estimated the cost of the overall project at $126.8 million. The state would pick up 49% or $50.9 million of the expense, and school district taxpayers would cover $75.9 million.
The $75.9 million figure includes $22.8 million in locally funded initiatives that are not co-funded by the OFCC, Schmiesing said.
The total project millage rate starts at 8.2 mills. Of that amount, 7.7 mills would be for building project costs with a total bond life of up to 37 years and a 0.5-mill maintenance levy, which could last up to 23 years. The OFCC requires the maintenance levy to ensure enough income to operate and maintain the buildings after they are built.
The owner of a $100,000 home would pay $287 per year, according to the Mercer County Auditor's Office.