Thursday, May 13th, 2021
Good weather leads to good showings at WBL
By Gary R. Rasberry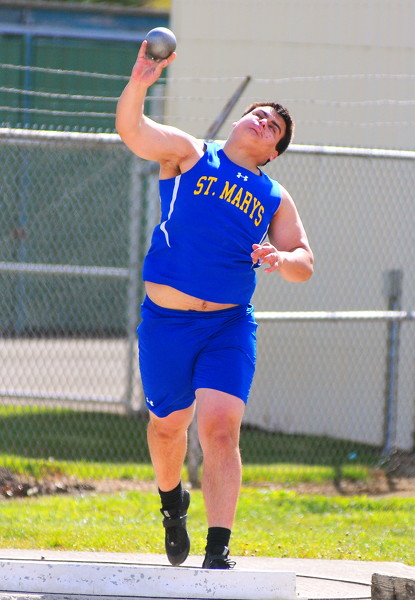 Compiled by Gary R. Rasberry

Warm sunny conditions made for solid showings at the first day of the Western Buckeye League Track and Field Meet at Shawnee High School on Wednesday.
Ottawa-Glandorf jumped out to 26 points to hold the first-day lead in the girls division with Celina second with 16 points. St. Marys ranks seventh in the girls with six points through three events.
On the boys side, Van Wert holds a slim 28-26 lead on host Shawnee after four events. St. Marys is fifth with Celina currently ninth.
The Celina girls picked up eight points from Amelia Lutz from the discus. Lutz had the best throw in the preliminary round at 109 feet, eight inches, seven feet ahead of the next competitor. In the finals, Lutz added a foot to her best throw at 110-8, but Kenton's Tatum Miller, whose best prelim effort was 87 feet, heaved her best throw of the day at 115-1 to claim first price.
Celina's defending league high jump champion Olivia Rider engaged in a battle with Ottawa-Glandorf's Myka Aldrich and Bath's Lucy Deters. All three topped out at 4-10, but Aldrich had the fewest attempts to reach the mark and earned first place. Deters had fewer attempts than Rider, claiming second with Rider taking third.
The lone running final of the day was the 4x800-meter relay. The Ottawa-Glandorf girls won in 9:51.47, while St. Marys was third overall at 10:01.36 with Celina taking fifth at 10:11.86.
Hunter Fultz led the St. Marys boys on the day with a second-place showing in the shot put. Fultz topped out at 47-7 while Bath's Blaze Maynard finished at 47-10 to take first place. St. Marys' Morgan Seewer was fifth at 43-9 with Celina's Joey Posada taking sixth at 41-11.
St. Marys' Spencer Trogdlon placed sixth in the long jump with a top effort of 18-6 1/2 to earn a point. Celina's Karsen Black just missed the podium with a seventh-place showing at 18-5 1/4. Dru Johnson of Van Wert won with a top effort of 19-10 1/4.
The Roughriders split a point between two vaulters in the pole vault as Austin Hertenstein and Isaac Torsell each topped out at 10-6 to tie for sixth, earning a half-point each. Elida's Conner Douglas won the competition at 14-2.
In the boys 4x800, Van Wert won with a time of 8:17.44. Celina placed fifth with 8:45.47 and St. Marys took sixth with 8:47.32.
The meet concludes Friday as remaining field events begin at 4:30 p.m. with the running finals starting at 6 p.m.