Tuesday, May 18th, 2021
Schoenherrs call it quits after 18 years in track
By Tom Haines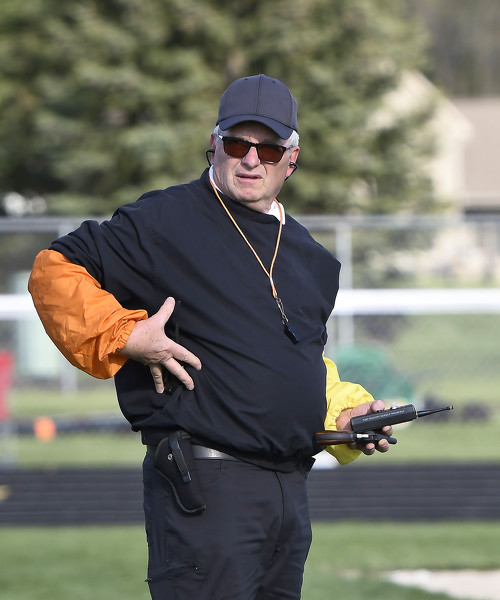 FORT RECOVERY - The Midwest Athletic Conference track and field championships capped off the 2021 season, with Minster sweeping the titles. It also capped off a pair of illustrious officiating careers.
Don and Karen Schoenherr of Coldwater retired after the meet, bringing 18 years of experience apiece to a close.
Over that time, the Schoenherrs watched their daughter compete and now are retiring to be able to watch their grandkids.
"Looking forward to getting out of it," Don Schoenherr said with a chuckle.
The Schoenherrs were recognized briefly at the beginning of the night, and then took up their places for a meet that transpired fairly smoothly. Don served as the starter for most of the races, while Karen was at the tent on the other end of the track where athletes checked in for each race.
Don, waiting on the start of the boys 4x100, provided a light-hearted moment after one of the other officials, talking to his wife, missed the cue to raise his flag.
"Quit talking to him!" Don called, eliciting a round of laughs as the flag went up and the race went on.
The Schoenherrs' enthusiasm for track has continued through the generations, with first their daughter and now their grandchildren competing. Don said all but one are looking to compete in cross country in the fall, with the other one going into soccer.
"But she's a good runner too," he said. "She's run 5K's in Columbus."
In the end, Don reflected that the best part of officiating was interacting with and getting to know a generation of athletes.
"It really hasn't changed much (since we started)," Don said. "The kids have always been great."