Friday, July 2nd, 2021
Second inning lifts Panthers
By Tom Haines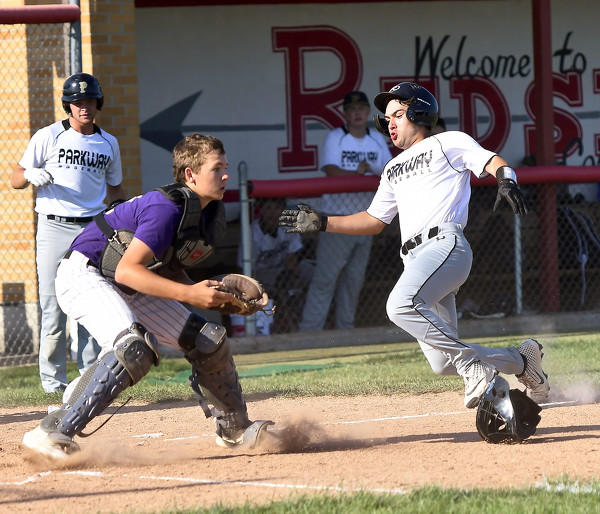 ST. HENRY - Two Fort Recovery errors brought home Parkway's first run in the second. The Panthers' bats broke it open from there.
Parkway got five runs in the second inning and kept going from there, winning the Mercer County ACME baseball tournament opener 8-2 at the Wally Post Athletic Complex in St. Henry on Thursday.
"That was the most complete game we've played all year," Parkway coach Brayden Bruns said. "We were aggressive at the plate, didn't make errors. (Starter) Aiden (Anderson) was amazing."
Parkway moves on to face Coldwater tonight in the second game, with first pitch scheduled for 7:45 p.m. Fort Recovery drops into the loser's bracket and will face the loser of tonight's first game between Celina and St. Henry Saturday at 10 a.m.
After Indians starter Troy Homan struck out the side in the first, Eddie Nichols led off the second inning with a ground ball to third base but reached on a high throw. Jackson Kraner hit a high fly that fell between two fielders, and after Homan struck out Hunter Bruns for the first out, Caiden Berry singled to load the bases.
Homan induced another sharp grounder to third, but Indians third baseman Bo Thien stepped over the bag and missed the forceout, and the throw was late as Nichols crossed the plate with the first run.
"It just seemed like we weren't there mentally," Fort Recovery coach Ben Homan said. "… Defensively, we made way too many errors, mental mistakes we need to work on."
Homan got another strikeout, but Devon Crouch singled to right to drive in two more runs and Alex Anderson scored on a wild pitch. Aiden Anderson hit a long single to bring home Crouch, but was thrown out trying to leg out a double.
"Even our outs, we were hitting pretty hard," coach Bruns said. "We haven't been doing that. Great approach, seeing the ball well. They have some great pitchers, we just hit them well."
Homan escaped jams in the third and fourth before getting tagged for another run in the fifth after two more untimely errors. He gave way to Thien, who gave up a pair of runs in the sixth as Parkway put the game away.
"Definitely didn't have his best stuff," coach Homan said. "That second inning, it was hard. He was definitely challenged. Mentally, I think it just got to him a little bit, and he struggled here and there, but ultimately, he did pretty good. He did what he needed tonight, got us through five innings."
The early lead was more than enough for Anderson, who got the start for the Panthers. Until the sixth, the Indians couldn't get anything going at the plate, particularly against his curveball, and Riggs Tobe's single in the first was their only hit through five innings.
In the sixth, Tobe led off with a ground ball single that bounced off the third base bag. Wyatt Bihn got a high bounce of his own on a grounder down the first base line to bring Tobe around to score, but after stealing second, Anderson caught him leaning off the bag and Bihn got tagged out in a rundown.
Thien walked and the Indians got back-to-back singles to bring in the second run, but Anderson struck out Nate Jutte to strand both runners and end the threat.
"It kind of killed the momentum," coach Homan said of the pickoff play. "We had one out. (Still) got a couple runs, but when a guy gets picked off second, it kills the momentum. Next guy gets on, could've moved him over."
Anderson came out in the seventh after a two-out error and a full-count walk put him at 123 pitches, and Nichols got Bihn to fly out to center to secure the win.
"He's got a great curveball," coach Bruns said. "He throws that all the time, and he's able to locate that really well. When he's locating that, he's unhittable right now."