Wednesday, August 11th, 2021
Three Die In Farm Accident
Official: Three brothers were trapped in pit
By Leslie Gartrell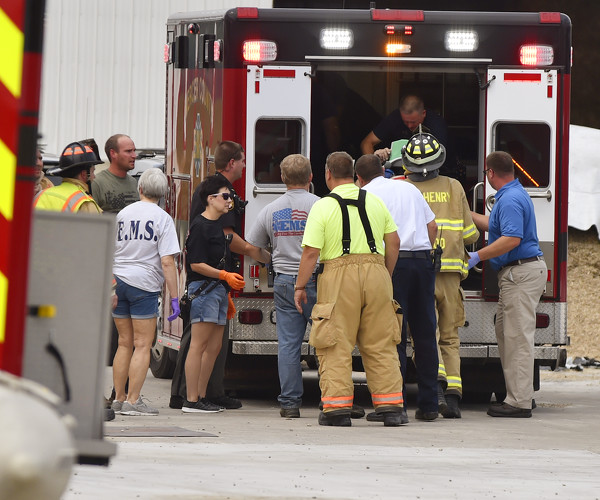 ST. HENRY - Three brothers who became trapped in a manure pit at a farm near St. Henry died on Tuesday.
An official with Hogenkamp Funeral Home, St. Henry, on Tuesday night confirmed the funeral home is handling the arrangements for Gary, Todd and Brad Wuebker.
Emergency personnel were called to the farm at 12:30 p.m. after receiving a call that three men had passed out in a manure pit at a livestock operation at 2319 Coldwater Creek Road, St. Henry Fire Department Chief Matt Lefeld said.
Lefeld said the men were pulled from the pit and were non-mobile and unconscious. Lefeld said they were performing maintenance on a manure pump before the accident occurred.
The men were transported to Mercer County Community Hospital, Coldwater, and at least Brad Wuebker was transported to a hospital in Fort Wayne, Ind., according to Lefeld.
No further information was available by press time Tuesday night.
A Mass will be held for the intentions of the Wuebker family at 6 p.m. tonight at St. Aloysius Catholic Church, 6036 State Route 274, Celina, according to the St. Henry Cluster Parishes' Facebook page. An outdoor rosary was prayed on Tuesday night at the church for the family. The Facebook page post announcing today's Mass had been shared nearly 200 times as of late Tuesday night.
Assisting at the scene were the Celina Fire Department and dive team, Celina and Chickasaw emergency medical services, Mercer County Sheriff's Office, Southern Mercer County Joint Ambulance District and the Wapakoneta Post of the Ohio State Highway Patrol.
Manure pit gases are the biggest concern for health and safety around manure handling and storage pits, according to the Ohio State University Extension. Hydrogen sulfide, methane, carbon monoxide and ammonia are gases of concern.
Lower levels of hydrogen sulfide gas concentration levels will cause symptoms of nausea, headache and dizziness, while higher levels of the gas will cause alerted breathing, collapse and death, according to OSU Extension. Exposure to ammonia results in immediate burning sensation and redness in the eyes. Methane and carbon monoxide are odorless and difficult to detect by smell, according to extension information.

Update:
The Mass for the Wuebker family will be held Wednesday evening at 7 p.m. at St. Henry Catholic Church.