Saturday, October 29th, 2022
Found in translation
A daughter visits her birth mother overseas
By Hank Nuwer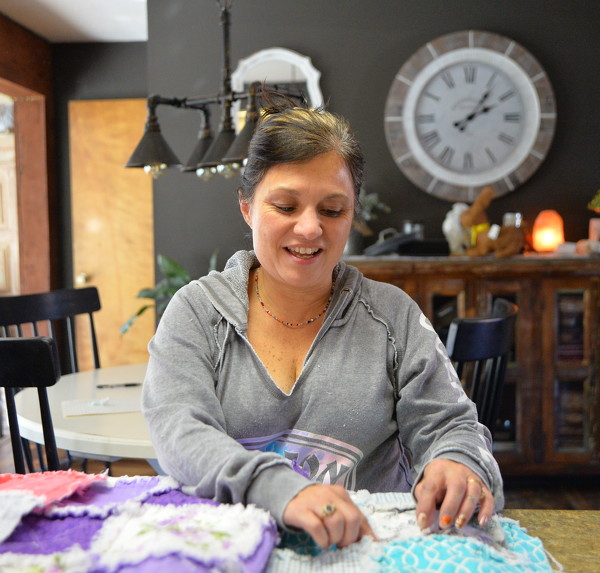 Photo by Paige Sutter/The Daily Standard
CELINA - A little over a year ago, Sue Markins' phone rang. The caller said she was calling on behalf of her birth family in Japan. Markins, a Walmart pharmacy technician, was flummoxed by the call from an overseas stranger.
"I hung right up," she recalls. "In fact I hung up twice and then called my husband to tell him what happened."
Her husband was aghast and urged her to answer the call and ask for more information. She did.
Now, Markins will depart from her Celina home on Monday to venture on an emotional 7,400 mile journey to her birthplace of Okinawa, Japan, to reunite with her family.
Awaiting her arrival is her birth mother, Akiko Makabe. A half-century ago Makabe gave away her toddler to a U.S. Marine and his wife. Markins imagines her mother was convinced an American couple could give her precious girl a better life than she could.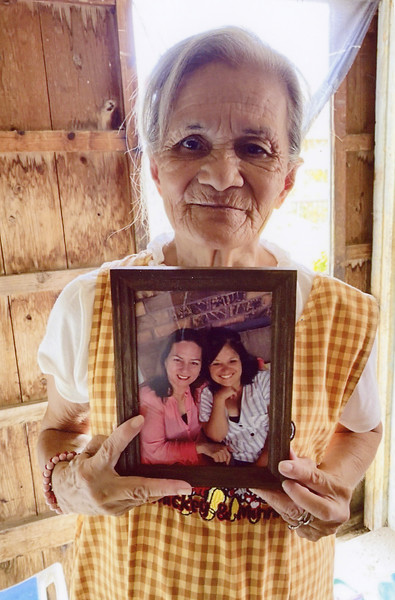 Submitted Photo
Since that first call more than a year ago, Markins now frequently communicates by phone and FaceTime with her mother and extended family. She and her family talk with the aid of a translator, as Markins speaks no Japanese except for a few phrases.
During the first FaceTime call, Markins beheld the aging dark eyes of her 71-year-old mother.
"She had tears streaming from her eyes," she said. "The whole family was crying."
Markins learned that her mother and Okinawa kin spent 15 years searching for her. A private detective located Markins, whose name at birth was Emily. Her adoptive parents renamed her, which stymied her family's search for her.
She was born Nov. 10, 1969, in a large Okinawa village. Her family worked at a bar popular with U.S. Marines, as Okinawa is home to many U.S. military bases.
Tension then existed between locals and Marines over the latter's alleged criminal conduct with few convictions in court resulting. However, Markins said her family tells her that relations between Okinawa residents and Americans have greatly improved.
Markins' father, she believes, was a 33-year-old U.S. Marines master gunnery sergeant from Louisiana. He was more than 15 years older than her 18-year-old mother was at the time of Markins' birth.
Markins said she contacted the sergeant's family and learned he was deceased.
However, she said the family told her he had shared memories of her as a baby with them.
The family told Markins her father made daily visits to the bar where her family members worked so he could hold her.
Yet, one day he arrived to find the baby gone. Another U.S. Marine family had adopted her. He had no warning she was going to be adopted.
"If he had known he would have fought to keep me," Markins said.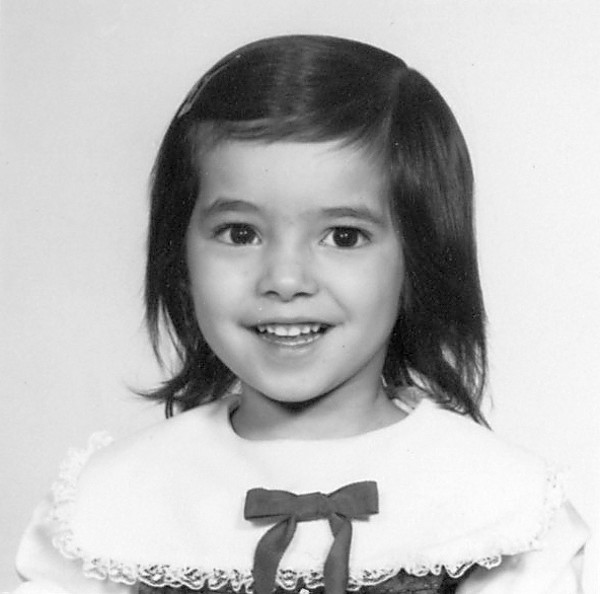 Submitted Photo
The couple that had adopted her was Carl and Eileen Strobel. Carl Strobel came into the bar, heard Markins crying, and asked to hold her. He and his wife persuaded Markins' mother to give her to them.
She was only about eight months old at the time, and today remembers nothing of life in Okinawa. The Strobels had no other children but had tried to conceive for years, she said.
Markins said her adopted father told her the adoption process was almost effortless in 1970. She said he told her the only money he spent on her adoption was the postage stamp to mail the adoption form.
Strobel died in 2020 and never learned of the contact with Markins' birth mother. Her adopted mother was informed of her birth mother's contact months before her death in 2021.
Sue talked with fondness of the Strobels. With no other children despite their best efforts, the couple doted endlessly on the Celina High School graduate.
"I had a wonderful childhood," she said.
Markins said she didn't know much about her adopted father's life in Okinawa when he served as a Marine. Her adopted parents also knew little, if anything, about her mother, and had little to share.
Now, Markins said she is excited to absorb all she can of Okinawa culture during her two week visit with her husband.
"Growing up, my dream was to see the country where I was from," she said. "Now it's even better than I dreamed because I get to see the country and my family."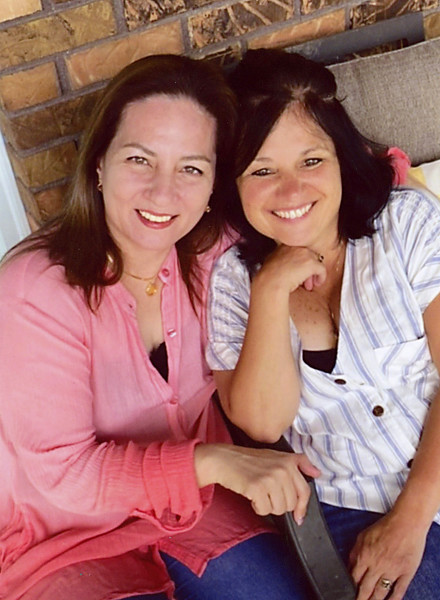 Submitted Photo
For two weeks this summer, Markins' sister Maria Yabiku and a friend from Okinawa stayed with her and her husband in Celina.
When her sister stepped off the airport escalator, she embraced Markins in a bearhug that felt like it lasted forever.
"We wanted them to stay forever," said James Markins, her husband, who will accompany her to Okinawa.
She said her husband showed the video of her and her sister's embrace to his coworkers, which brought some of the brawny laborers to tears.
When Yabiku visited this summer, she brought a suitcase of Japanese delicacies and constructed origami decorations out of used candy wrappers.
In return, the Markinses showed Yabiku and her friend the verdant fields of Mercer County. Yet some of their best memories were made sitting around the kitchen table sharing family-time meals, she said.
When Yabiku returned home, the sisters kept in constant contact through Facebook and FaceTime.
The Markinses said they have studied up on Okinawa, a large island in the South China Sea. Most people there speak English and/or Japanese due to the numerous U.S. military bases.
In addition to her mother, the couple plan to meet with her grandmother, siblings, cousins, nieces and nephews.
Sue Markins said she learned all of her siblings are younger than her, and one of her younger brothers died some time ago.
Her brother Tami is a painter and has six children, while another brother Asahiko is in construction and has two children. Her sister, Yabiku, owns a tavern and has four children. Rounding out the greeting group will be her grandmother, Yoshi Goya.
Sue Markins said she is a little timid about meeting family for the first time. She said her family is as eager to learn as much as they can about her as she wants to learn about them.
"Right now I'm ok. The closer it gets to leaving… it's the thought of meeting all these people, that's (a challenge)," she said.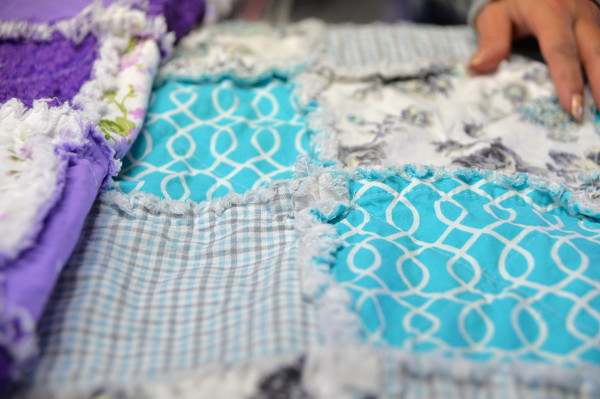 Photo by Paige Sutter/The Daily Standard
Sue Markins' hobby is making homemade quilts. She plans to pack quilts into her luggage as gifts for her mother and other family members.
Although she confessed to having butterflies in her stomach thinking of hugging her mother, Sue Markins said her husband is almost more excited about the excursion than she is.
James Markins said he is looking forward to meeting her birth mother and learning a little more about his wife of more than 20 years. Also thrilled about the family reunion are the couple's two adult children.
"My whole life I was thinking about certain questions about my family," she said. "Is my mother still alive? Does she ever think about me? Do I look like her? Do we look alike?"
In a few short days, those questions will be answered.