Wednesday, December 7th, 2022
Drones: Like cops in the sky
Drones are now essential tools in crime investigation
By Daily Standard Staff
HANK NUWER and RYAN SNYDER
newsdept@dailystandard.com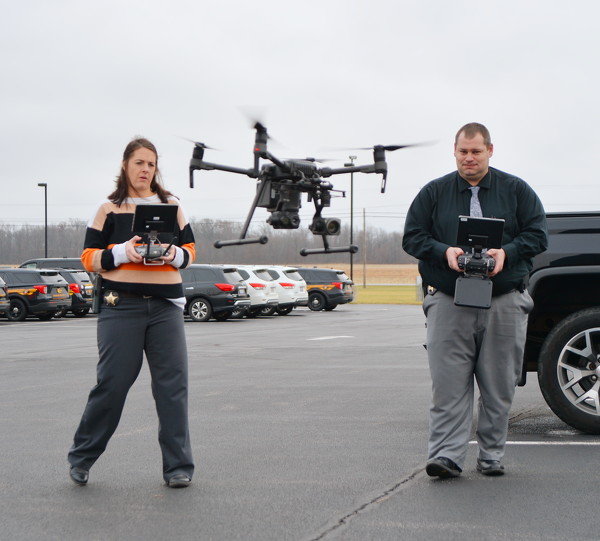 Photo by Paige Sutter/The Daily Standard
CELINA - Law enforcement today makes use of technology that gives officers more high-tech weapons to fight crime and to serve the public.
Case in point, Mercer County Sheriff's Office boasts two drones on hand to navigate the electronic frontier.
The drones are remotely controlled with software imbedded in their flight plans. They provide officers in pursuit of suspected criminals a safe way to track a fleeing car's driver from above.
Drones can reveal from above otherwise difficult to view crowd and mob activity. They also can help investigators reconstruct a crash scene where, for example, a vehicle has veered into woods, said detective Sgt. Chad Fortkamp, one of two sheriff's office drone operators.
As the drone reveals tire marks in snow, for example, law enforcement likely would get answers about the cause of vehicles involved in a crash that might be difficult to get otherwise. Fortkamp said the sheriff's office employed a drone recently to investigate a crash on State Route 219 near the village of Burkettsville.
The office's drone also proved useful when a tornado struck down near Fort Recovery in 2021. At least 10 houses and about 30 other structures sustained damage. In the wake of the tornado, a drone was used to simulate its path.
"We found (the tornado) actually hopped from one area to the next," said Fortkamp.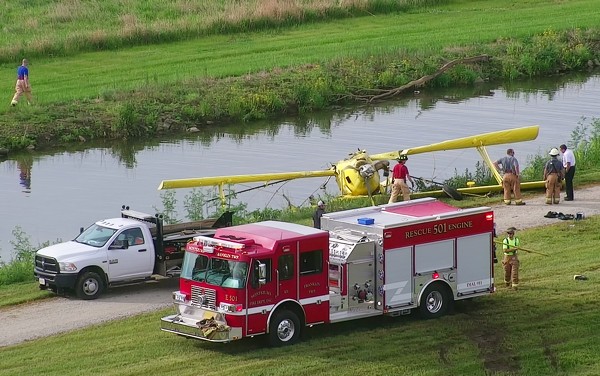 Submitted Photo
Similarly, a drone could be employed to find a fleeing criminal or a lost child entering a corn field, said detective Carla Baucher, the sheriff office's second drone operator.
The two drone operators have also assisted officers in other counties who have yet to acquire a drone. In the recent past, sheriff's office deputies helped law enforcement in Paulding County after they requested drone assistance, noted the two officers.
The detectives said drones also could help seek an elderly person with dementia who wanders away from home or a nursing facility. In one instance, firefighters fighting a grass fire near the famous giant chicken replica on State Route 127 requested the drone to determine the boundaries of the blaze.
"If we film a blaze, we can give the farmer an SD card to turn over to an insurance agent to document the extent of damage," Fortkamp said.
Another situation occurred when the Ohio Department of Natural Resources asked for drone deployment to explain the crash of a jet ski at Windy Point on Grand Lake.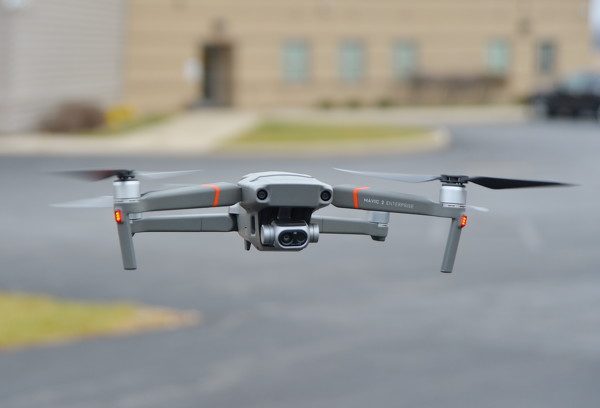 Photo by Paige Sutter/The Daily Standard
This time of year, cold weather can limit a drone's ability to perform. Although it might put the drone in jeopardy, the detectives agreed the emergency merits taking a shot at helping to save a life.
"You can't put a price on human life," Fortkamp said.
The two detectives stressed that they do not take a drone out at random. The drone comes out for use in real-life situations or for training.
The detectives said they take all steps not to foster panic in onlookers or neighbors suspicious of new technology. There needs to be a tip, a request from an agency or an accident or fire to activate the drone team. In some emergencies, the drone operators might request a search warrant from a judge.
The team also must be vigilant near farm fields lest the drone interfere with a low-flying crop duster plane. The two detectives said they try to have a good sense of air space wherever they operate.
In all cases where a drone gets involved in an undertaking, sheriff Jeff Grey insists that he be informed and grant approval first, said Fortkamp and Baucher.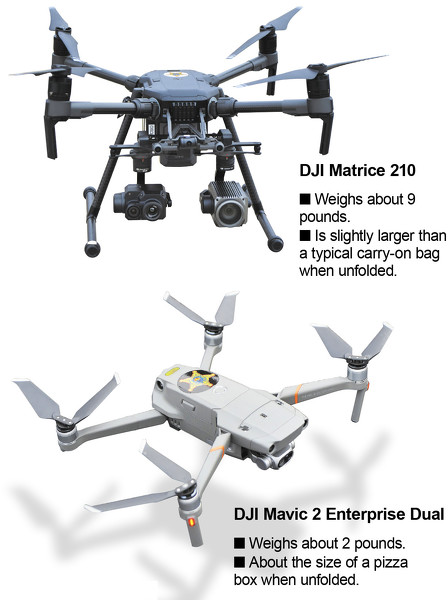 Photo by Daily Standard Staff
The sheriff's office currently employs two drones made by DJI, a drone manufacturer based in China. The smaller drone is a Mavic 2 Enterprise Dual.
The larger drone is a Matrice 210. It weighs about 9 pounds. The Matrice 210 possesses useful zoom and autofocus capabilities. It has blinking yellow, green and red lights that aid in navigating and can perform diagnostic tests.
Both aircraft are equipped with visible spectrum and thermal cameras.
The range is not limited by the radio signal. However, Federal Aviation Administration rules require the pilot to keep and maintain a visual line of sight. The large drone has a longer useable range.
The two received formal training in Cincinnati before taking a test at an official testing center. Some topics covered by the exam include applicable regulations, airspace classifications and map reading, weather, emergency procedures, crew resource management, aircraft performance and airport operations. The exam is taken in an official testing center and requires a passing score of 70%. Every 24 months remote pilots must complete an online training course offered by the FAA.
The FAA rules put guard rails on what activities can be performed. Some of the FAA requirements are that drones must fly under 400 feet above the ground, must travel no more than 99 mph, and must navigate with the sheriff's drone operators looking directly at the aircraft, rather than a remote camera feed.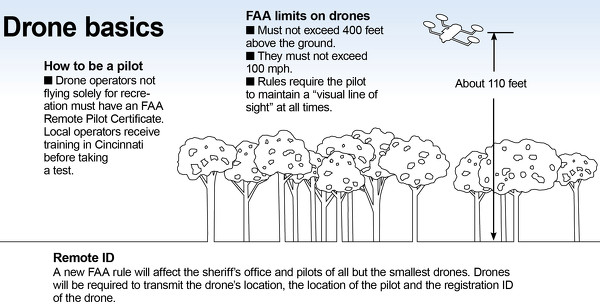 Photo by Daily Standard Staff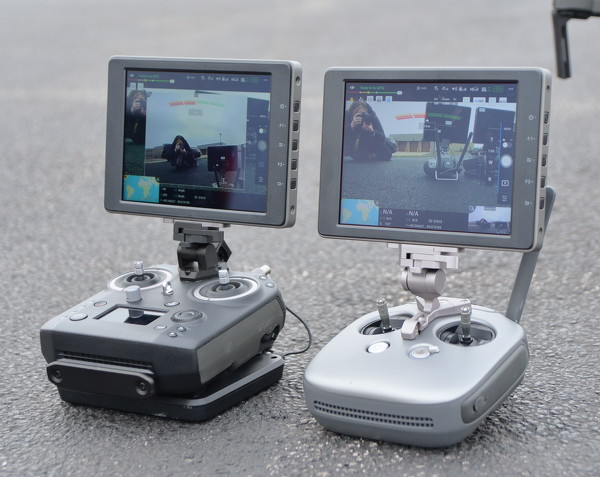 Photo by Paige Sutter/The Daily Standard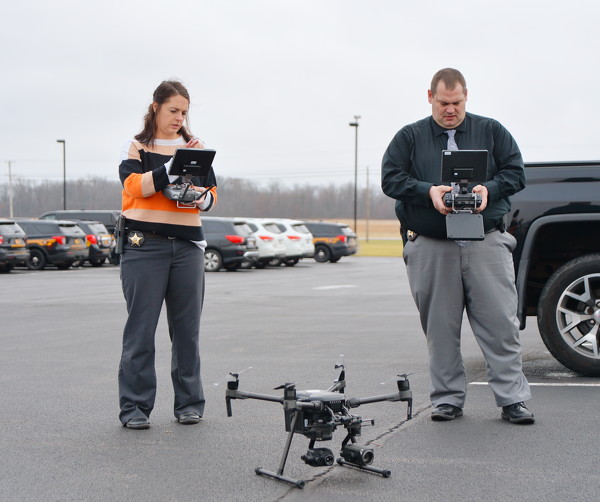 Photo by Paige Sutter/The Daily Standard