Friday, May 5th, 2023
Faber to walk on with Bobcats
By Gary R. Rasberry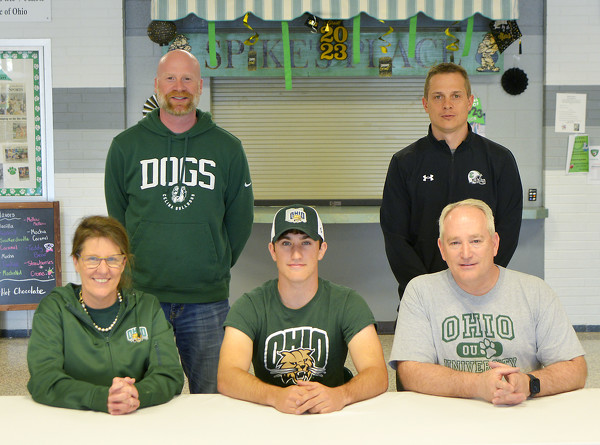 Photo by Gary R. Rasberry/The Daily Standard
CELINA - Ohio University was already Adam Faber's choice to go to school once he graduates from Celina later this month.
Now, he'll get a chance to keep playing football.
The Bulldog wide receiver was invited to join the Bobcats program as a preferred walk-on, meaning he will not have to try out for a walk-on spot this fall when the season begins.
"I like Ohio, academic-wise," said Faber, who will major in chemical engineering. "I had some D3s (NCAA Division III) programs interested in me as well. I wanted to go to a strong school and that's why I picked Ohio after they gave me preferred walk-on status.
"I kind of reached out to them and they reached out to me. It was kind of back-and-forth. They looked at my film and gave me the spot."
The Bobcats are coming off a strong 2022 campaign in which the team made it to the Mid-American Conference championship game in Detroit, losing to Toledo 17-7. Ohio earned a berth to the Arizona Bowl, defeating Wyoming 30-27 in overtime to finish the season at 10-4 and 7-1 in the MAC.
"I like all parts of being a Bobcat," said Faber. "It's an amazing opportunity for me. I'm really excited about it."
Faber was the favorite receiver for quarterback Nick Adams this past season, recording 40 receptions for 568 yards and six touchdowns as the Bulldogs finished 6-4 in the regular season before losing in the opening round of the Division III playoffs to Bellbrook.
In two seasons of varsity play, Faber finished with 53 receptions for 744 yards and seven touchdowns.
The Western Buckeye League coaches selected Faber as a first-team All-WBL receiver. Faber also received first team All-Northwest District honors and was named honorable mention All-Ohio by the Ohio Prep Sportswriters Association.
"Hard work always pays off in the end," said Faber. "When I was a freshman and sophomore, I didn't play very much. I had to work my way through the Celina program and I will have to do the same at OU as well."