Special Weather Statement issued July 13 at 1:45AM EDT by NWS Wilmington
(details ...)
...AREAS OF FOG DEVELOPING... Areas of fog are developing in river valleys and fog-prone areas early this morning. Some of this fog will possibly be dense, particularly in the typical low-lying areas and river valleys. Persons commuting this morning should be aware that conditions could rapidly deteriorate over short distances and drive accordingly.

This page will be updated as the coronavirus pandemic develops.
Mercer and Auglaize county COVID-19 cases
Daily numbers are cumulative, except for hospitalizations. District officials report hospitalizations as the total number of people currently hospitalized, noting that when a person is discharged he or she is removed from the hospitalization total. Hospitalized patients remain in the COVID-19-positive total count.
Data from Mercer and Auglaize county health departments. Updated 7/10/20 4:06pm
Mercer County has started to released some demographic information on confirmed cases:
Confirmed COVID-19 cases in Mercer county communities
Confirmed COVID-19 cases by ethnicity in Mercer County
Confirmed COVID-19 cases in Mercer county businesses
Community pictures
Symptoms of COVID-19 versus common cold and flu
People can protect themselves against COVID-19 by washing their hands often, covering their mouth/nose with a tissue or sleeve when coughing or sneezing and frequently cleaning and disinfecting frequently touched surfaces. They should also avoid close contact and stay at least 6 feet away from others.
People should consult their medical provider for any symptoms that are severe or concerning.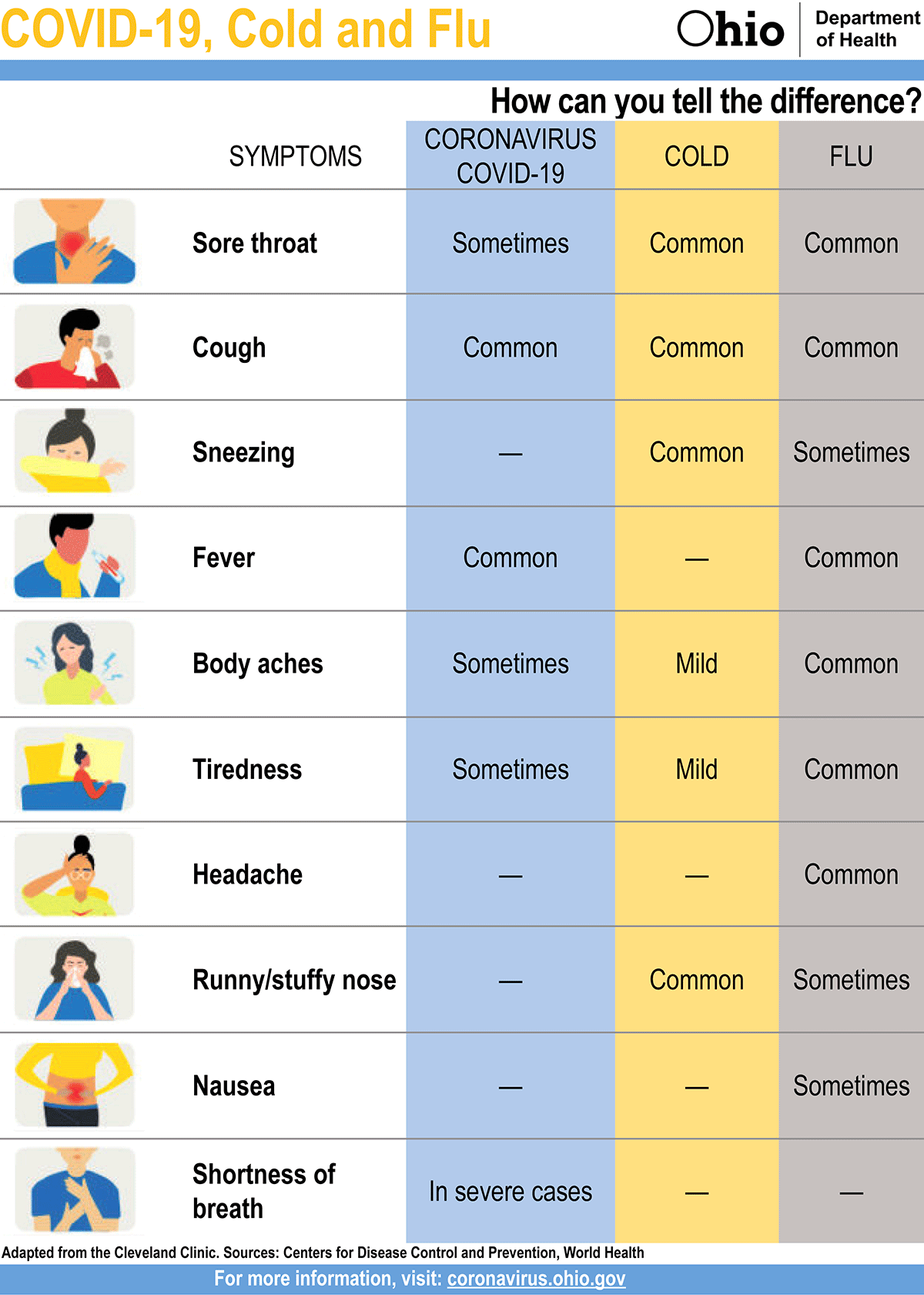 Some of our local coverage
July 11th
July 10th
July 6th
June 30th
June 27th
June 26th
June 25th
June 22nd
June 17th
June 16th
June 15th
June 13th
June 11th
June 8th
June 5th
June 4th
June 3rd
May 29th
May 28th
May 21st
May 20th
May 19th
May 18th
May 16th
May 15th
May 14th
May 12th
May 11th
May 9th
May 8th
May 7th
May 6th
May 5th
May 4th
May 2nd
April 30th
April 29th
April 28th
April 24th
April 23rd
April 21st
April 20th
April 18th
April 16th
April 15th
April 14th
April 11th
April 10th
April 9th
April 8th
April 7th
April 6th
April 4th
April 3rd
April 2nd
April 1st
March 31st
March 30th
March 28th
March 27th
March 26th
March 25th
March 24th
March 23rd
March 21st
March 20th
March 19th
March 18th
March 17th
March 16th
March 14th
March 13th
March 12th
March 11th
March 9th
Copyright © 2020 Standard Printing Co. All Rights Reserved