Thursday, December 2nd, 2021
Championship Saturday
Flyers ready for Green Wave
By Tom Haines
So far in 2021, Marion Local has already secured its 15th Midwest Athletic Conference title and a 10-0 regular season. Next on the wishlist: the Flyers' 12th state championship.
The Flyers trounced Hopewell Loudon in the state semifinals to earn a matchup with Newark Catholic in the Division VII title game at 10:30 a.m. in Canton on Friday.
"We kind of went through the gauntlet, we've grown," Marion coach Tim Goodwin said. "We had a lot of injuries throughout the year, had to develop some things, and now we have a lot of those kids back. The whole season has just made us tougher and better."
Defense has been the Flyers' rock all season, allowing an average of less than eight points per game, and it has stepped up again in the playoffs. Against Hopewell Loudon, Marion (15-0) allowed zero net rushing yards and just one consolation score in a 34-7 win, as senior Robby Buschur rampaged through the Flyers' backfield for three sacks.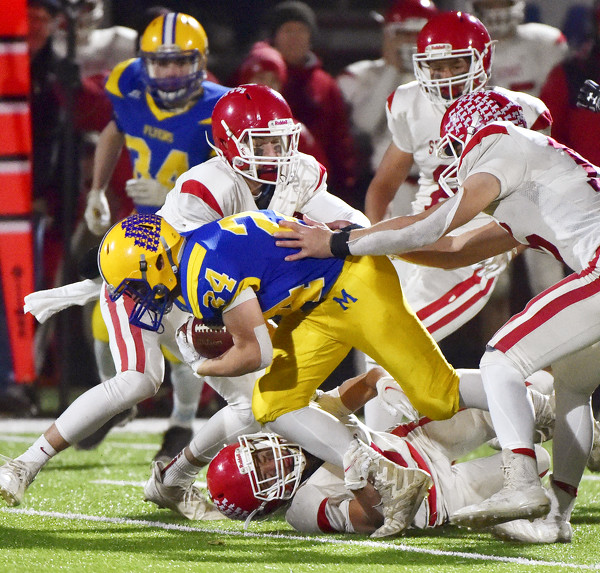 Photo by Dan Melograna/The Daily Standard
Buschur, who returned from injury in the tournament, complements classmate Kevin Partington on the defensive line in front of the Flyers' formidable linebacker corps. Darren Meier, the district and MAC defensive player of the year, leads the team with 111 tackles, including nine tackles for loss, while outside linebacker Aidan Eifert is tied with Buschur with a team-leading six sacks. Drew Seitz has also given the defense a boost since his own return to action.
"We had a lot of kids back (from 2020), so we've been pretty solid on defense the entire year, pretty consistent," Goodwin said. "Now we have pretty much everyone healthy on that side of the ball, so hopefully we can continue playing at a high level there."
Goodwin slid Meier into the offensive backfield as sophomore Kyle Otte went down with a torn ACL early in the MAC schedule. Meier, who has racked up 465 rushing yards on 94 carries, brings a tough, downhill style to the Flyers' running game.
"We started playing him on offense Week 3 or 4, and I think that totally changed our offense," Goodwin said. "He's just a physical kid, so he added some physicality I think we didn't have before that… that's when we really started to establish an offensive identity."
The Flyers have relied on a running back committee, with Peyton Moeller, Dylan Fleck and Drew Lause alongside Meier. Moeller tops the running backs with 503 yards, including a 146-yard showing in the regional semifinals against Riverside.
But first and foremost, the offense runs through senior quarterback Peyton Otte. Otte, in his first year as the starter after primarily playing wide receiver as a junior, has thrown for 1,247 yards and leads the Flyers with 1,380 yards on the ground with 20 rushing touchdowns.
In the regional final against St. Henry, Otte ripped off a 41-yard run at the start of the third quarter to set up Marion's second touchdown for a 14-0 lead. When St. Henry cut the lead to six, Otte took a quarterback keeper down the right sideline for a 56-yard touchdown, then returned a punt 47 yards to help the Flyers ice the game.
Against Hopewell Loudon, he returned the opening kickoff into Chieftains territory and ran for 161 yards, including 20- and 23-yard touchdowns.
"He's gotten more comfortable doing quarterback-type things," Goodwin said. "We're not asking him to read a whole lot of coverages or anything like that, but he's gotten comfort, experience. He has a natural ability to set up blocks and to read blocks really well when he's running the ball."
Newark Catholic (14-1) boasts a talented quarterback of its own, Cole Canter, who has thrown for 2,190 yards and reset the school record with 31 touchdowns. Running back Mason Hackett added 2,024 rushing yards and 26 touchdowns in a balanced Green Wave attack.
In the last two games, it was the defense, which held opponents to an average of 14.1 points per game this season, that made big plays for Newark Catholic. A pick-six after halftime put the Green Wave ahead in the regional final against Shadyside, which had taken a 20-14 lead in the first quarter. A turnover on downs and two more interceptions sealed the game as Newark Catholic pulled away.
Against Warren JFK. in the state semifinal on Saturday, the defense got a pair of fourth-down stops in the first half as the Green Wave took a 14-0 lead, then protected the lead in the second half in a 14-7 win.
"It seems like all the good teams we've played this year have been very big, and we've had a quickness advantage. This is a totally different matchup for us, in terms of playing a good team," Goodwin said. "As a team, they're on the smaller side, but they look really quick, and they have some fast guys. Defensively, they pursue very well and get to the ball."
Elijah Wallace, who also earned district defensive player of the year honors in his first year at inside linebacker, had an interception and a fumble recovery in the second half against Warren J.F.K to help send Newark Catholic to the state title game. On the season, Wallace has 98 tackles and 11 tackles for loss.
"The game has really slowed down with him… I think he's understanding his leverage points, how to react inside the box, his agility and ability to transition," Newark Catholic coach Ryan Aiello said. "And his tackling's just been incredible, week in and week out."
The Green Wave took a 28-21 loss to Heath in Week 9, then rebounded for a 45-14 win over Northridge in the regular season finale before going on their tournament run. Wins over Danville, Caldwell and East Knox set them up against Shadyside in the regional final.
Newark Catholic has won eight state titles, with the most recent coming in 2007. The Green Wave last reached the title game in 2012, which ended in a 28-21 loss to the Flyers.
Marion won three state titles in four years between 2016-19, but took a 24-17 regional final loss to New Bremen last year.
"We had a good team, we were undefeated, and we got beat," Goodwin said. "We got beat, and I think, in the big picture, it may have been a good thing. It certainly motivated all of us, including the coaches, to reflect and work a little harder."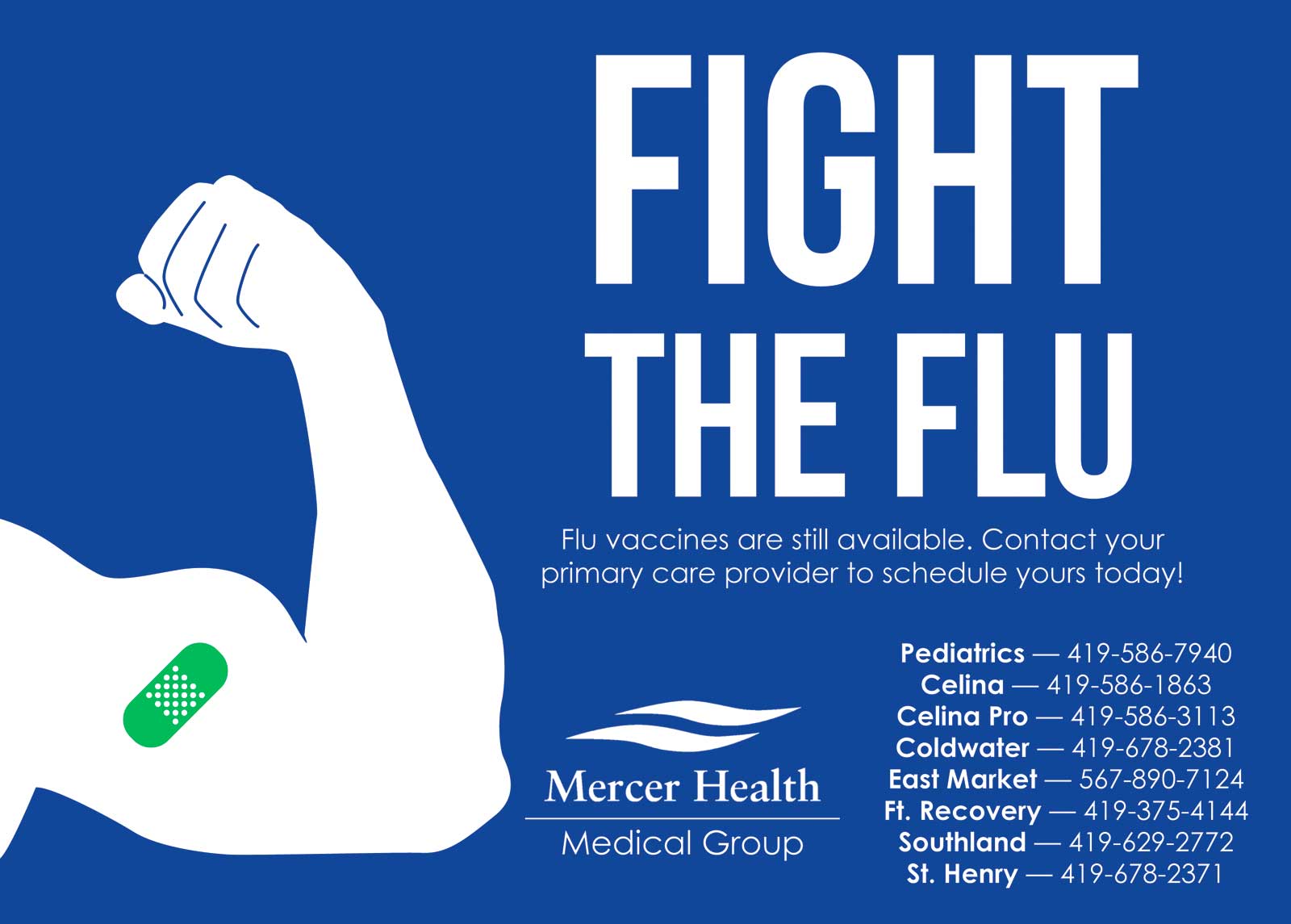 Thursday, December 2nd, 2021
Championship Saturday
Cavs look to slow down Blue Devils
By Gary R. Rasberry
It's familiar territory in a familiar location for Coldwater as the Cavaliers prepare to play in the Division VI state football championship game on Saturday.
Tom Benson Hall of Fame Stadium in Canton, formerly Fawcett Stadium, was where the Cavaliers won their first of seven state titles in 2005. The last time the Cavaliers played in Canton was in 2010, when they lost to Youngstown Ursuline in the Division V state final. Canton plays host to state for the first time since 2019 after last year's games were originally scheduled for Fortress Obetz in Columbus before being moved at the last minute to Massillon and Paul Brown Tiger Stadium.
The opponent will be a new one as Carey makes its first trip to the state championship game since 1975 when the Blue Devils won the Class A state title over Newark Catholic at Akron's Rubber Bowl.
It's the 14th state title game appearance for Coldwater and second straight after winning it all last year in Division VI.
"The experience of being there and having guys who played in that game last year, hopefully they can soak it in pregame and not be overwhelmed by the moment and continue to play like we've done through the year," said Coldwater coach Chip Otten, who will go for his sixth state title as head coach of his alma mater.
The Blue Devils, playing out of the Northern 10 Conference, have been potent on offense (averaging 39.2 points per game) and defense (allowing just 9.1 points per game) this season. Their lone loss came in the opening week of the season in falling to Hopewell-Loudon 30-15. Since then, the team has been rolling, allowing more than 17 points once (35-21 win over Galion in Week 2) and scoring 30 or more points in 10 straight games before getting a 20-0 win over Tinora in Week 12.
Carey punched the ticket for its first-ever trip to state by beating last season's state runner-up New Middletown Springfield 26-13.
The Blue Devil offense is led by Jordan Vallejo, a 6-2, 265 pound senior who has earned the nickname "The Winnebago." Vallejo has rushed for 1,544 yards on 232 carries with 34 touchdowns. Adding his seven two-point conversions, Vallejo has scored 218 points this season.
In addition to what Vallejo can do, quarterback Derek Lonsway is a threat to run and score. The senior has thrown just 150 passes this season (completing 73 for a 48.7% completion rate) for 1,158 yards and eight touchdowns. When not throwing, he's rushed for 1,278 yards on 169 carries with 12 scores.
"The combination of those two guys (Vallejo and Lonsway) just makes it difficult," said Otten. "When (Vallejo) gets going, (Lonsway) will fake to him and he's out of the door. We've seen him make lots and lots of plays. The fear is you play OK defense, but you can't get them stopped. First down after first down after first down, your offense doesn't get the ball. That's the biggest concern."
Bryce Conti is the leading target for Lonsway when going back to pass. Conti has 26 receptions for 578 yards and four touchdowns.
The line is led by tackle Easton Korody. The 6-5, 280-pound senior shared the Northwest District's Lineman of the Year award. Ashton Clauss anchors a guard spot in the lineup.
The Cavaliers will counter by trying to "share the wealth" among its skill players in the Cav-Gun offense. Quarterback Reece Dellinger has thrown for nearly 3,000 yards this season with four receivers tallying at least 450 yards. Tyler Schwieterman has 50 catches for 1,068 yards and nine scores with tight end Jesse Meyer adding 765 yards.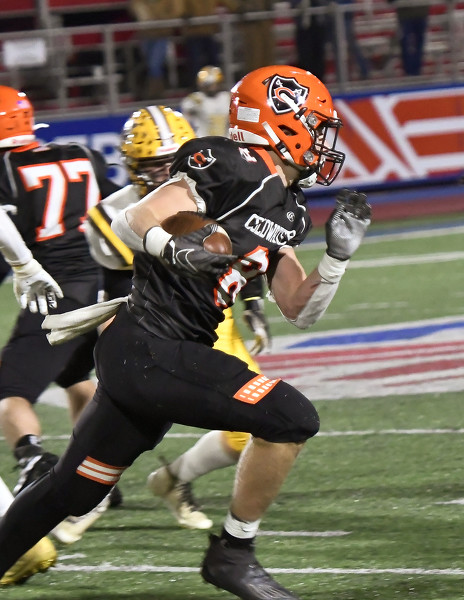 Photo by Nick Wenning/The Daily Standard
But the backfield could be an area of concern. While leading rusher Isaac Fullenkamp is ready to go, Luke Sudhoff, who has 417 yards and 10 touchdowns, is likely out Saturday with a knee injury. That could open things for slotback Marcel Blasingame, who has rushed for 525 yards and caught 34 passes for 572 yards this season.
Carey coach Jonathon Mershman is impressed with what Coldwater has done this season and their ability to have a lot of guys issues.
"They like to spread it around," said Mershman. "They don't try to focus on one person getting the ball. They make sure everyone is involved. If they need to pass it a ton, they'll do that. If they need to run the ball, they'll do that. They do a nice job of the team atmosphere on offense."
Defensively, Trennen Stoll is the Blue Devils' player to watch. The 6-3, 270-pound tackle was the N10's Defensive Player of the Year and currently has 84 tackles with 31 1/2 tackles for loss and three fumble recoveries. Linebacker Landen Kemerley leads the team with 153 tackles, 5 1/2 sacks and a blistering 36 tackles for loss.
Conti earned first team All-District honors at a cornerback spot thanks to eight interceptions. Anthony Bell, a potent all-around player that has scored on a punt return and interception this season, adds five picks.
"That's the million-dollar question, trying to figure out what you can do," said Otten. "We have a pretty good mix of run and pass, so hopefully that will help us. We're not afraid to throw on any down. We spread the wealth and hope to put some stress on them by using different guys with different runs and throws.
"If we have to throw it 30-40 times, we'll throw it 30-40 times. I'm not sure if they've faced anyone who can throw like we can, but we'll see."

Thursday, December 2nd, 2021
Championship Saturday
Tigers ready to face Kirtland in Division V
By Gary R. Rasberry
The last time Versailles played in a state final, most of the current roster were either very, very young or not even born.
The Tigers return to Canton for the first time since 2004 as they face defending Division V state champion Kirtland in the nightcap of Saturday's tripleheader of state finals.
In 2004, Versailles, coached by Hall of Famer Al Hetrick, was trying to repeat as Division IV champs, but ran into Youngstown Mooney en route to a 28-6 loss at what was then Fawcett Stadium, now Tom Benson Hall of Fame Stadium.
This year, the Tigers have been running through nearly everybody on a quest to win the program's eighth state championship, with the only blemish on their 14-1 record coming to Marion Local, which plays the first game of the day on Saturday in the Division VII final.
"One of the key points in the season was the loss to Marion," said Versailles coach Ryan Jones. "We had a close game with some chances to win in the fourth quarter. We made some mistakes and the guys were disappointed, obviously, but we talked as a team and they used that as a rallying point and motivation for the rest of the season."
But waiting for Versailles is a juggernaut from northeast Ohio in Kirtland, which is looking to win a seventh state title and third in a row.
Veteran Kirtland coach Tiger LaVerde is no stranger to MAC teams. The Hornets have won state titles in defeating Coldwater (2011) and Marion Local (2015 and 2018) while losing to Minster (2014) and Coldwater (2012).
"We've had some great games against those teams for sure," said LaVerde. "I don't think anybody has to tell anyone how good they are. They could win three state championships this year and most years they get one or two. It's kind of crazy, but they have great coaches and programs. One thing I will say, all those communities, the fans are fantastic. The kids are fantastic. They understand it's a competition and a game. We've never had a game against anybody from (the MAC) that was (anything) but great sportsmanship and kids playing as hard as they can."
Kirtland plays a physical style of football much like the MAC. The Hornets prefer to run the ball and challenge teams to try and stop them.
Mason Rus leads the team with 1,959 yards and 25 touchdowns with Tommy Gogolin adding 729 yards and 10 scores. Quarterback Ramon Lescano has rushed for 456 yards and seven touchdowns while passing for 1,175 yards and 20 touchdowns with just three interceptions in 98 pass attempts. Gage Sullivan has been the main recipient of the pass, making 42 catches for 881 yards and 17 touchdowns.
"I know Kirtland is a very physical program. Great coach and great history. I lived in Chesterland for years and that's a short trip down the road (from Kirtland)," said Jones. "They like to vary things up and have a lot of tools in their toolbox. It's hard to pin them down (in thinking how) they'll be lined up."
Defensively, Rus has 117 total tackles and 19 tackles for loss out of a linebacker spot. Joseph Coleman adds 116 tackles while Philip LaVerde - the coach's son - has 104 tackles. Defensive lineman Daven Patel has 12 sacks as part of an 88-tackle season.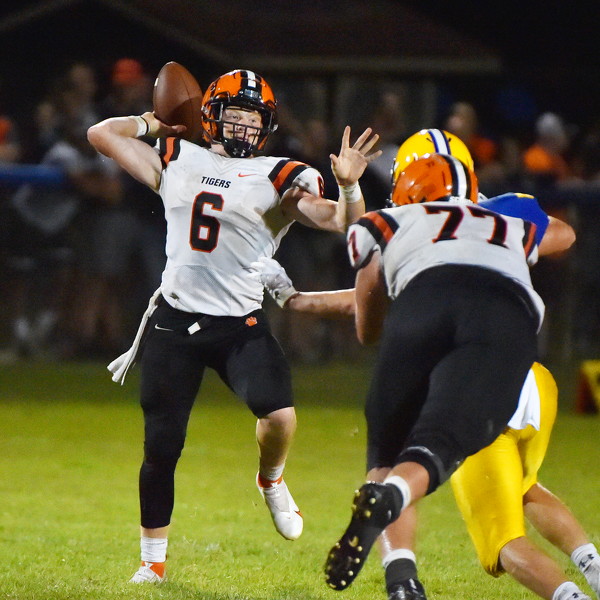 Photo by Dan Melograna/The Daily Standard
Coach LaVerde is impressed with the play of Versailles quarterback Carson Bey, who is coming off a 181-rushing yard night in the state semifinal against Harvest Prep. Bey has 1,096 yards rushing and ties for the team lead with running back Jack Osborne with 17 rushing scores. Bey also has 1,449 passing yards with 13 touchdowns with just three interceptions.
"The quarterback is fantastic," said LaVerde. "He's a tough kid. He's returning kicks, seems like he's in (on) every tackle. He's a (guy) who makes you want him on your team."
"Nobody outworks Carson," said Jones of Bey, who was also named the Southwest District's Defensive Player of the Year for his play at linebacker. "He's a physical, tough kid."
Osborne leads the team with 1,169 rushing yards while Landon Henry adds 676 yards and 15 touchdowns. Eli McEldowney (554 receiving yards, six touchdowns) and Noah McEldowney (515 yards, four touchdowns) are Bey's main receiving targets.

Thursday, December 2nd, 2021
State Finals Schedule
Division II State Championship
Tonight, 7 p.m.
Winton Woods (12-3) vs. Akron Hoban (11-3)
Division IV State Championship
Friday, 10:30 a.m.
Clinton-Massie (13-1) vs. Youngstown Ursuline (11-3)
Division III State Championship
Friday, 3 p.m.
Hamilton Badin (14-0) vs. Chardon (15-0)
Division I State Championship
Friday, 7:30 p.m.
Springfield (13-1) vs. Lakewood St. Edward (13-1)
Division VII State Championship
Saturday, 10:30 a.m.
Newark Catholic (14-1) vs. Marion Local (15-0)
Division VI State Championship
Saturday, 3 p.m.
Coldwater (13-2) vs. Carey (14-1)
Division V State Championship
Saturday, 7:30 p.m.
Versailles (14-1) vs. Kirtland (14-0)