Wednesday, July 12th, 2006
Going home
By Shelley Grieshop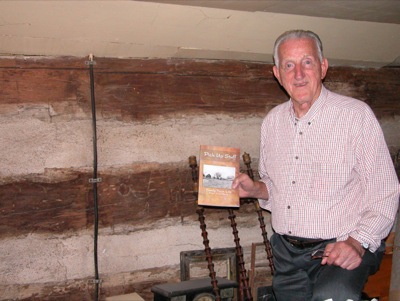 CASSELLA - Father Ernie Ranly carefully walks up the old wooden steps to the second floor of the farmhouse.
The stairs slightly dip to one side near the top and the creaking noise from the worn planks suddenly goes silent.
"Most of the walls up here have been covered in paneling except this one," he says, reaching the middle room where rows of thick logs and mud mortar are exposed.
Ranly, 76, a missionary priest, is on a brief leave from his assignment in Colombia. While in Mercer County, he looks forward to his annual stays at the "museum," as he affectionately calls his family home, where he and 12 siblings raced across the cow pasture each summer. His sister, Rita and her husband, Ray Flaute, now live in the well-preserved house, which is nearly hidden beyond a long lane cushioned by cornfields.
Four generations of Ranlys called the house on the hill their home, he adds.
His childhood memories, which abruptly end the day he left at 14 to join the seminary, fill each of the 142 pages in his recently-published book titled "Pick Up Stuff." Each chapter provides readers with a picture of life - its struggles and joys - in the very German and predominately Catholic countryside in the late 1930s.
While riding city buses to and from destinations in Lima, Peru, four years ago, he began scribbling tidbits of his life from the earliest days he could recall until the moment he left the house along Cassella-Montezuma Road in August 1944.
A Precious Blood Catholic priest, Ranly has served as a missionary in Peru for 32 years and is now in Bogota, Colombia, where he teaches philosophy, offers family counseling and hears confessions.
His education and experience is extensive: he was a former resident scholar at the Institute for Ecumenical and Cultural Research at St. John's University in Minnesota, and a visiting fellow at the Helen Kellogg Institute for International Studies in Notre Dame. He also is a former professor and head of the philosophy department of St. Joseph College, Rensselaer, Ind., and former visiting associate professor of philosophy at Catholic University of America.
Ranly has penned numerous articles that have appeared in publications around the world.
"There is nothing in my life that I have not enjoyed," he says with a delightful German accent.
Ranly, who recently celebrated his 50th year in the priesthood, is deeply rooted in his religious faith. He also is a philosopher at heart and believes his southern Mercer County heritage gave him his greatest gift of all - identity.
"I think our historical roots are extremely important for identity," he says.
He considers his book an honest look at family life, when hard-working Germans truly valued their families, their land and their blessings.
About once a year he comes back to his homestead and the memories quickly return: the creek (pronounced "crick" by locals, he says) where he hunted crabs and crawdads, the horrible fire in 1938 that destroyed the family's barn, and his parents, Peter and Sophia, who have since passed away.
A rocker belonging to Ranly's great-grandmother still provides seating in the family room. Frames filled with black and white photos of relatives long gone form an uneven line on a nearby shelf. Not much has changed, Ranly says, and he's OK with that.
"As religious priests, we can go home as long as our parents live. But that leaves most of us suspended as we get older," he says. "In this case I am blessed. I simply come home."