Thursday, July 13th, 2006
St. Henry wins wild slugfest
By Gary R. Rasberry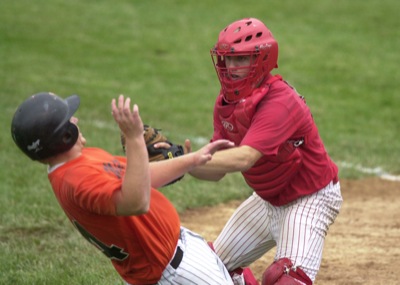 MINSTER - After all the thundering hits in the first game of Wednesday's ACME district tournament winner's bracket twinbill, the lightning was quick to follow.
St. Henry outlasted Minster in a 12-11 slugfest and just after Coldwater and St. Marys were able to get two scoreless innings in the books, with a weather delay in between, the game was halted in the top of the third once more lightning was spotted.
The Cavaliers and Roughriders will resume their game today at Hanover Street Park in Minster at approximately 5 p.m., but tournament officials said there may be a chance that the game may resume shortly before the posted start time.
St. Henry, though, is off until Saturday as it will play the winner of the restart at noon in the winner's bracket final. Minster returns to action on Friday at 6 p.m. in an elimination game against Van Wert. The loser of the restart will play at approximately 8:30 p.m. against Crestview in another elimination game.

St. Henry 12, Minster 11
The Redskins looked to be sitting pretty after the top of the third inning. Kyle Bruggeman hit his second home run of a the district tournament off Minster starter Jimmy Stechschulte to put the Redskins ahead 4-0.
However, Minster came back with a vengeance in the bottom of the third inning with a lot of help from a big blow off the bat of Aaron Heitbrink.
Brian Mueller led off the inning with a single, big brother Dan Mueller followed with a double and Zac Boeke walked to load the bases for Heitbrink.
Heitbrink lofted a shot to deep center that, at first, looked to hit the top of the fence and carom onto the field. What the ball actually hit was the support for the post in centerfield, which is beyond the fence. Heitbrink was sprinting into third when told he had a grand slam home run that tied the game at 4-all.
Eric Bernhold put the Wildcats in the lead with a solo shot to right and after the second out was recorded, Andrew Baumer walked and Stechschulte singled. Brian Mueller returned and loaded the bases with a bunt single before Dan Mueller doubled deep to score two runs, with Brian Mueller later scoring on a wild pitch to put Minster up 8-4 after an eight-run third frame.
Just when it looked like things were down for the Redskins, though, business picked up in a hurry in the fourth. After a walk and a force out, Mike Gast walked. Jay Woeste took the next offering from Stechschulte and launched it over the left-field wall to cut the Minster lead to just one run at 8-7. Jonathan Borges came on to pitch for Minster and gave up a double to Jon Clune and a walk to Bruggeman as Clune went to third. Clune tied the game when he came home on a wild pitch before Tyler Post brought in Bruggeman to put the Redskins back up 9-8 with a single.
"We had one bad inning where (Minster) got a lot of runs," said St. Henry coach Joe Wourms. "We knew we could come back from that, because we knew not every inning would be like that. They still had confidence after that inning."
"When we went up 8-4, we've got to come out and shut the door," said Minster coach Mark Wiss. "We didn't do it and let them get right back into it the very next at-bat. That was the turning point of the game."
Back came Minster in its next at-bat. Heitbrink followed his home run with a ground-rule double before and Bernhold singled with one out. Vince Fullenkamp tied the game up with a single to score Heitbrink and Borges later singled in Fullenkamp to make it 10-9 in favor of Minster.
Just as quick, St. Henry took the lead at 11-10. Woeste brought home Ryan Hartke with a single off Minster ace Bob Inskeep, who came in to try and close things out, while Clune followed with a double to score Woeste.
Minster tied things up in the sixth as Inskeep hit a solo homer to right-centerfield, the third Minster homer in the game.
But, as one might expect, St. Henry answered. Hartke doubled and Josh Werling walked before Gast moved the runners up with a bunt. With Woeste batting, Baumer, the Minster catcher, tried to pick off Hartke, throwing the ball into leftfield as Hartke came in to score.
"I knew that was asking a bunch," said Wiss of bringing in his ace, who threw a complete game on Sunday. "But for three innings, I thought he had it in him. He threw well. Give their hitters credit. It was a fun game to watch."
Any chance that Minster would somehow tie things up again were quickly squashed as Post, who came in to pitch the final out of the third inning and stayed on the hill, retired the side in order to put St. Henry in the winner's bracket final.
"We've been through the tough parts. We know what games I'm talking about," said Wourms, referring to the two losses to Coldwater last week. "We never give up. We just never die. That's a great thing to see out of these guys. They came back. They knew they could win the whole game.
"That's fun baseball right there. It's too bad to have a loser in games like that, but we're just fortunate to beat a good team like Minster. What a hitting team (Minster had 15 hits in the game)! that's one of the top 2-3 hitting teams we've seen all year. To be able to come back and beat a good team like Minster says a lot for our ballclub, too."
Post went the final 4 1/3 innings allowing four runs on seven hits, but he was able to subdue the Wildcat bats long enough to give his team a chance to get back.
"Tyler did a heckuva job," said Wourms. "I told him coming in to today that he would be in relief. If we had long innings, he would be the guy we'd go to. ... I told him he had to be ready. Boy, was he."
Coldwater-St. Marys (suspended in third)
Cory Klenke got the start for Coldwater and started out strong, retiring the side in his first two innings with three strikeouts.
Nathan Snyder was solid for St. Marys in the first inning, retiring the side, but ran into a little trouble in the second.
After getting Riley Muhlenkamp to fly out, Sam Slavik singled and Kyle Schoenherr reached on a botched throw by the shortstop.
Kyle Ahrens followed with an infield single to load the bases, but before Brad Brunswick could step in, lightning was spotted in the outfield and the teams went to the dugouts for the mandatory 30-minute break.
The game was able to be restarted after a 46-minute delay and Brunswick ended the inning with a hard liner to first baseman Tyler Norton, who went back and touched the bag to get the unassisted double play to end the inning.
Klenke was able to get a first-pitch ball on Russ Sweeney when lightning was again spotted. That, and a steady rain that was coming down, prompted suspension of play until tonight.