Friday, July 28th, 2006
Mariners peaking at the right time
By Ryan Hines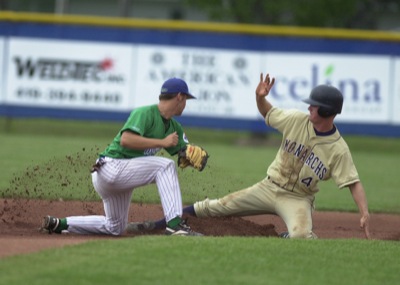 With just one regular season game remaining, the Grand Lake Mariners picked the right time to be playing their best baseball.
Brenden Stines and two relievers combined to throw a three-hit shutout leading Grand Lake to a 3-0 victory over Lake Erie at Jim Hoess Field on Thursday night.
The victory marks the fifth straight for the Mariners, who are now 20-18-1 on the summer while Lake Erie slips to 17-20.
"These guys were talking a week ago that they wanted to win six in a row going into the tournament," said Grand Lake first-year manager Scott French. "They have taken it upon themselves to finish the regular season strong and that's what they've done. I think that these guys really enjoy playing baseball together."
Stines was in total command during his six innings of work on the mound allowing just three hits and one walk while striking out eight in picking up the win. Ryan Kruszke then tossed two no-hit innings with a trio of strikeouts before Jeff Loveys closed the game with a 1-2-3 ninth inning for the save.
"Stines was in complete control tonight," said French. "He went right at guys and kept the ball low in the zone. His pitch count got up there because of his eight strikeouts but we went to our bullpen and got great efforts out of Kruszke and Loveys. It's good to see these guys so sharp this late in the summer."
In six of the nine frames, Grand Lake's pitching staff sent down Lake Erie hitters 1-2-3, including nine straight batters being retired in a row to end the game.
Kevin Wammes was strong on the mound for Lake Erie as well but a single run in the fifth and two more in the seventh were more than enough for the Mariners on this night.
Grand Lake took a 1-0 lead when Jason Selhorst's ground ball got between the Lake Erie third baseman and shortstop and rolled into short leftfield allowing Adam Abraham to score.
As Mariners pitching continued to put zeroes on the scoreboard, Brooks Hunton put the game out of reach with a big blast in the seventh frame.
With two outs, Nick Crist drew a walk before Hunton, who entered the game hitting just .186, crushed a Wammes fastball over the leftfield wall for a two-run dinger handing the Mariners a 3-0 advantage.
"For the third straight game, we secure a win with a big hit and tonight it was Brooks giving us a big lift with the home run," said French. "That home run gave us a three-run lead and little extra padding. I'll take a three-run lead with our bullpen any day."