Monday, July 31st, 2006
A success despite heat
By Shelley Grieshop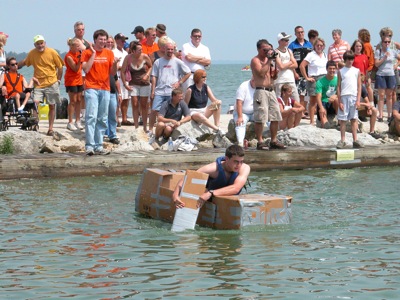 Hot, sultry and successful. Those were the words used by organizers to describe the 2006 Celina Lake Festival held this past weekend.
"We battled the weather," festival co-chair Michelle Emerine said this morning.
A thunderstorm arrived Friday evening, dampening spirits temporarily and delaying the annual fireworks display over Grand Lake. After discussion among committee members and a call to the National Weather Service, the colorful fireworks began about 10:30 p.m. - 30 minutes after the scheduled time.
"We were a little behind but we made frequent announcements to let everybody know what was going on," she said, adding the committee worried that funds spent on fireworks - more than $12,000 this year - would literally get washed out.
One hundred and fifty entries lined the parade route this year; 38 of those were decorated floats, Emerine said. Sixty-five amphicars entered the hot water hole Friday evening to the delight of a large crowd that braved the dark clouds overhead.
Also, more than 250 entries were counted in the Pleasure Boat Poker Run on Saturday morning, she added. Attendance and participation was huge in all events including the Cardboard Duck Tape Boat Race held in the heat of the day Saturday afternoon. Organizers accepted only the first 36 teams entered and regretfully turned others away, Emerine explained.
After six heats, which resulted in many capsized boats, brothers Ryan and Jason Snyder took an immediate lead in the final round and emerged as the overall winners of the contest with their "Corrugated Quacker" boat.
Carpenter Brothers, the company supplying the rides, told festival organizers that Saturday night was one of the busiest nights they've ever had at the festival.
"The festival becomes a homecoming each year for a lot of people," added Emerine, who chaired the festival with Joe Wolfe.
Exhausted from the three-day madness, Emerine said organizers already are planning for next year's festival, which will take place July 27-29. Several of the 130 craft vendors that lined the downtown area and the lake, have already booked a space for 2007, she added.
Celina Assistant Police Chief Calvin Freeman said this morning there were no major problems throughout the weekend.
"From a police standpoint, things went very smooth," he said, crediting Emerine, Wolfe and the festival staff for handling the details well.
Freeman said officers investigated the average amount of traffic problems that arise each year when thousands of visitors arrive for festivities. Very few citations were issued, he added.
Following up on rumors that some of the parade entries were hauling alcohol, officers investigated but reportedly found none, he said.