Tuesday, August 1st, 2006
Flowers, cakes and fruit - oh, my!
By Janie Southard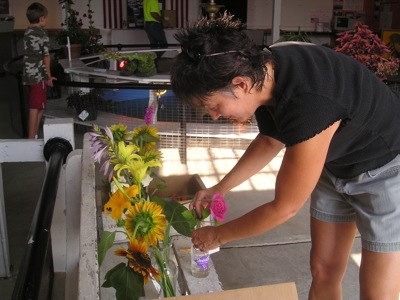 WAPAKONETA - The Horticulture Building at the 2006 Auglaize County Fair was beehive busy Monday morning with local bakers and gardeners unloading baskets of fruit, vegetables, pies and cakes.
In all there were 190 entries, about the same as last year, according to Larry Kill, chair of the horticulture committee, fine arts department as well as a couple other fair board responsibilities. But there are a lot of new exhibitors and a "whole lot" of people with 11th hour entries.
"It's usually the flower people. You just don't really know until the last minute if your flower is going to be the way you want it," said Kill, himself an avid gardener for the past few decades.
All cut flowers are risky to transport, but roses seem to be the most delicate, he added. The most dependable are zinnias, gladiola and marigolds.
Along with the dazzling flower displays of all colors, the aroma of just-baked breads, rolls, pies and cakes hung in the air like it used to in grandma's kitchen.
The baked offerings were all beautiful and tempting, but cake judge JoEtta Spain, recruitment/placement coordinator at Ohio Hi-Point Career Center in Bellefontaine, said looks can be deceiving.
"What looks good on the outside may not be as good on the inside. I look for texture, flavor, icing ... Does the cake and icing melt in your mouth or do you feel you need a big glass of milk after every bite.
"Are the layers even and is the icing between them level ... Those are the first things I look for," Spain told The Daily Standard as she waited in the cake area for the event to begin.
She has been judging various food events at county fairs and local competitions for more than 18 years, plus she is often in the contest herself.
Last weekend, she whipped up a batch of chili for a Logan County event and took home the grand champion ribbon.
Will she tell her secret recipe? Well, almost.
"I saute Vidalia onions first. Then I add tomatoes I've marinated in a spice mixture and then grilled ..." she said, not saying what spices she uses or the other ingredients.
But she was eager to praise the Auglaize fair.
"The cooks here are so intense about their baking. They take time to garnish their entries. Plus, you see all ages entering here. That's not all that usual," she said.