Tuesday, August 8th, 2006
Mercer County Fair - a sweet treat
By Margie Wuebker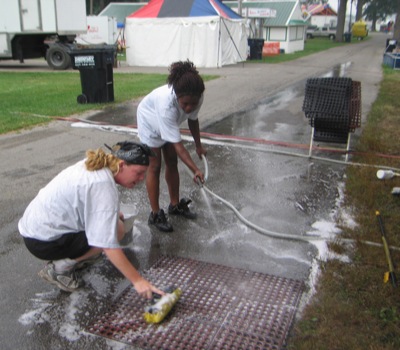 How sweet it is!
The 154th Mercer County Banner Fair officially opens at 3 p.m. today, but exhibitors have been working to prepare entries and bring them to the fairgrounds for judging in various departments.
Alice and Amanda "Mandy" - superintendents in the household department - were up to their elbows in cakes, pies, cookies, candies, breads and canned goods Monday afternoon.
"Looks like another good year for entries," Alice says as her daughter makes way for two light-as-a-feather angel food cakes. "There are some mighty good bakers in these parts. I'm glad judging is not part of my job description."
This marks the fifth year the mother-daughter team have served as superintendents along with Tim Pearson and Debra Powell.
"Tim is our neighbor down the road," Alice says. "He came over and asked us to help; we've been doing it ever since."
Their work commenced early Monday morning transforming the white garage across from the grandstand into a display area for the coming weeks. Glass-fronted cases were brought in and washed down for cookies and candies. Long tables were set up for the influx of baked goods while tiered shelving units awaited the best home canned fruits, vegetables and meats this side of the state.
Today will be another marathon day with judging, placing ribbons and cutting display slices from items headed to the baked goods auction.
"It's a lot of work but it's a lot of fun," Mandy says while helping a newcomer arrange entries in the proper locations. "Everything looks so good."
The Wycuffs have 33 entries of their own bound for the judges' discerning palate and keen eye. They spent the weekend taking turns in the kitchen. Visitors sniffed appreciatively and marveled at the well laden dining room table.
Wearing a Red Star Yeast apron proclaiming, "I Knead to be Loaved," Mandy steadily baked her way through the cookie categories over the weekend. She skipped butterscotch, noting none of her tried-and-true recipes include that variety.
"I started entering things at the fair as soon as I was old enough," the 2006 Celina High School graduate says. "I guess the desire to compete came from Mom."
Alice became a fair exhibitor shortly after her marriage to Dale Wycuff. Thirty-three years and stacks of blue ribbons later, she has no intention of retiring.
"I learned how to cook and bake as a child," she says. "My grandmother (Irene Breymaier) lived with us and left me climb up on a chair beside her. She never seemed to mind the mess."
Mandy chuckles, remembering her own attempts at making pies. Mom wielded a full-size rolling pin while she used a miniature version complete with red handles. The family photo album contains more than one snapshot of a little girl liberally dusted with flour.
Alice leaves the cookie baking to her daughter but creates a veritable smorgasbord of pies, cakes, candies and assorted breads not to mention a colorful array of canned goods. Both have prepared decorated cakes for the competition, including one touting the demo derby and the other depicting the FFA insignia.
"A lot of folks still can and bake," she says. "You can always find time for something you truly enjoy. Judging from the entries, it appears quite a few people subscribe to the same philosophy."